So it's almost Father's Day and maybe you're wracking your brain as to what to get the man in your life, if yours is anything like mine he isn't easy to buy for either. Here are a few free ideas as well as a gift mine just couldn't stop talking about, I hope it helps. 😉 Special thanks goes out to JORD for sponsoring this post so we could share our Fathers Day present ideas with all of you.
So my husband is goofy (as you can see by the faces he's making with my daughter in this picture and why we love him), and he loves the outdoors. So…when thinking of ideas he would enjoy we tend to go with the whole nature theme (and we've grown a love for the outdoors now because of him).
He'd rather choose an afternoon of hiking and ice cream than a fancy sit down dinner…..I think most great Dads would do the same. Here are a few fun Fathers Day present ideas we've done in the past and one we surprised him with early this year that he loved.
A picnic (let kids make the sandwiches, they love that and Dad appreciates it)
Hiking in a new location (with Mom and kids…yes you need to join)
A trip to the lake (bring a picnic and/or fishing poles)
A road trip to somewhere new together
Movie night at home (Dad gets to pick the "family movie")
Homemade card (here's a free printable Father's Day card they can color)
A day to himself (or spending time with his Dad)
A day at the beach together
Massage (it's not just for us ladies, they enjoy them too)
A watch (my husband's favorite gift, this is what we bought him this year)
We decided to take him out a bit earlier to celebrate Father's Day this year. We packed a lunch for everyone and went to one of our favorite hiking/camping areas.
He's such an outdoorsy person that one of his favorite things to do is show his kids the wonder of the bugs, trees, flowers, birds, and anything else we can catch while we're on a hike together. We surprised him too with this unique JORD wood watch as a gift this year that he loved!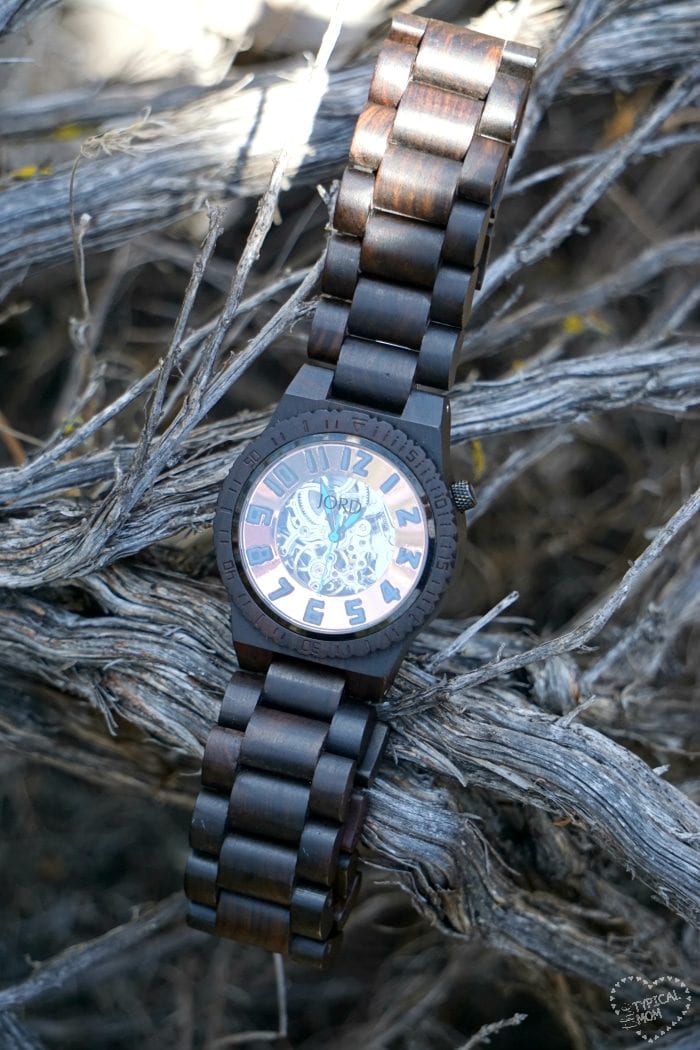 You've never seen anything like this! I have one myself with rose gold and he thought it was so great it was the perfect choice for him and his love for everything nature too. The band and part of the outside face is made of wood and they come in a variety of shades.
There are many different faces to choose from as well and most have the feature here where you can see the gears in motion too….love that. Before you order it you measure your wrist so that it fits perfectly when it arrives.
As a treat JORD is offering $75 off to one winner and $20 off for everyone else who enters this contest here.
A combination of homemade cards, time together, and a gift he will remember are great Fathers Day present ideas that made my husband smile this year….I hope we gave you a few yours will appreciate too this year. 😉