Easy Thanksgiving crafts for kids. Cheap Dollar Store craft ideas for the Fall that kids love making in the classroom or at home! Free printables too.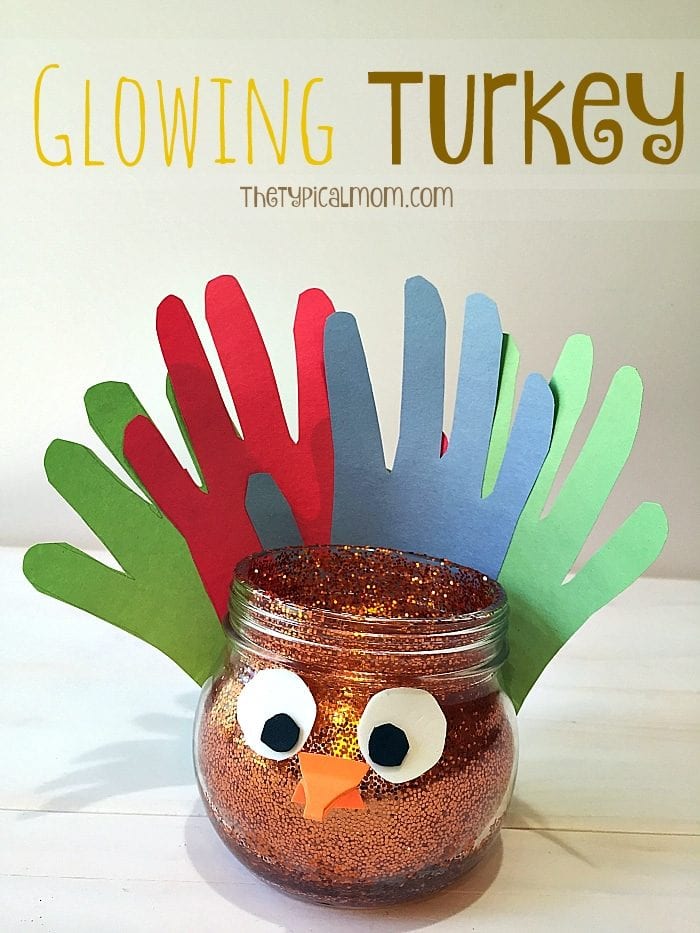 I have 3 kids, and taught Kindergarten and 2nd grade for quite some time so when the holidays come around I'm always up for creating easy Thanksgiving crafts and crafts for all seasons from October on! This inexpensive craft can be made with your kids or use it as a project in your classroom during a holiday party. You can find almost all the items at your local dollar store and kids love creating it. (originally published 11/15, affiliate links present)
I have a roundup of lots of other easy Thanksgiving crafts at the end of this post too so you'll have a lot to choose from. 😉
This is what you'll need to make our turkey handprint from our Easy Thanksgiving Crafts post
This Thanksgiving craft requires a few things:
Pledge (yes you heard me right, the liquid kind)
Glitter – I used copper glitter
Construction paper
Electric tea light (craft store purchase)
Tape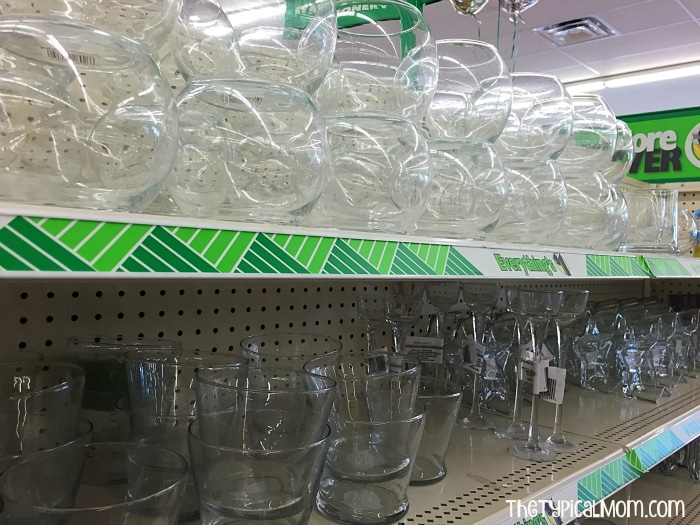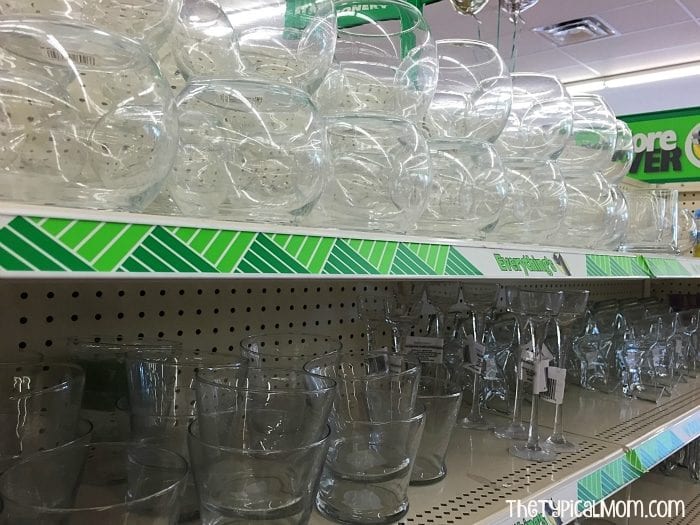 Of course every dollar store (I use that term generically, this is a dollar tree store) has different glass items but most have small "goldfish bowl" style glass pieces you can use for this craft. You will need one per child.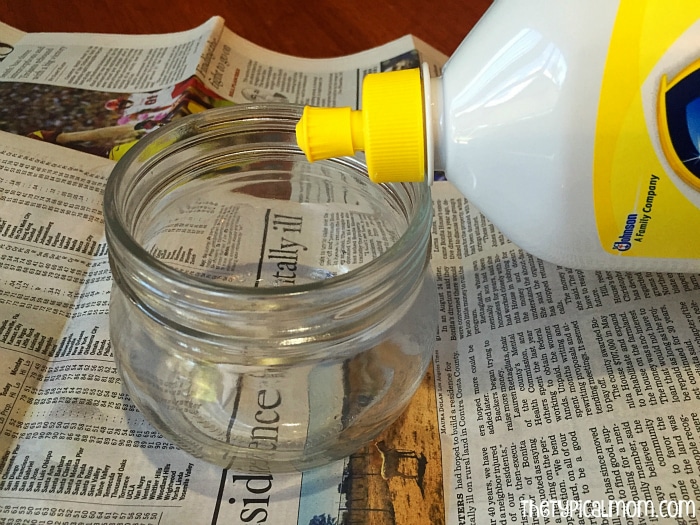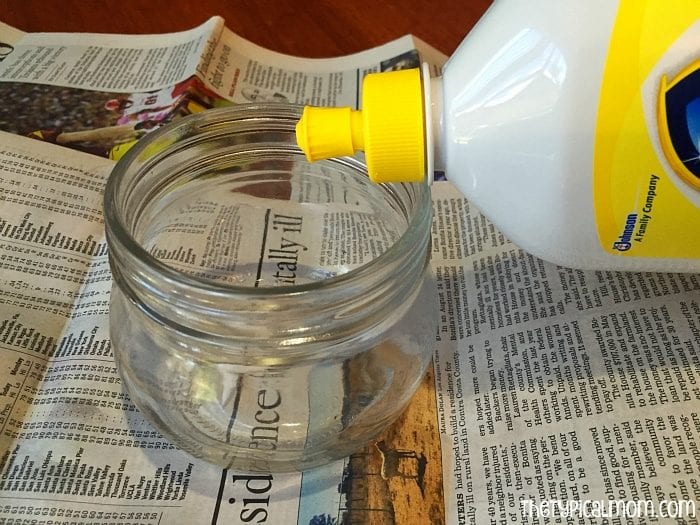 Now get some newspaper ready because this part can cause spillage. Put some Pledge into your glass jar, maybe 1/8 c. (I don't measure). You are going to swish this around inside the glass so all areas of the inside are touched with Pledge, this is going to adhere the glitter to the inside!
Once you've swished the Pledge around inside the jar, use a thick piece of newspaper over the top to kinda' turn it over and make sure the inside lip of the jar is covered too, then pour the rest of the liquid out. Pour glitter inside the jar and shake it all around so the entire inside is covered with glitter and it is sticking to the sides, then pour out excess glitter.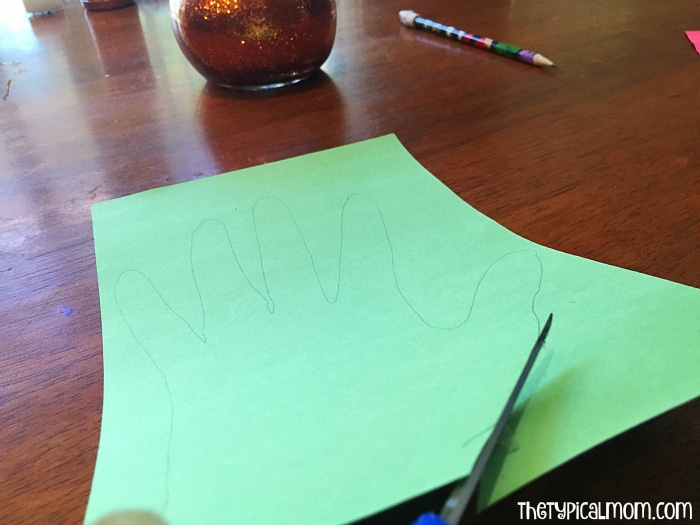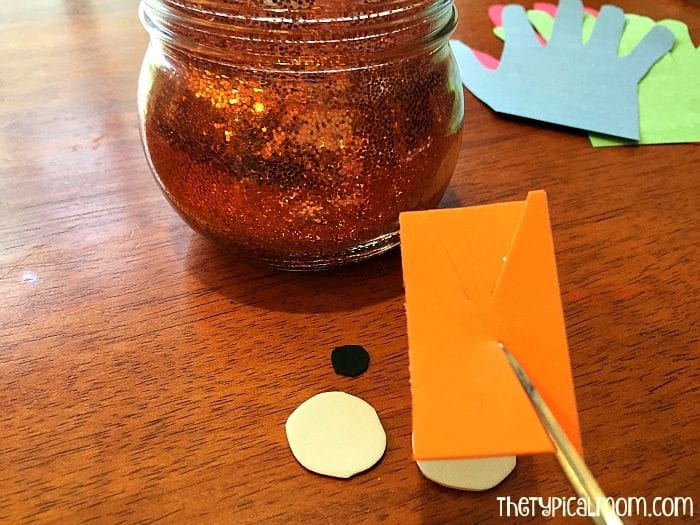 Now trace and cut out about 4 hand prints out of construction paper, and eyes out of the sticky back foam pieces. The beak is foam as well. Cut like you see here, large part on outside and tip of beak part on inside.
Fold it in half leaving the ends open so that will stick to the glass itself. Just use a few pieces of tape to put the hands on the back of your jar and you're almost done. Small electric tea lights can be found at your local craft store and they already come with the battery inside them and everything. Use a coupon, buy larger packs and they're only about 50 cents each.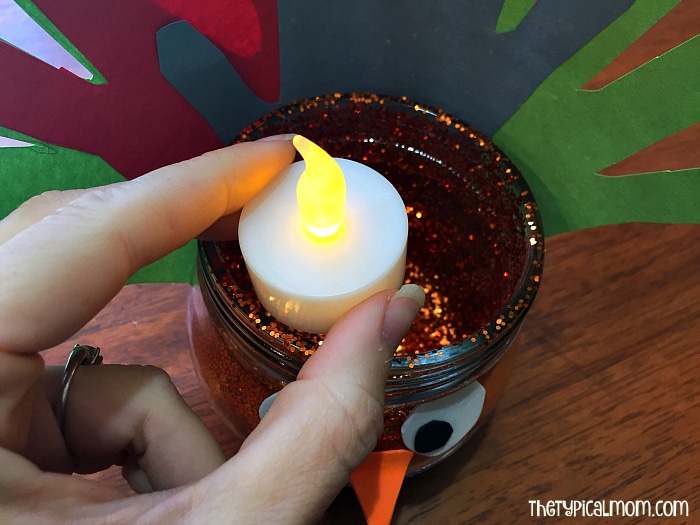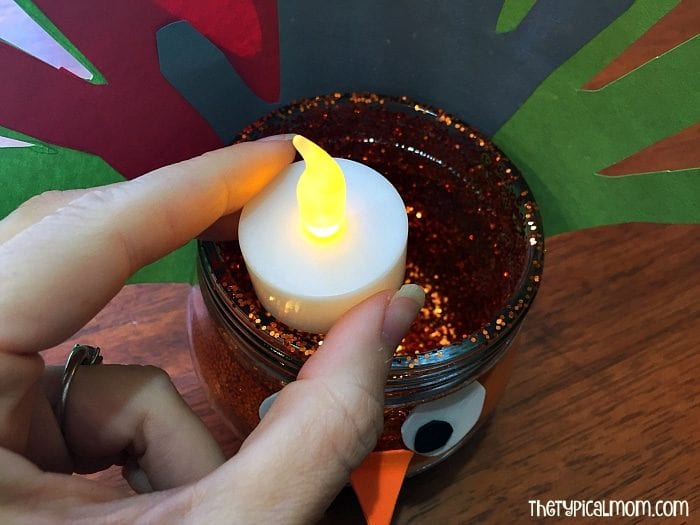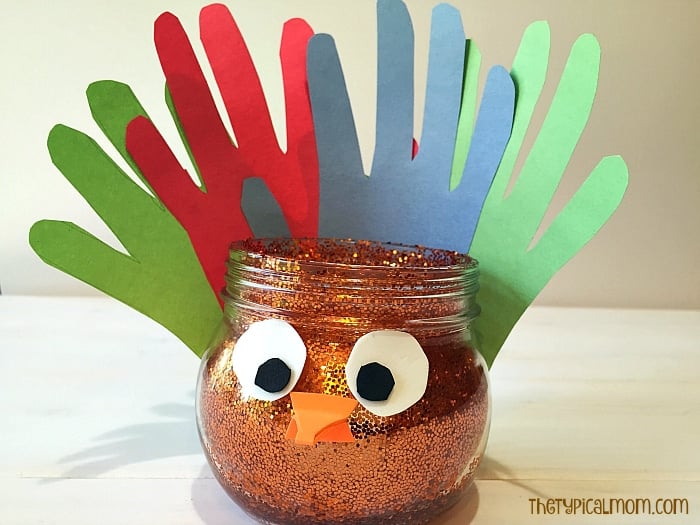 MORE Easy Thanksgiving crafts and printables:
Thanksgiving printable coloring placemats
Thanksgiving turkey craft with gum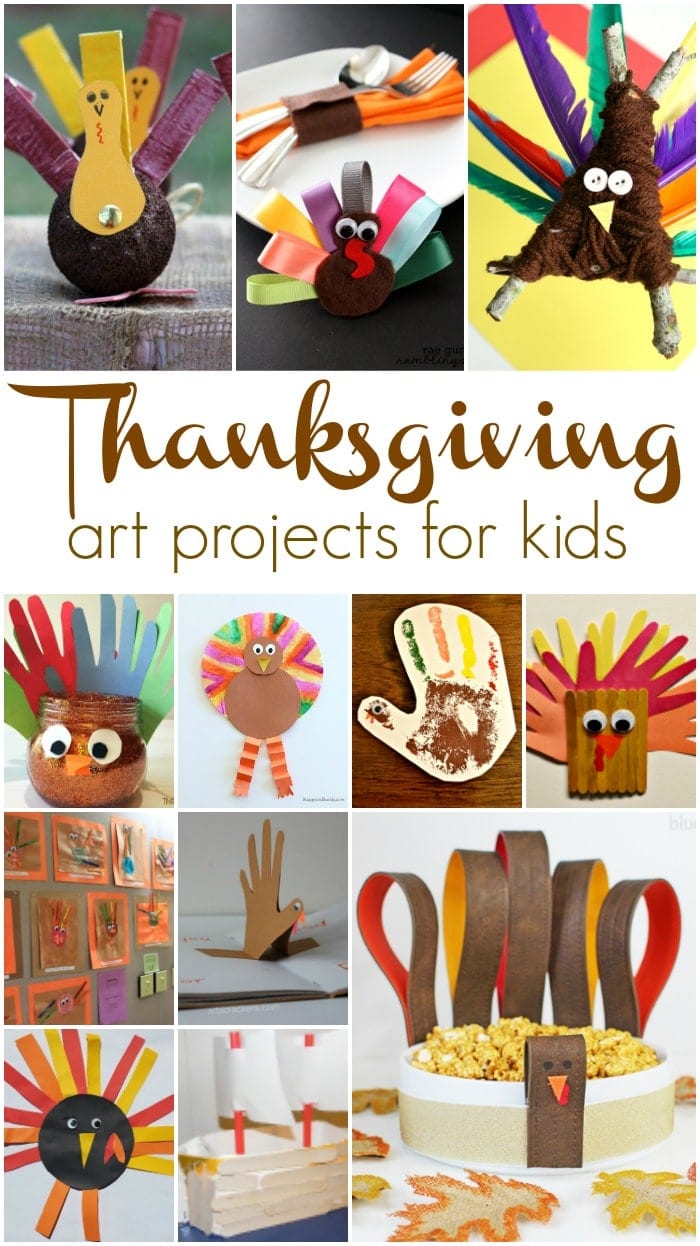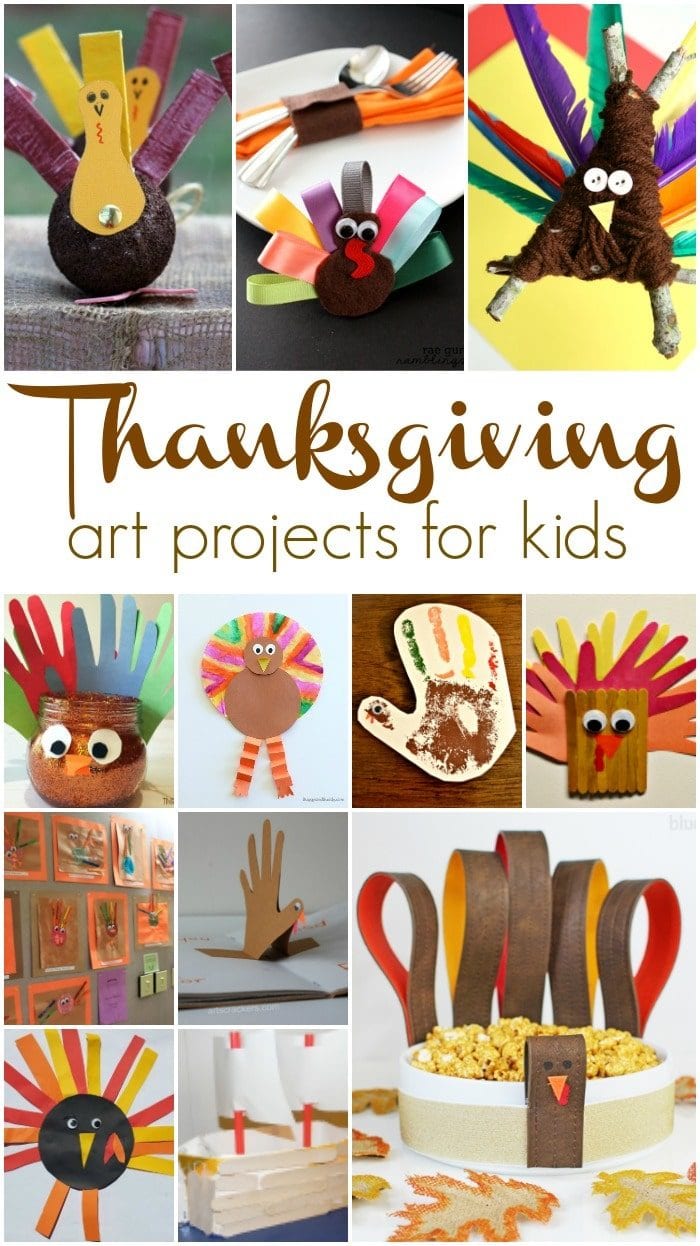 Yarn wrapped Thanksgiving craft
For more tips sign up for my free newsletter and follow me on Pinterest.