Easy cold pasta salad recipe packed with olives, mushrooms, bell peppers and meat if you want. Can be vegetarian too with macaroni noodles. Perfect barbecue side dish.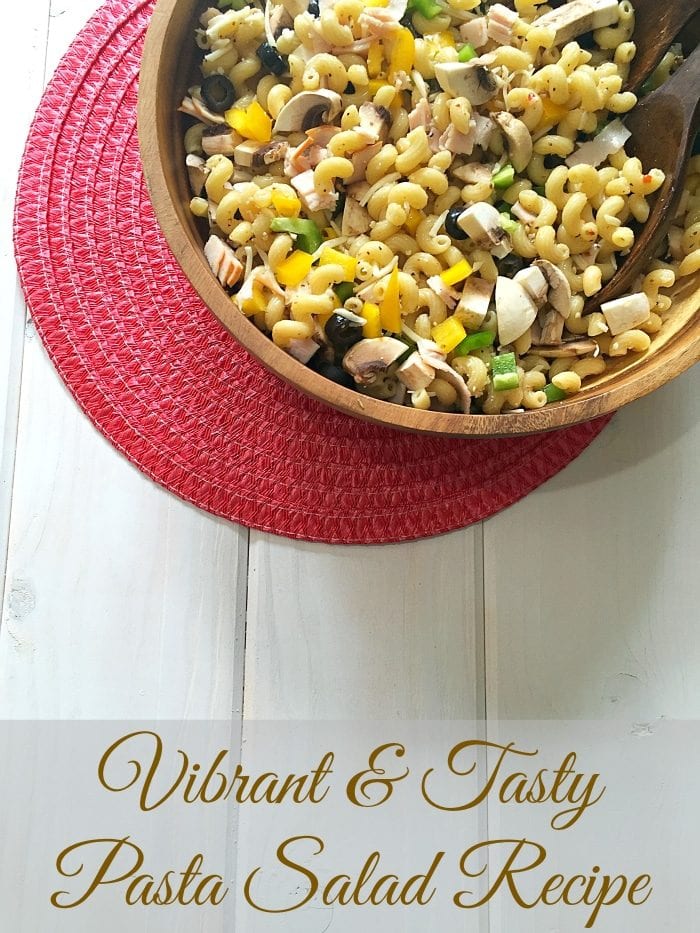 I am finally getting around to sharing my favorite go to cold pasta salad recipe!! I have made and taken this to countless get togethers, made it for parties, and made it just because at home! It is so easy to make and filled with hearty goodness.
Recipe for Pasta Salad Cold
I've had it for lunch many of times! Here is how I throw it together.
First things first when it comes to pasta salad, the noodles. I have used 2 types of noodles for this. Either I buy the curly multi colored pasta, or this time I used cellantani that I found because it had such a cool shape and it would be easy to "fork it" if you know what I mean.
These are the things I typically include, as well as Italian dressing. I use 1/3 green bell pepper, 1/3 yellow bell pepper, turkey, olives, mushrooms, Italian dressing, and mozzerella cheese.
While the noodles are boiling I dice all of these things up so they are ready once the noodles are done. Keep the noodles a bit on the al dente side for this pasta salad recipe.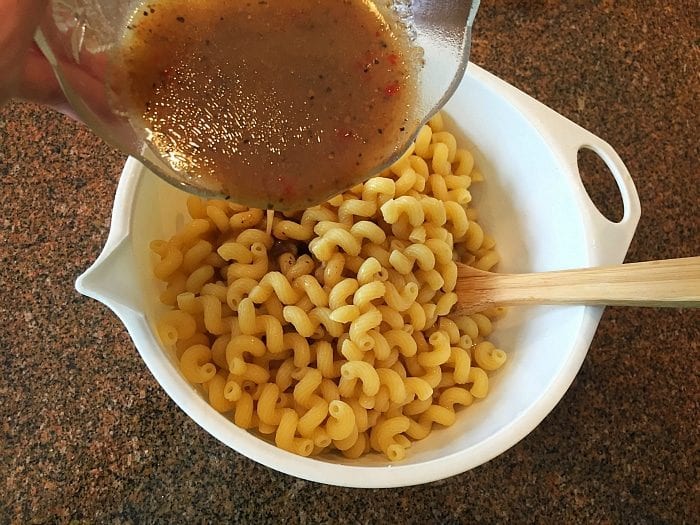 Cold Chicken Pasta Salad Recipe with Mayo
We used a bottle of store bought Italian dressing, but you could use mayonnaise instead or half and half. I think both are great if I have them on hand it just depends if you want a healthy version or creamy.
And any meat will do. Use canned chicken that is precooked or leftover ham is great too. Lunchmeat diced is my last resort but have done that many of times.
Once the noodles are done drain them, run some cold water on top, and then pour about 1/2 c. of Italian dressing on top and stir. Put this into the fridge for about 20-30 minutes so it cools down.
Add all of our ingredients in and add another 1/2 c. of Italian dressing and toss together. Add more dressing if you like, according to taste. I have an easy cole slaw recipe you'll enjoy. Great side dishes.
Cold Pasta Salad Recipe
Cold Pasta Salad Recipe that is easy to make with chicken, leftover ham or lunchmeat. Add Italian dressing or mayo.
Ingredients
12

oz

pasta

medium shells are great, bite size

1

c

mushrooms

sliced

1

bell pepper

seeds removed, cut into bite size bites

1/2

c

black olives

sliced

1

c

chicken

precooked, diced, or us ham

1

c

Italian dressing

or 1/2 c mayonnaise and 1/2 dressing for creamy choice

3/4

c

cheese

mozzarella, shredded

salt and pepper

to taste
Instructions
Boil pasta until it is al dente. Drain and run cool water over it in a collander.

Prepare all vegetables. Drain pasta completely and add into a large bowl with veggies. Fold together. Pour in dressing and gently toss so everything is nicely coated.

Sprinkle in cheese and taste. Season with salt and pepper to taste. Cover tightly with plastic wrap and chill in fridge for 1 hour. Take out, toss with 1/4 c more of dressing or more to liking and serve.
Nutrition Facts
Cold Pasta Salad Recipe
Amount Per Serving (1 oz)
Calories 321
Calories from Fat 126
% Daily Value*
Fat 14g22%
Cholesterol 21mg7%
Sodium 506mg22%
Potassium 227mg6%
Carbohydrates 37g12%
Protein 11g22%
Vitamin A 635IU13%
Vitamin C 20mg24%
Calcium 95mg10%
Iron 1mg6%
* Percent Daily Values are based on a 2000 calorie diet.