Here are some easy and sugar free Valentine ideas for school that are so cute and inexpensive to make. Using Goldfish crackers and this free printable you can make some Valentine's Day snacks that kids love. There are some ideas using applesauce squeezer packets and more too.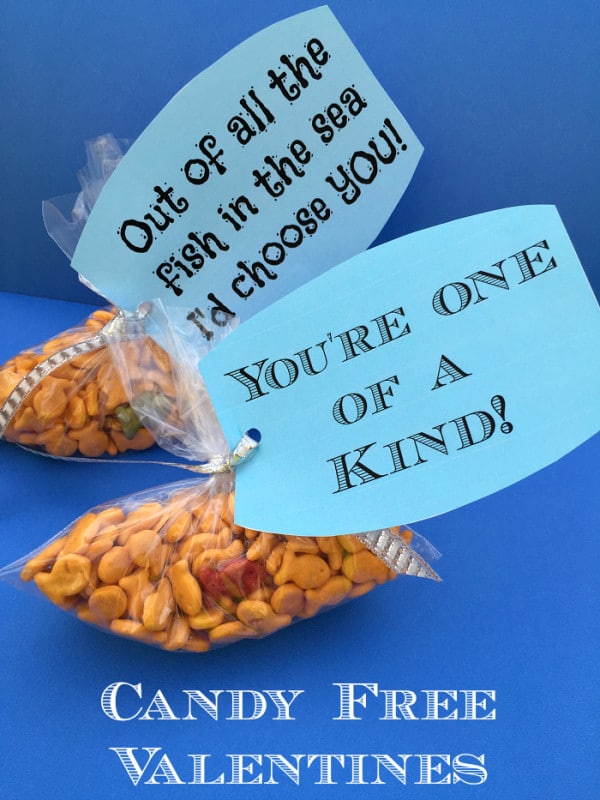 This time of year I am always thinking of cute Valentine ideas for school that are easy for me to do, and I prefer candy free ones too! I came up with a new one this year using the ever so popular Goldfish crackers…..all kids love those!! (originally published 1/15)
Let me show you just how easy and inexpensive these are to make!! I even created a printable of the two sayings you see above if you want to make it super easy on yourself…..just print these labels out here and go!! Ok, so first you need to grab a few bags of Goldfish crackers. You will need some colored ones, so buy one bag of the rainbow colored goldfish and the rest regular or baby (baby is seen above and works best so the colored Goldfish are bigger and really stand out.
You will need a Ziploc bag for each child you're making these for, some ribbon, and of course the Goldfish and the labels you will either print out or create some yourself using paper or card stock.
First, cut off the zipper part of each Ziploc baggie. You can buy the pricey bags at a craft store if you like, but it is much cheaper this way!! The, print the labels out here if you'd like to use the ones you see up above and cut those out.
Then, fill each baggie with the mini Goldfish crackers and take one colored Goldfish out of the other bag and put it right up front. 😉 Cut out some ribbon, just enough to tie it around and then be able to attach the label and you're ready to finish this off.
Attach the label to one end of the ribbon and finish tying in a knot to finish them! Easy peasy and free from candy too!
Kids will love these Valentine ideas for school and parents will think they are adorable too. I have another candy free Valentine idea for school here too involving applesauce squeezers and one involving a Quaker cereal you may enjoy. Happy Valentine's Day!