Here are tons of thrift store shopping tips from a mom who shops there often and finds name brand clothing for her kids for next to nothing!
This whole thrill started when I was looking for pieces to a Halloween costume I was going to put together for myself, then later when I was pregnant with my 2nd child and was trying to spend less $ on maternity pants….. that's the time I was truly changed and came up with these thrift store shopping tips to share with you! (originally published 1/15)
I found a pair of Citizens of Humanity maternity pants that normally in the stores were over $100 (in almost new condition) and I paid $8 out the door!! They fit perfect, I got tons of compliments on them, and I was hooked! I learned the tricks of the trade later on when I frequented them, and are here to share how I do/did it.
How to Thrift Shop
1. Learn what day they change the "Sale color" – Most thrift shops use different colors for the tags according to when the item was put on the floor. Each week typically the color of the week is changed, and that color is an additional 50% off the already cheap price they have listed on the signs. Typically jeans are $7.99 so if you found a pair with that week's color they would just be $4 out the door!
When you figure out their color schedule, make sure to try and go the day that color is changed, then you will have the most choice (first thing in the morning is best, those who have already figured this out will be there waiting too).
Check online at Goodwill, Salvation Army, or your local thrift shop's site, and their color schedule should be there.
How to Shop at Thrift Stores
2. Take your time / don't go with the kids – To find the best deals you really need to take some time. If you have kids they will really only be tolerable for maybe 30 minutes or so, depending on their age, and that isn't really enough time.
The hidden gems are just that, hidden. If you just scan through the jeans you will likely miss the name brands you'd like to snag because when you're looking at a mountain of blue they will not really stand out, you need to scan one at a time.
Here is a pair of children's Rock & Republic jeans I found last week (normally about $60 in the stores) for $8.

Sometimes the store notices that they have come across a name brand & put specific prices (still low) on them instead of their "regular" jean prices.
Many times name brands get passed over or unnoticed & don't have this "higher" price on them.

If they've taken care of kids clothing they'll almost be like new.
How to Thrift Store Shop
3. Buy clothing for the next season – Typically when you go to a thrift store, you have an item(s) in mind that you want. That is a good idea, but keep your mind open to other things you might come across that would be great for the next season.
I have a large box (used in our last move) that is full of ski clothing in a variety of sizes. Ski pants are the same price as jeans in thrift stores normally. You can usually snag an almost brand new pair of bibs or ski pants for kids. Especially in warmer states when people just ski once and then they don't fit) for just $4, the pants price.
You can usually estimate what size your kids will wear. Or if it is already winter time look for great shorts that you can store away in the closet until the next season.

You can get the best name brands & the most choice in items that are not in season now, learn to stow away for later!

Especially if you find them on the sale day color you can snag them for just a few dollars, then store them in a storage bin in the attic and bring down when you want to go visit the snow!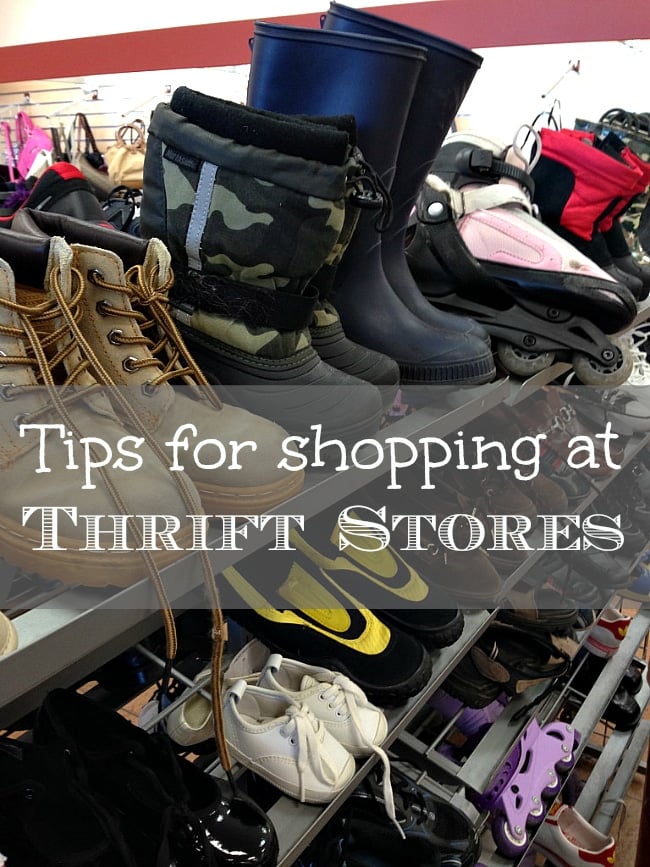 Thrift Store Finds
4. Shop before the holidays – Ask the cashier when they plan on putting out the Halloween costumes or Xmas things and shop that morning. Many times there are costumes that are upwards of $100. Most worn just once, and are at thrift stores the next year for under $20.
Many people donate their costumes and decorations after the holiday is over so there should be racks and racks for Halloween to choose from, and many times there are several artificial trees when they set out the Xmas items.

It is best to ask when they plan to set those things out so you can get first dibs on them, and the staff should know at the end of Sept. let's say for Halloween season and so on.

Or better yet…..shop after the holidays for the next year and they're almost giving the stuff away! Then store them in another storage bin in your attic and bring down the next year.
5. Sign up for their newsletter – Every thrift store, the larger ones, have free newsletters you can sign up for. They will email you to let you know when the next sale is happening! THIS is when you want to go.
Many times Savers will have 50% off jean days. This is great because then they're only about $4 a pair. We have found tons of brand new name brand jeans!
Goodwill Shopping Tips
6. Ask if they have a separate store for books! Recently several of the thrift stores have separated the clothing from the books. I think because there are usually so many books.
Goodwill for instance has a separate book store. It is divided into categories, is alphabetized, and they have a section for DVDs too! Many times they will offer buy 2 get 1 free, or other specials.
For more easy recipes, tips and free printables please LIKE The Typical Mom on Facebook and follow me on Pinterest! You can also sign up for my free weekly newsletter which is packed with goodies I know you'll love. 😉