Have you ever been torn between craving our 3 ingredient sloppy joes and a Philly Cheesesteak? Well, those days are over! Welcome to the world of comfort food! Where we're taking the best of both dishes and creating something so delicious: the Sloppy Joe Philly Cheesesteak. It's a culinary match made in heaven that I can't wait for you to try!
These Philly Cheese Steak sloppy joes are tender with sautéed onions, bell pepper, and melted cheese. And mixes it with the hearty, meaty goodness of a Sloppy Joe. Think juicy ground beef simmered with Worcestershire sauce and garlic powder, then smothered with melty provolone cheese. It's a winning combination that guarantees to take your sandwich game to the next level. (affiliate links present)
There are tons of different ways you can serve this bite of goodness. Made as an appetizer you can add a dollop on to a bun for sloppy joe sliders, so good.
Ground Beef Philly Cheesesteak
First, let's delve into the heart of our recipe: the ground beef. In a typical Philly Cheesesteak, thinly sliced beef is used. But for our Sloppy Joe variation, we're using ground beef or a mixture of ground beef and sausage. Not only does this make for a heartier sandwich, but it also speeds up the cooking process significantly.
This is just one of our favorite out of the box homemade sloppy joes recipes on our site. This one calls for lean ground beef, which provides a meaty flavor without too much grease. However, you can use any type of ground beef you have on hand. In case you're using a higher-fat variety, just remember to drain the grease after browning. This prevents your sandwiches from getting too oily.
Ground Beef Philly Cheesesteak Sloppy Joes
Now, what's a Philly Cheesesteak without its classic bell pepper and onion duo? This combo gives the dish its iconic flavors. We're using a yellow onion for its sweet flavor and a bell pepper for a pop of color and freshness.
If you want to experiment with different types of onions or peppers, go ahead! Just keep in mind that each variety has its own flavor profile that can alter the taste of your Sloppy Joe Philly Cheesesteak.
Sloppy Joe Cheese Steaks
You could even make this sloppy joe into a cheesesteak pasta instead! How awesome is that? Another duo and tweak we have done with our favorite flavors.
Can I use a different type of cheese?
Yes, you absolutely can. While provolone is typically used in this easy Philly Cheesesteak, feel free to swap it out with your favorite type of cheese. American cheese is a popular choice due to its creaminess when melted, while cheddar can add a sharper flavor. Just ensure the cheese you choose melts well.
Philly Cheesesteak Sloppy Joes Ingredients
Alright, let's get cooking! Start by browning your ground beef in a large skillet over medium high heat. Make sure to break it up into small pieces as it cooks for that classic Sloppy Joe texture. Don't forget, you can always jump to recipe at the top if you want to get down to cooking even faster. Here's a quick rundown of the ingredients you'll need for this recipe:
Ground beef or a mix of ground beef and sausage
Worcestershire sauce
Garlic powder
Onion
Bell pepper (green pepper words great)
Butter
Beef broth
Provolone cheese
Buns, unless you want to just add noodles instead like our Hamburger Helper Beef Stroganoff
Once the beef is nicely browned, you'll stir in the Worcestershire sauce and garlic powder. Next, you'll add your diced onion and bell pepper, along with a bit of butter for extra richness. Continue cooking until the vegetables are tender.
Now, here's where the magic happens. You'll add beef broth to your skillet and bring the mixture to a boil. Then, reduce the heat to a simmer and let it cook until the liquid is reduced by half. This process will help concentrate all the flavors and give you a rich, saucy filling for your sandwiches.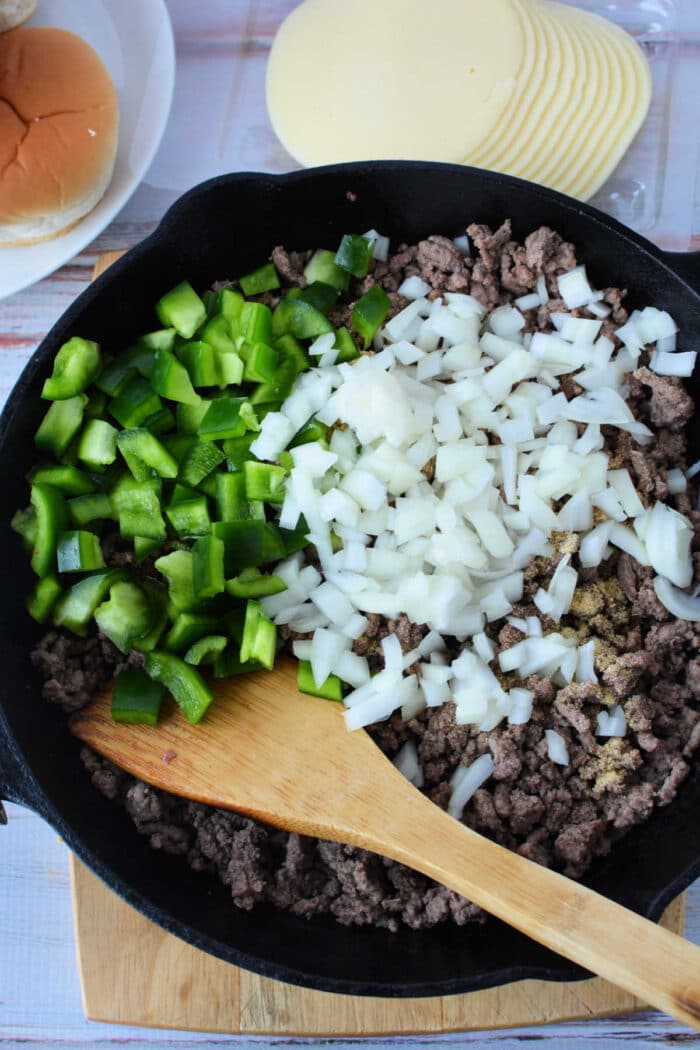 Philly Cheese Steak Sloppy Joes
Lastly, lay slices of provolone cheese on top, cover your skillet, and let it stand for a few minutes until the cheese is perfectly melted. Then, you'll give everything a good stir, mixing the melty cheese into your beef mixture. All that's left to do is scoop this divine filling into hamburger buns and serve. You won't believe the explosion of flavors in every bite!
You can always add salt and pepper to taste if desired, but I find it really doesn't need it. Also some people like to do ketchup and worcestershire sauce but again, I find it better this way, without the ketchup.
When it comes to serving suggestions, I love pairing these Sloppy Joe Philly Cheesesteaks with a side of fries or a simple salad for a balanced meal. But honestly, they're so satisfying, they could easily stand alone as a hearty lunch or dinner.
A little tip: if you find yourself with leftovers, they reheat wonderfully. Just warm up the beef mixture over medium heat in a skillet, and you'll be enjoying another delicious sandwich in no time! Try it with Hawaiian rolls as sliders! Yum!
Slow Cooker Philly Cheesesteak Sloppy Joes
If you're a fan of set-it-and-forget-it meals, you'll be thrilled to know you can adapt this recipe just like our slow cooker sloppy joes. Follow the initial steps of browning the beef and sautéing the onions and bell pepper in a skillet with a little bit of olive oil. Then, transfer everything to your slow cooker, adding the Worcestershire sauce, garlic powder, and beef broth.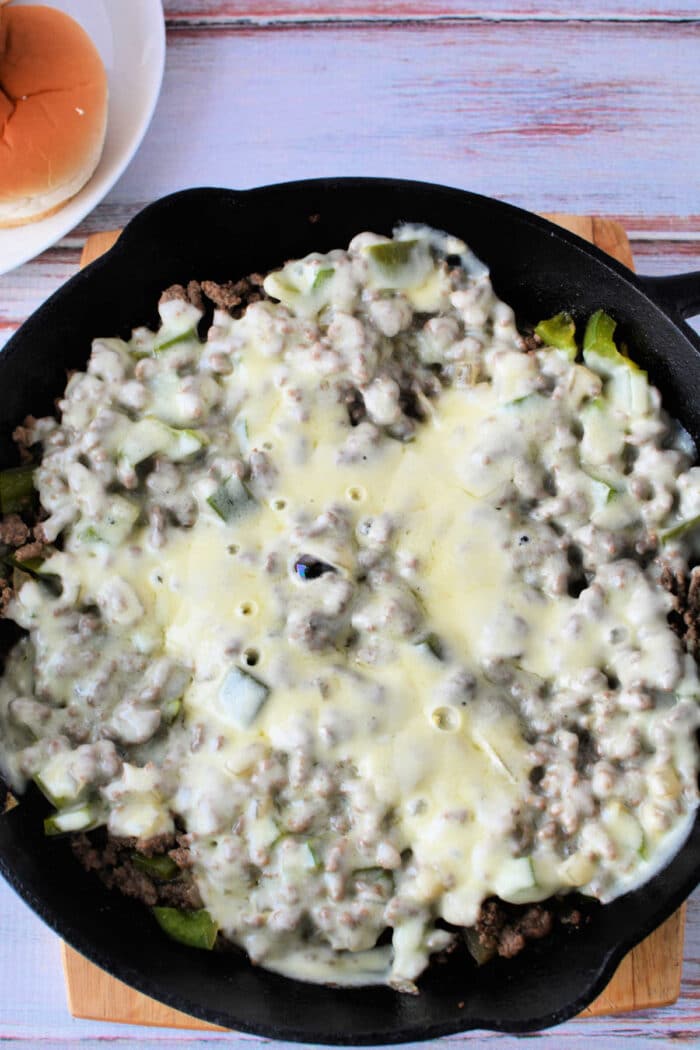 Set your slow cooker to low and let it do its magic for about 6 to 8 hours. About 15 minutes before you're ready to serve, add the slices of provolone cheese on top and let them melt. Stir in the melted cheese, and voilà – you have delicious Slow Cooker Philly Cheesesteak Sloppy Joes!
Remember, slow cooking is a great way to let the flavors meld together even more, resulting in an even tastier sandwich filling. Plus, it's perfect for those busy days when you want a comforting meal waiting for you at home. Another way you can enjoy this saucy meat is to make Texas Toast sloppy joes out of it!
As a bonus, preparing Slow Cooker Philly Cheesesteak Sloppy Joes also fills your home with an delicious savory aroma that will have everyone's mouth watering hours before dinner. And let's not forget the added bonus of easy clean-up.
With the slow cooker doing most of the work, there's less mess in your kitchen, leaving you with more time to relax and enjoy the meal with your family. So, go ahead, give this slow cooker version a try, and transform your regular dinner routine with the flavors of Philly, right in the comfort of your home. Trust me, you won't be disappointed!
Ground beef philly cheesesteak skillet
I can't wait for you to try this Sloppy Joe Philly Cheesesteak recipe. It's a fabulous mash up of two classic dishes that will surely be a hit at your dinner table.
From the savory, hearty ground beef to the sweet onions and bell pepper, and finally, the creamy, melted provolone cheese, each bite is an absolute delight. Enjoy this simple yet satisfying meal that's ready in just 30 minutes, perfect for any weeknight dinner or weekend treat.
I hope this recipe and our Instant Pot cheesesteak pasta brings as much YUM to your kitchen as it has to mine. Happy cooking!
Want to see a few of my favorite things that I am totally obsessed with?? Take a peek and see how many you might already have…twinsies!
Looking for more easy family recipes and tips? LIKE The Typical Mom Facebook page?
Then sign up for my free newsletter, and follow me on Pinterest! 😉
***** If you LOVED this recipe give it 5 Stars below and let everyone know what you thought about it. 😉
Sloppy Joe Philly Cheesesteak
Sloppy Joe philly cheesesteak sandwiches with ground beef are here! Easy fusion between sloppy joes and cheesesteaks with cheese.
Instructions
Add ground beef to a skillet and heat over medium high heat, stirring frequently until beef is browned. Drain grease and return beef to pan.

Add Worcestershire sauce, garlic powder and season with salt and pepper. Add onion, peppers and butter and continue to heat over medium heat for 5 minutes.

Add beef stock or broth and bring mixture to a boil. Reduce heat to simmer and continue to cook for about 6-8 minutes or until liquid is reduced to half.

Turn off heat and add cheese on top. Cover and let stand for 2-3 minutes or until cheese is melted. Roughly stir the cheese into the beef and serve inside buns.
Nutrition Facts
Sloppy Joe Philly Cheesesteak
Amount Per Serving (1 oz)
Calories 336
Calories from Fat 234
% Daily Value*
Fat 26g40%
Cholesterol 81mg27%
Sodium 489mg21%
Potassium 382mg11%
Carbohydrates 5g2%
Protein 20g40%
Vitamin A 965IU19%
Vitamin C 27mg33%
Calcium 221mg22%
Iron 2mg11%
* Percent Daily Values are based on a 2000 calorie diet.