Here's a unique pineapple BBQ chicken recipe!! Easy to do and creates the most tender chicken ever! Use the outside of the pineapple to cook the chicken!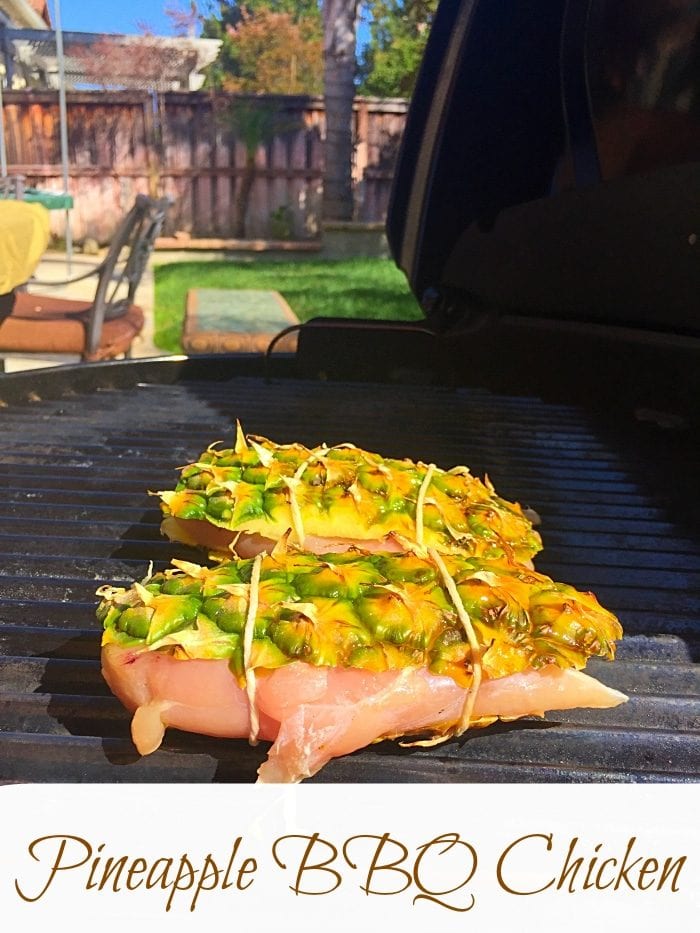 It's Summertime!! What that means for us is more time together, vacations, lots of fresh food choices, and dinners cooked on the BBQ! 😉 We have many things we cook outside but one of the best is Pineapple BBQ chicken, you will see why very shortly. Special thanks goes out to Foster Farms® for sponsoring this post so we could share our favorite chicken recipe with all of you. (originally published 2/16)
If you walk into any local grocery store you will see brightly colored fruits and vegetables during this time of year, and pineapple is one of our favorites!
There is so much you can do with these juicy fruits…but I bet you never thought about using the outside to cook with. 😉
These are the 3 things you will need for this fabulous recipe….easy right??!! 1 fresh pineapple, Foster Farms® fresh chicken breast tenders, and butchers twine. All of these items can be found at select grocery store, and this new line of antibiotic free Foster Farms® Simply Raised chicken can be found at Costco locations as well (look for the new packaging as seen above)….love that!
It is important for this pineapple BBQ chicken recipe that you choose breast tenders, and it is important to our family that we buy 100% natural, antibiotic-free chicken (we always want the best for our kids….and ourselves).
Since their chicken is locally grown in California and American Humane Certified, we always know we're getting fresh chicken wherever we shop!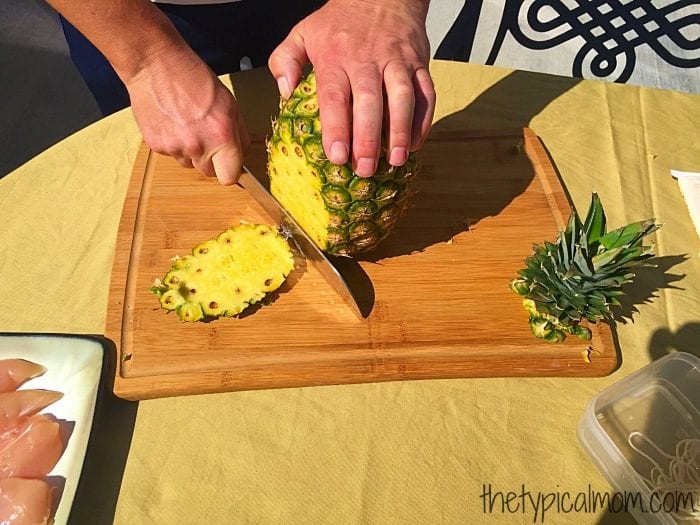 The first thing you want to do is soak some butchers string in water, so it won't burn once you put it on the grill.
Then cut the top off of the pineapple, set it up straight and slice the outside so it is thin but thick enough so that there is a smooth flat portion of pineapple on one side like you see up above.
Slice all around the pineapple to get approximately 5 pieces.
Put about 2 chicken strips in between 2 pieces of pineapple to make a sort of sandwich that you will use to cook with.
Yes, this recipe is not only delicious when it is done but it's a conversation piece when you invite people over for a barbeque!
The outside of the pineapple provides a great grilling surface, and the sweet taste of pineapple against the locally grown Foster Farms® chicken strips create the tenderest chicken you will ever taste!
If you choose to purchase whole boneless chicken breasts just cut them into thinner strips like the ones you see here so that they cook evenly and aren't too thick.
The last step before putting these beauties on the grill is to rub some olive oil on the outer skins of the pineapple (top and bottom) to keep them moist and prevent them from burning.
Slow cook them on the BBQ for about 5 minutes on each side or until the chicken is cooked completely. With the rest of the pineapple we cut it up into chunks and mix with any other type of fruit we find in the store (blueberries are great), add a few tablespoons of organic vanilla yogurt and use it as a yummy side dish….nothing goes to waste in this house!
Another great idea for the rest of the pineapple is to make fresh pineapple salsa to top your chicken with. 😉
Once you try this you can try our easy pineapple chicken in the oven too!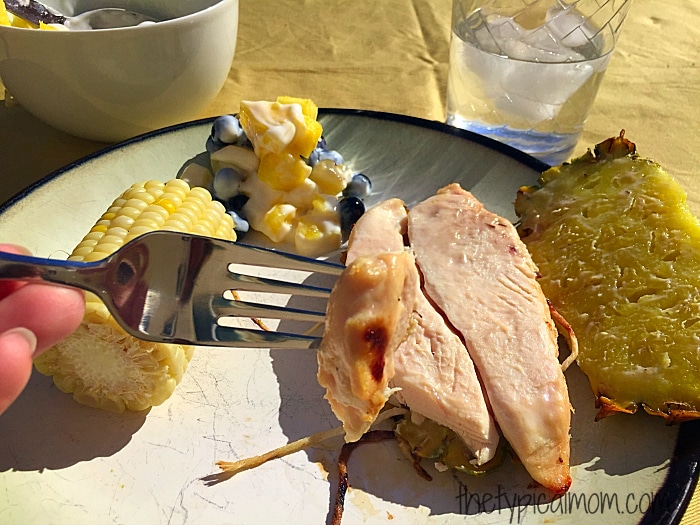 That is how you make our fabulous pineapple BBQ chicken recipe!
It is a hit when we have a get together with friends and family, and turns out so moist that we cook it regularly throughout the grilling season. What is your favorite barbecue chicken recipe??
This post is sponsored by Foster Farms®, the opinions expressed are my own.