Knotts Berry Farm Ghost Town Alive is the newest live adventure you can experience right now! Take yourself back to the Wild Old West in California today.
Do you love the Wild Old West and Knott's Berry Farm, well then this new experience is for you! We all love Ghost Town and the old town feel it has when we walk into all the shops. Special thanks goes out to Knott's for sponsoring our visit.
Ghost Town Alive
Knott's Berry Farm in Buena Park, California, is renowned for its thrilling roller coasters, delicious food, and family friendly atmosphere. In addition to the excitement of the park, there is a unique and immersive experience that takes visitors back in time to the Old West. Welcome to Knott's Berry Farm Ghost Town Alive, where the Wild West comes to life right before your eyes.
You get to see old fashioned dresses, try old fashioned candy we all love so much, but now there is much more and it's LIVE! Knotts Berry Farm Ghost Town Alive is an interactive experience like no other. The events go on throughout the entire day in Ghost Town.
When we got there we were told to check out the Old School House and Jail because there were sure to have some action there…and we lucked out right away.
Knotts Ghost Town Alive
Ghost Town Alive is an interactive and immersive experience that allows visitors to step into the vibrant world of the Wild West. As you enter the streets of Ghost Town, you are transported to the year 1885, where cowboys, cowgirls, and other lively characters roam the streets. The attention to detail is amazing.
Every building, storefront, and character is meticulously designed to create an authentic atmosphere that captures the spirit of the Old West. From Calico park with a replica of the calico gazette with their own theme park news but brought back in time with the verbiage in the paper, they go all out for this!
As soon as we came across the jail there was a sheriff there who was ready to catch an outlaw and take him to trial. The citizens of calico look so authentic and stay in character all day long. He told all the kids who were around to follow him to the train to catch him. First he had a gun fight right there in Ghost Town!
There were a few men there and they made sure to make it interactive and involve the kids who were in the audience which is always great. It was a fun little show they put on. Once the train arrived and they caught their man and took him to the courthouse to put him away for good. The show continued from there. Really cute live show!
Ghost Town Alive Dates
May thru September is when this returns to Knotts year after year, so right now y'all!! It is a summertime event that changes just a bit each year so you will always experience something new at the post office, restaurants and live events.
What really sets this apart is the opportunity for visitors to become active participants in the story of the day. You're not merely an observer; you're invited to engage with the characters, participate in adventures, and shape the narrative as it progresses throughout the day.
From assisting the sheriff or deputy mayor milton in the town hall to capture outlaws to helping the town's mayor solve a mystery with a real looking treasure map, each visitor becomes an integral part of the story in front of you.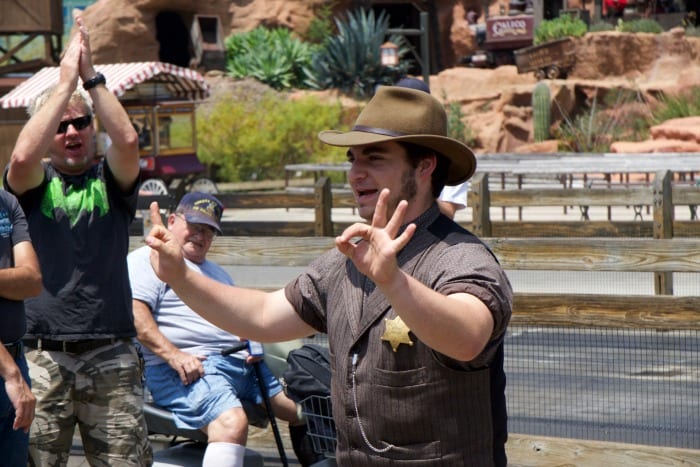 Ghost Town Alive Schedule
It was my youngest daughter's birthday on the day we visited Knotts for this event. It was super special and the people were more than willing to take a photo to remember that day. 😉
Whatever type of new adventures and activity you're looking for with your family. You can find it here and throughout the day. You can join the gold panning experience, where you'll learn to sift through gravel in search of treasure. Take part in the old fashioned barn dance and try your hand at square dancing.
For the little ones, the School House provides a chance to learn cursive writing and arithmetic. Just as children did in the 19th century which is kinda fun. You can even become a citizen this town by visiting the Town Hall. Just participate in a unique and interactive ceremony of sorts where you can "live" there and sign the books.
We always love this amusement because of their unique live shows though too right? This just adds a new element that gets the audience more involved. You can find new people from the Old West throughout Ghost Town during Ghost Town Alive. This runs during the entire summer.
Ghost Town Alive Pictures
Whether you're a history enthusiast, a fan of the Wild West, or simply seeking a unique and interactive theme park experience, these days are not to be missed. Step into the boots of a cowboy. Immerse yourself in the stories of the olden days with friends. Create lasting memories as you journey through this living, breathing slice of history at Knott's.
Check out more information on their website and make sure to visit throughout the year. They always have new shows and fun like their Knott's Spooky Farm, Knotts Merry Farm and much more! It is always best to purchase tickets online to ensure they are not at capacity as summertime can be busy.