Knotts Berry Farm Ghost Town Alive is the newest live adventure you can experience right now! Take yourself back to the Wild Old West in California today.
Do you love the Wild Old West and Knott's Berry Farm, well then this new experience is for you! We all love Ghost Town and the old town feel it has when we walk into all the shops. Special thanks goes out to Knott's for sponsoring our visit.
Ghost Town Alive
You get to see old fashioned dresses, try old fashioned candy we all love so much, but now there is much more and it's LIVE! Knotts Berry Farm Ghost Town Alive is an interactive experience like no other. The events go on throughout the entire day in Ghost Town.
When we got there we were told to check out the Old School House and Jail because there were sure to have some action there…and we lucked out right away.
Knotts Ghost Town Alive
As soon as we came across the jail there was a sheriff there who was ready to catch an outlaw and take him to trial. He told all the kids who were around to follow him to the train to catch him. First he had a gun fight right there in Ghost Town!
There were a few men there and they made sure to make it interactive and involve the kids who were in the audience which is always great.
It was a fun little show they put on. Once the train arrived and they caught their man and took him to the courthouse to put him away for good. The show continued from there. Really cute live show!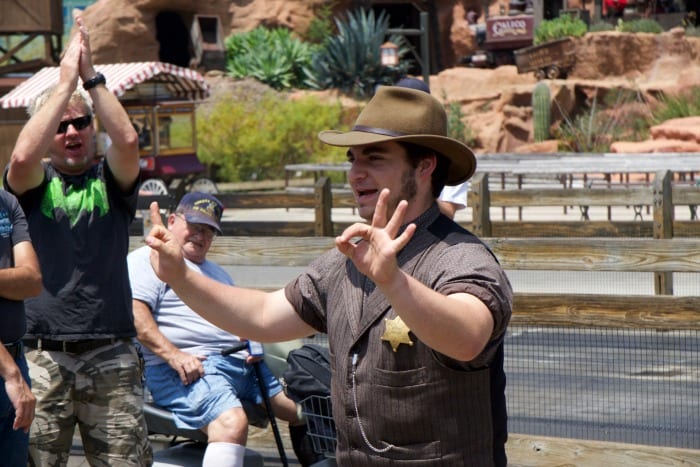 Ghost Town Alive Schedule
It was my youngest daughter's birthday on the day we visited Knotts for this event. It was super special and the people were more than willing to take a photo to remember that day. 😉
We always love Knott's Berry Farm because of their unique live shows. This just adds a new element that gets the audience more involved. You can find new people from the Old West throughout Ghost Town during Ghost Town Alive. This runs during the entire summer.
Check out more information on their website and make sure to visit throughout the year. They always have new shows and fun like their Knott's Spooky Farm, Knotts Merry Farm and much more!