This is how to sous vide chicken, beef or just about anything. Easy way to get started as a beginner when you've never done this before. This is using fresh poultry but you can even make sous vide frozen chicken breast, just add an extra 30 minutes to the timing.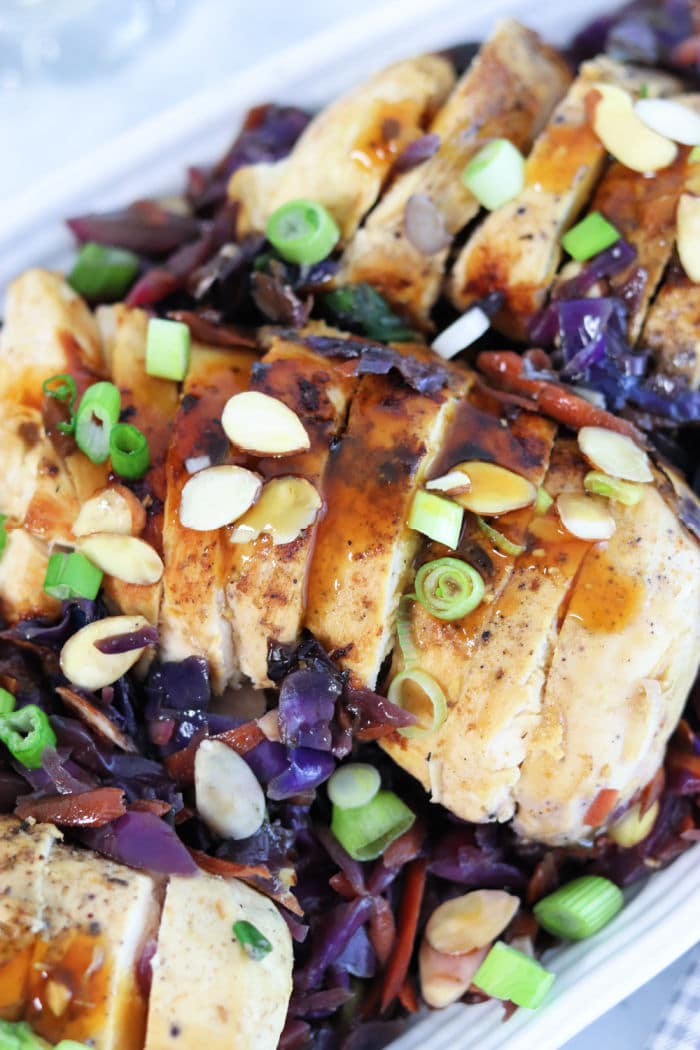 Learning how to sous vide isn't difficult but it can vary depending on the cuts of meat that you use. This cooking method is all about narrowing it down to precision cooking. It is a very popular way of cooking meats so they're as tender as possible. Just one of many quick and easy chicken recipes on our site. (affiliate links present)
Sous Vide Chicken Breast Boneless
Using a vacuum sealer to seal a plastic bag full of meat might sound like an interesting cooking technique but this is exactly how sous vide cooking starts. The food cooks in a vacuum sealing bag inside an Immersion circulator.
This is also known to many as a sous vide machine. One of the better machines to sous vide with is the Anova Precision Cooker. This is made to create the perfect water bath for your sous vide bag.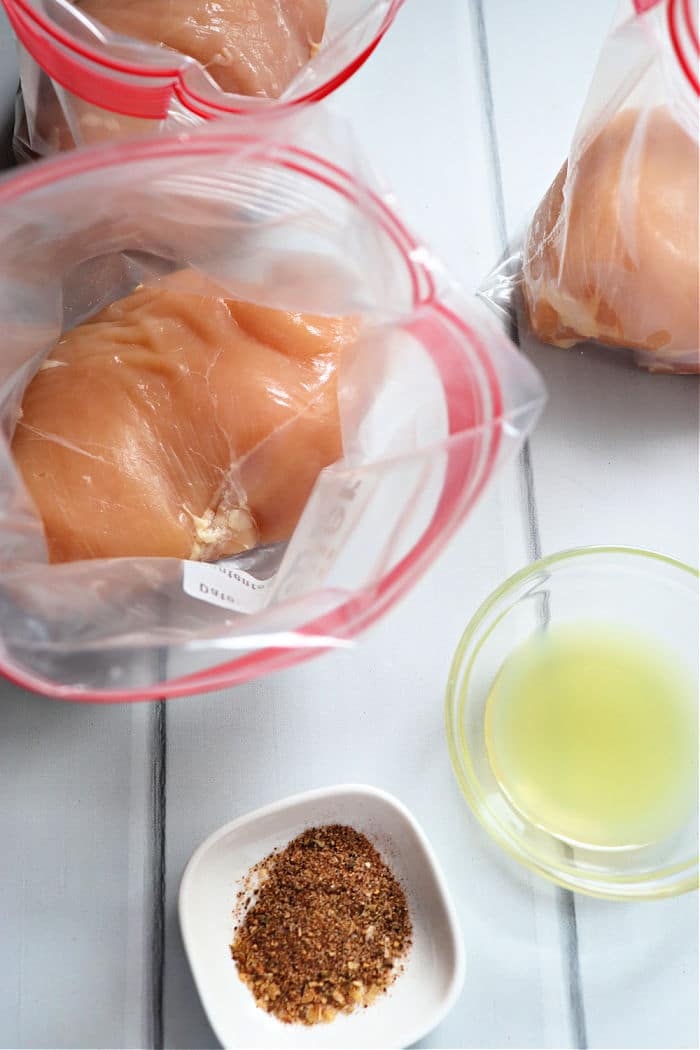 Anova Sous Vide Chicken Breast
The great thing about cooking sous vide steak or other types of meat is that the sous vide cooking method really isn't hard to do. In fact, it's as simple as setting the correct cooking temperature and setting the timer.
Once that is done, all that is left is placing the frozen steak, pork chop, chicken breasts, or other types of meat in the water to start cooking.
However you're wanting your steak cooked will change up the time that you're cooking it. The other meats, such as chicken or pork, have to be carefully cooked. You do not want to eat these types of meat undercooked. You'll have to adjust the time and temperature accordingly.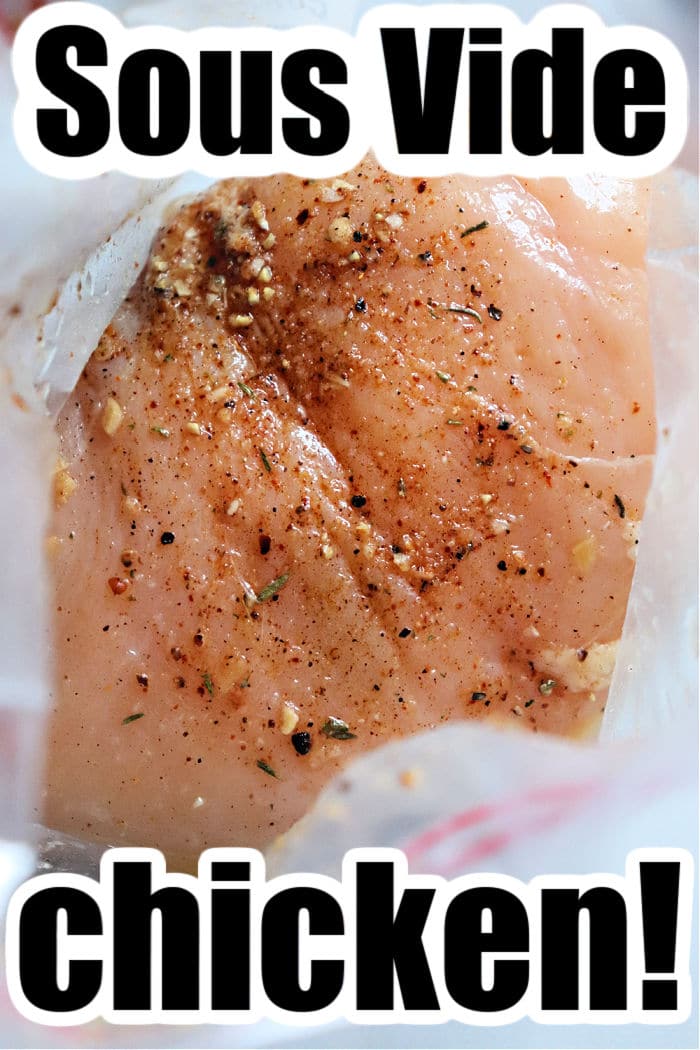 How to Sous Vide Chicken
Cooking chicken sous vide method takes about an hour of cooking time from start to finish. The great thing about cooking this way is that the bag full of chicken can remain in the water bath for up to 4 hours. This is AFTER the initial cooking period is done. You can just add seasonings or try a sauce like we made for our tahini chicken.
You are going to need the following items to get started:
3 quart zipper bags
Seasoning blend was used on the meat
Water
Use this SousVide App on your phone
Fresh and/or defrosted chicken breasts were used
If you're going to make the cold cabbage salad as well you'll want some sort of dressing to add flavor to shredded pieces of veggies.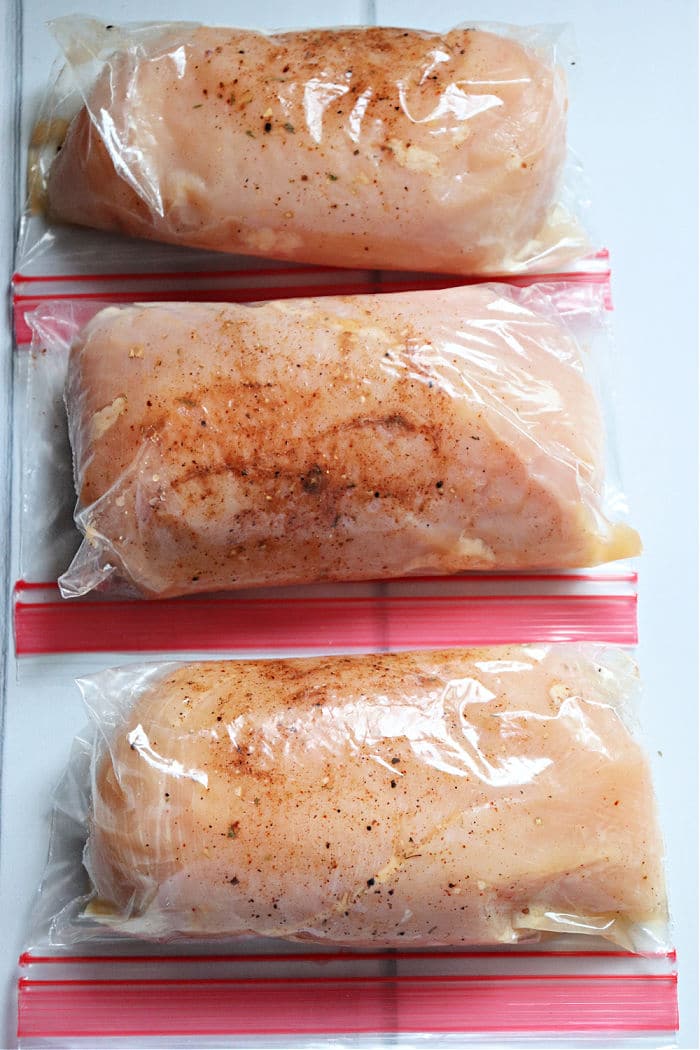 Sous Vide Technique
The biggest thing to keep in mind is that the chicken's internal temperature will be different. It isn't going to be as hot as the recommended 165 degrees internal temperature that we've heard time and time again.
Cooking chicken thawed or frozen chicken breast really, with the immersion cooking method, means that the temperature of the chicken is going to be more like 145-150 degrees.
This isn't anything out of the norm for this type of cooking but it is something to be aware of. However, if you're still nervous about your chicken being under that 165-degree mark, I get it. I really do.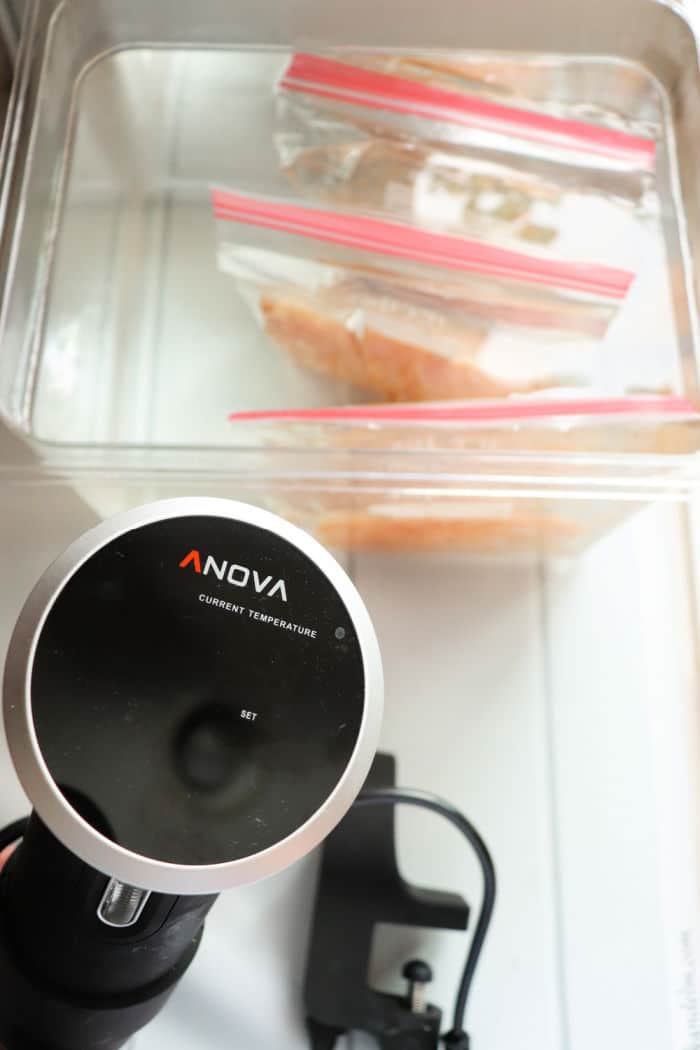 You can easily set your cooking temperature to be at 165 degrees and cook it that way perfectly fine.
The only difference is going to be the texture and moisture level. Cooking it in the machine for that length of time at that temperature will dry it out a bit. It will also be more stringy in texture as well.
Sous Vide Cooking Techniques
Even though this method of cooking chicken is a great way to "set it and forget it", you still have to be aware that you can quickly overcook your chicken. This is a fast way to make it an unpleasant dining experience.
Make certain that you're using the timers and adjusting the temperature settings so that you're cooking it perfectly each time.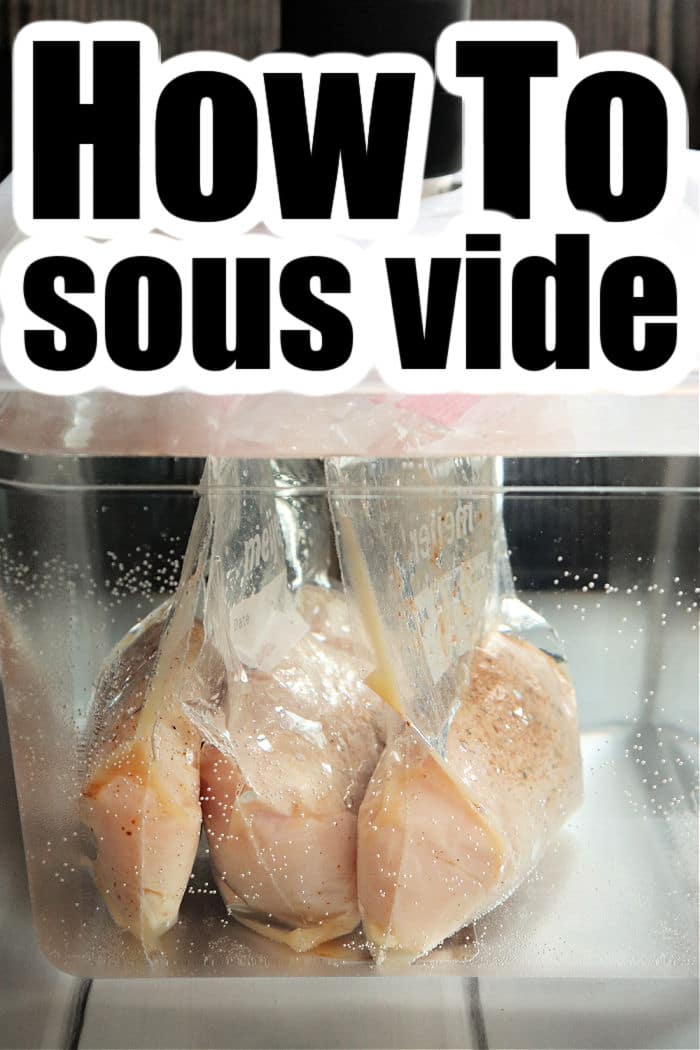 Once the timer has gone off, leaving the bag of chicken (or other meat) in the water bath is fine. Doing this keeps it a consistent desired temperature which makes it warm and ready to eat.
Sous Vide Cooking Tips
Most people are unfamiliar with the sous vide cooking method but find it to be a great way to perfectly cook up different cuts of meat.
Make certain that when you're making and cooking up the sous vide recipes that you're following the cooking temperatures and times accordingly. This will ensure that you're not going to overcook or undercook any of the meats.
Many high-end restaurants use this as their main cooking technique as well. It's such a simple and efficient way to perfectly cook meat. If you've ever been to a restaurant and couldn't believe the texture and tenderness of the steak or chicken, ask if it's been sous vide.
There's a good chance that it might have been cooked with the sous vide cooking method.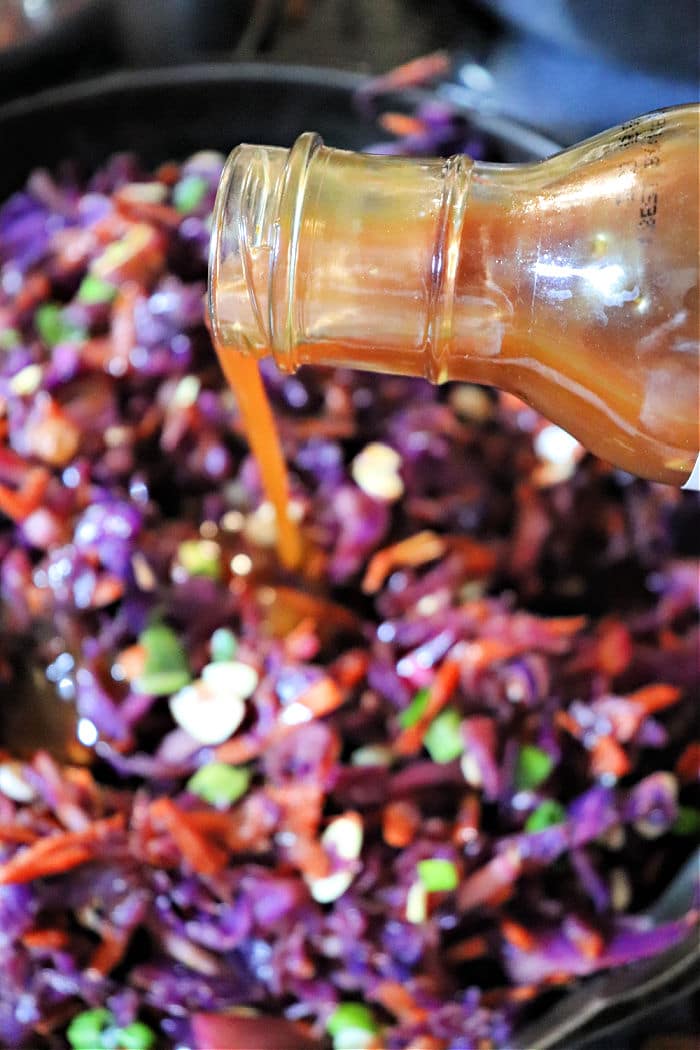 How To Cook Sous Vide Chicken
If you're wanting a bit of a crispier crust on the outside of your meat after it's done in the water bath, it's possible. All you have to do is add it to a skillet quickly and sear both sides. Just don't do it for too long! This might overcook or dry out the meat that you've worked and planned so hard to perfect.
The next time that you're looking for a unique way to cook up chicken, steak, or other cuts of meat, consider using this. It's a simple cooking process!
It does the majority of the work for you and also cooks the meat perfectly to retain its natural moisture as well. Cook up various types of meat and see which one you like best. I think you'll love it and use it often when meal planning.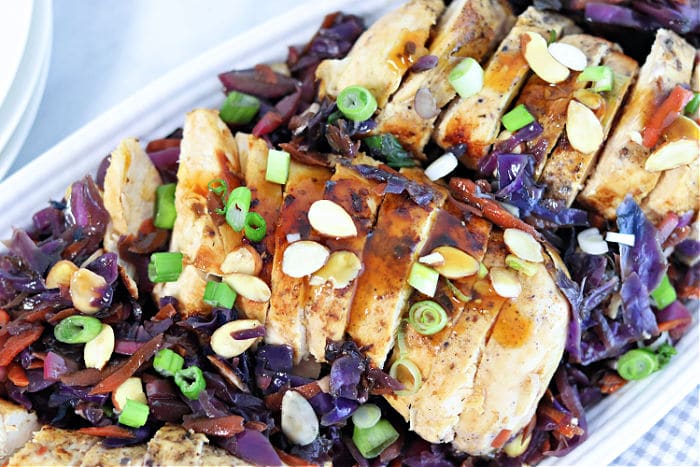 Want to see a few of my favorite things that I am totally obsessed with?? Take a peek and see how many you might already have…twinsies!
Looking for more easy family recipes and tips? LIKE The Typical Mom Facebook page?
Then sign up for my free newsletter, and follow me on Pinterest! 😉
***** If you LOVED this recipe give it 5 Stars below and let everyone know what you thought about it. 😉
How to Sous Vide
How to sous vide chicken, beef or just about anything. Easy way to get started as a beginner when you've never done this before.
Instructions
Prep the sous vide machine by filling the container with water per the instructions in the recipe you're using. Set your cell phone app. with the amount of time you'd like to cook your chicken. If you just want to cook 3 chicken breasts with seasoning set for 149° for 2hours. Sous vide meat can cook all day and not get overcooked, just tender.

Place each chicken breasts in a seal-able bag. Divide lime juice between each bag. Divide spices between each bag. Massage the spices and lime juice into the chicken. Seal the bags, removing as much air as possible.

Insert the bags of chicken into the sous vide container that has been filled half way with water. Clamp the anova sous vide machine to the container and set your time and temp on the app.

When timing on chicken is almost done add olive oil to skillet. Add chicken and brown for 5 minutes. Set chicken aside to cool for 5 minutes before slicing chicken into diagonal strips for presentation. Drizzle teriyaki sauce on top before serving.

If making cole slaw: Slice 1 head cabbage. Shredding it is ok too, but the pieces will be very small and not as good. Shred 5 carrots, slice 6 radishes into small sticks, and slice 1 green onion. Set aside green onions.

Place cabbage, carrots, and radish into large cooking pot. Cook on medium, stirring, frequently until cabbage is soft, but still has a bite to it. Pour in marinade, approximately 1⁄4 cup, stir, and taste. Add more if desired. Stir in green onions and almond slivers.
Nutrition Facts
How to Sous Vide
Amount Per Serving (2 oz)
Calories 131
Calories from Fat 27
% Daily Value*
Fat 3g5%
Cholesterol 72mg24%
Sodium 3619mg157%
Potassium 428mg12%
Carbohydrates 1g0%
Protein 24g48%
Vitamin A 38IU1%
Vitamin C 4mg5%
Calcium 9mg1%
Iron 1mg6%
* Percent Daily Values are based on a 2000 calorie diet.