What is the Hefty® EnergyBag® Program. If you live in Boise you'll want to read all about it as it's pretty neat!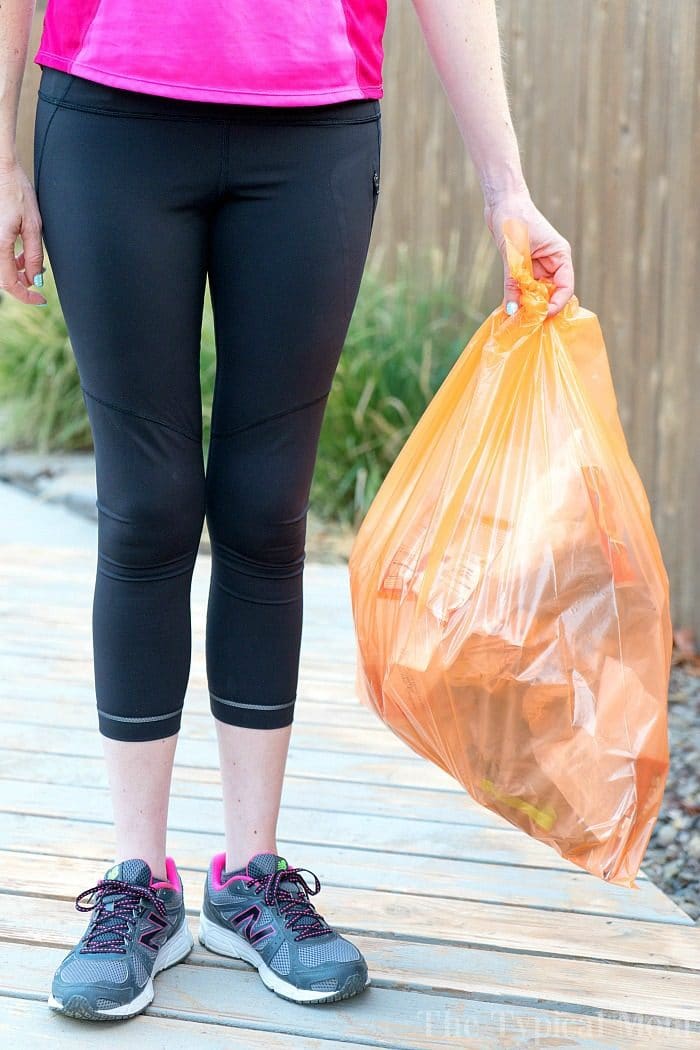 If you live in Boise and have seen those orange bags in recycling carts  at the curb, you might be wondering what they are and how they are used. I'm here to help. 😉 I asked you a few weeks ago whether you got orange bags yet and explained this program, but I'm now here to share how we've used them in our house and why you should too. Special thanks goes out to Hefty® for sponsoring this post so we could share this program with all of you.
I found ours at Albertsons where the other Hefty® bags are located (a full list of locations are here) , you can't miss them….. they are bright orange and all……
It does explain a bit about their program to collect hard-to-recycle plastics and convert them into alternative energy on the back but you can find even more information here on the Hefty® EnergyBag® website.
Once you get the hang of what belongs inside the Hefty® orange bags it becomes second nature.
This is typically what we fill ours with…….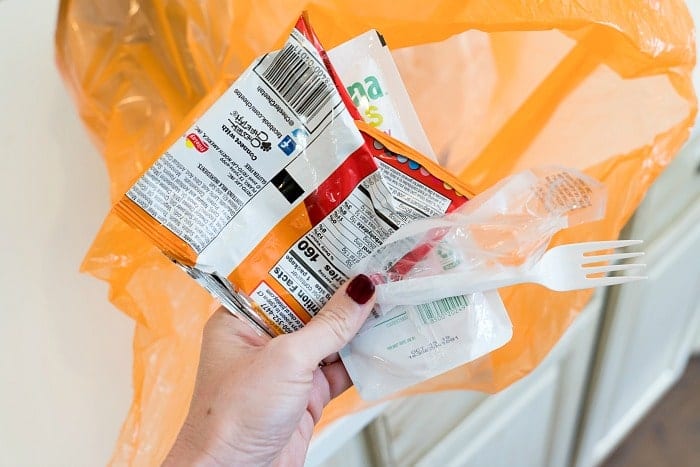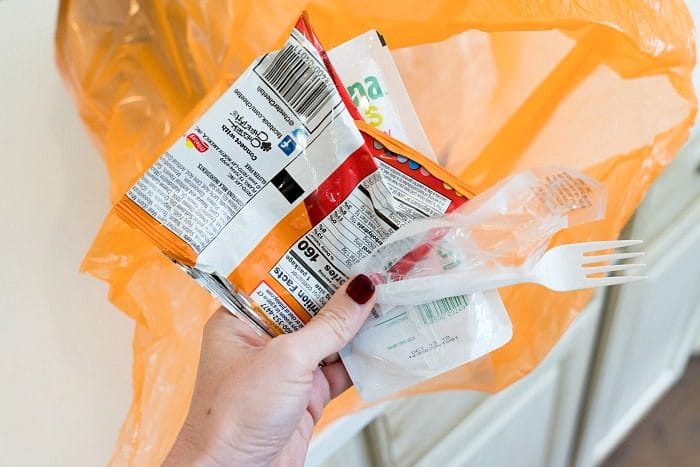 I have 3 kids so I buy small packages of chips, string cheese, and drink pouches in bulk! All of those really belong in your EnergyBag®orange bag instead of throwing it away. With the Hefty® EnergyBag® program, plastics like this can converted into alternative energy which can then be used to power businesses, cars and homes!
Total win.
I have to admit I had no idea that plastic items like this weren't recyclable, and I always put them in our blue recycling bin assuming they would be recycled – when in fact, they were ultimately sent to the landfill!
Essentially this program provides a solution for plastics that currently cannot be recycled and would otherwise be sent to the landfill!
Since I am a food blogger as well I've found other items I once thought were recyclable like frozen vegetable bags and the plastic bags inside cake boxes, that in fact are not recyclable but now can be put in our EnergyBag®orange bags.
Here's a longer list of plastic items you should put into your Hefty® EnergyBag® orange bags:Potato chip bags and other snack bags – this is the majority of what is inside ours
Candy wrappers

Granola bar and energy bar wrappers – yes we have quite a few of these too with 3 kids and lunches to make, granola bars are bought in bulk here

Frozen fruit & vegetable bags – being a food blogger I have a fair amount of these to put inside our orange bag

Pudding cups

Stand-up pouches – we have a lot of these too with school lunches so any that come home in lunch boxes or they have on the weekend can now be put into our Hefty® EnergyBag® orange bag

Squeezable baby food pouches

Foam to-go boxes

Packing peanuts you find in packages in the mail

Plastic utensils you might get from restaurants or fast food locations

Plastic straws and stirrers you'd use for coffee/tea

Cake mix liners and other dry powder mix liners – I have quite a few of these since I am the queen of dump cakes 😉

Plastic toothpaste tubes

Condiment packets

All other non-recycled plastic bags

Plastic and foam cups, plates and bowls

Shredded cheese packages

Salad bag
Plastic pet food bag
Here is a diagram and image from the City of Boise explaining the difference between what can be recycled, what belongs in yourHefty® EnergyBag® orange bags, and what should be thrown away.
What do you do with your orange bag once it is full?
Just tie it up at the top

Throw it in your recycling cart

Put it out on the curb as usual on your designated day

They take it from there!
The added steps are minimal and now that we've used it for the past month or so we don't even think about it anymore.
The kids know what belongs in each bag and we just set our orange bags next to our blue cart until it's our recycle pick up day, and then we put it inside like you see here.
What else can you do to be more environmentally friendly every day?
Reuse and repurpose

Repurpose plastic containers – poke a hole in the bottom and start a gardening project with your kids!

Reuse cardboard boxes that come in the mail – one of the best "toys" my kids had when they were young, or use them as storage bins for Christmas decorations/outgrown clothes

Create a compost pile

Makes great soil for gardening

Start in the Fall ideally

Carpool

Not only does it help the environment to have 1 car on the road vs. 6 to take kids to and from school but it saves you a bunch of time, energy, and money too

Bike whenever possible

Not only is it an environmentally friendly mode of transportation but it's great exercise and something you're whole family can do together
What other questions do you have about these orange bags, and what else would you add to our list here??