Here is a Graze promo code that will get you 3 free boxes of healthy snacks delivered right to your door! We love their wide selection and you can have them delivered as often as you like. Great gift for someone who has everything.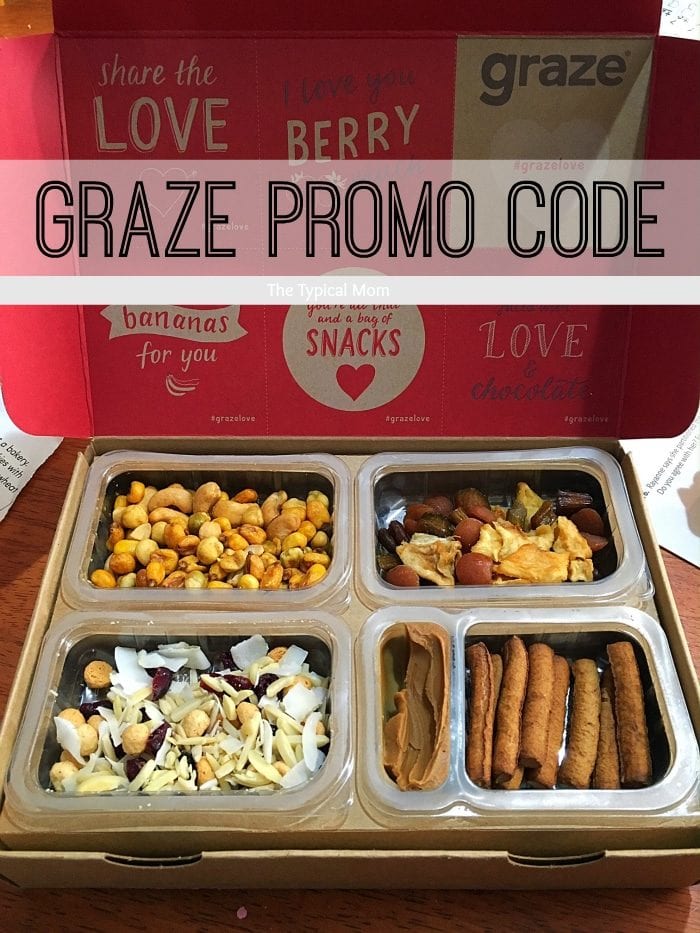 Have you heard of the new company called Graze?? We saw a commercials and since we are HUGE snackers in this house we wanted to try it out. They were generous enough to give us a few weeks to try it out so we could share our feedback with you. I think we are addicted! I also have a Graze promo code to share with you so you can get your 1st and 5th box for FREE too! (originally published 4/16, referral links included)
Graze Subscription Box
First off this is only available in the UK now. I know, so sad. SO if you are in the USA I would suggest signing up for MunchAddict instead which actually offers a larger variety of treats to your home.
If you do live in the United Kingdom then you can sign up for Graze and can start your subscription here will get you your 1st, 5th AND 10th box for FREE!
That's right! When you create an account and make your first order it will be free to try! Then thereafter your fifth and 10th boxes are FREE.
Is Graze Box Available in the US
Well it used to be. You can see ours below that we used to receive to an address in California. I went back in years later to start our snack box subscription up again and it wouldn't pull up where I live now. Instead it only pulls locations outside the USA. Super disappointed.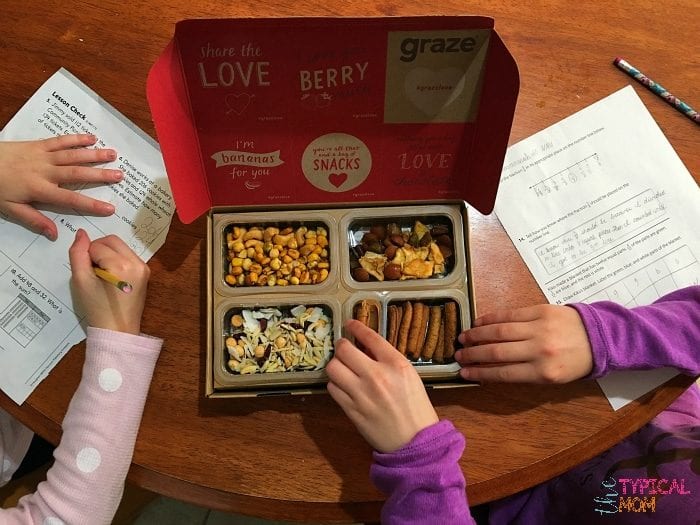 What happened to Graze snacks
It was bought over in Sep. 2019 and now only delivers to UK homes. BUT there is another one that is similar called Munch Addict you can sign up for instead that is amazing!
You can choose how often you want them delivered too. There are 2 rows, one is underneath these 4 healthy snack selections. You get 8 different snacks delivered.
We have ours come once a week. It really it could be more often than that since this box of 8 snack bins was GONE in 2 days. They're so good, I even dove in.
Mainly it is a great thing to have when your kids come home to do their homework!!
You customize your likes and things you do not want included. The 8 different selections are a mix up of all the things you want to try or already love!
We were anxious to try Graze coupon code when I got it. I was actually super impressed with the selection and presentation when it came too! Perfect for putting on my desk while I am working or for homework time.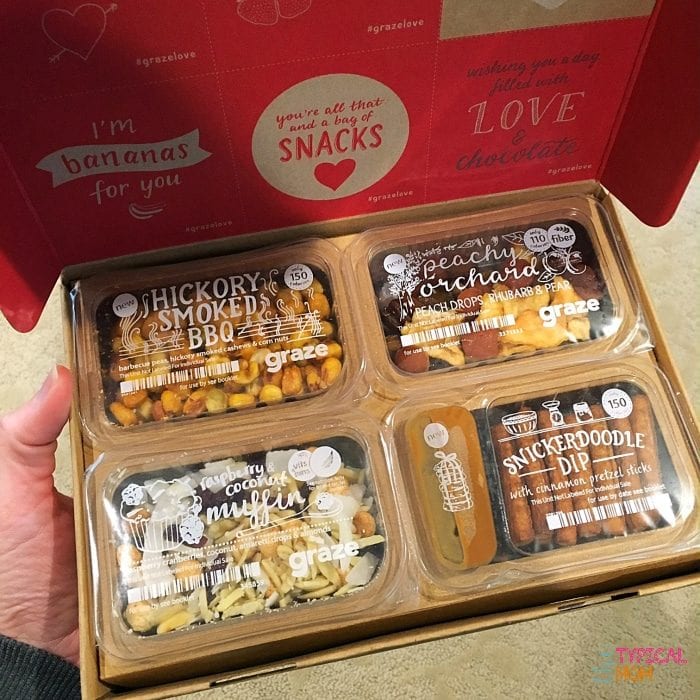 Snack Box Delivery
If you've seen other Graze offers I bet they aren't nearly this good! 3 free Graze boxes to enjoy are here!
They offer free shipping too in the total price you pay. You can cancel your subscription any time you want too.
There's no other natural snack box out there with this type of selection!
Want to make something fun in the kitchen with your kids? Try this homemade fruit snacks recipe sometime. They're so good!! Made with real fruit juice and NO high fructose corn syrup, they're a sweet snack they'll love.
Want to see a few of my favorite things that I am totally obsessed with?? Take a peek and see how many you might already have…twinsies!
Looking for more easy family recipes and tips? LIKE The Typical Mom Facebook page?
Then sign up for my free newsletter, and follow me on Pinterest! 😉
***** If you LOVED this recipe give it 5 Stars below and let everyone know what you thought about it. 😉