The importance of messy play and finger painting with your kids. How to make edible non toxic fingerpaints for your toddler and kids too.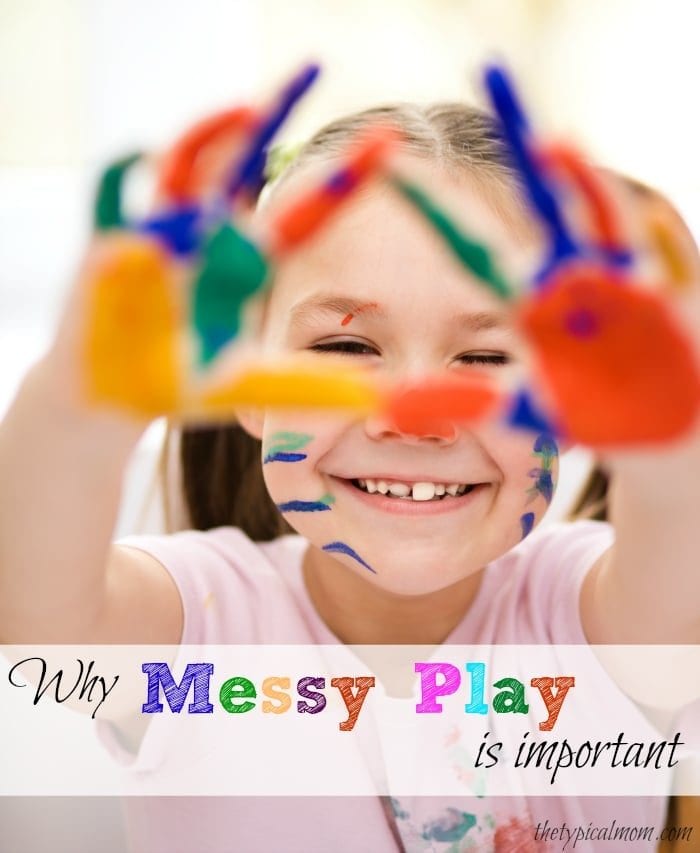 Who doesn't love to finger painting??!! Of course when your kids are toddlers they love to paint with their fingers using anything they can get their hands on! When kids get older they still love to feel the paint in their hands. Love to create things, and then usually smash all the colors together to "see what we get!" It is really important to let kids participate in messy play as they grow up. Here's why. 😉 Special thanks goes out to Wet Ones for sponsoring this post so we could share our fun ideas with you. (originally published 8/15)
Finger Painting Ideas
As a Teacher I was taught just how important it is for children to touch, smell, and move while they're learning.
When you incorporate something Fun while you're teaching they'll remember it better. Do you remember the lessons you were taught on the chalkboard at School? Was it the lesson about how your heart pumps blood thru your body? You get the idea.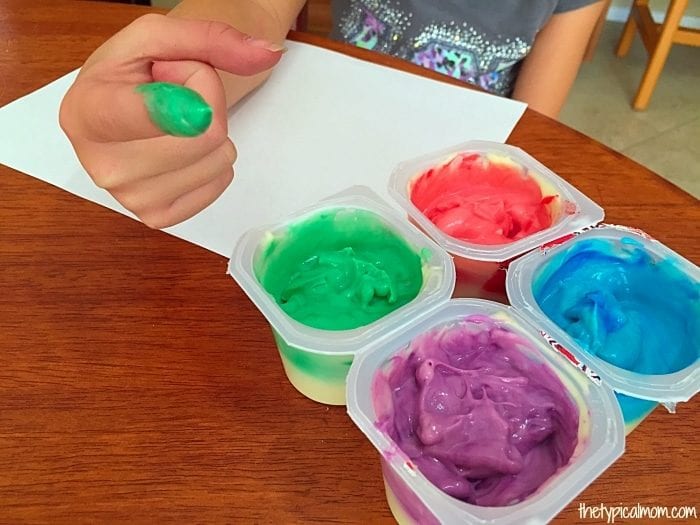 Finger Painting for Toddlers
A great way to incorporate a lesson you're trying to teach your child is to add fun! Here's a great way to do that. Let's say your teaching your toddler about their colors. Make that fun!
One messy play activity actually isn't all that messy but believe me when I say your kids will remember it. One way to create your own colors is to make edible fingerpaints for less than $3 total. Then you have a snack at the end too!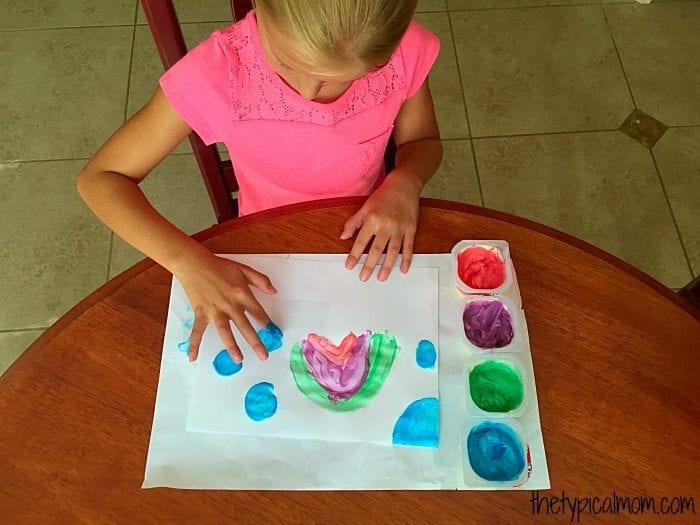 It is always better to use this thicker special paper so nothing leaks thru on to your table or anything.
Finger Paint for Toddlers
The great thing about fingerpainting is it sparks imagination! This time I didn't guide her at all…..but think if I were to just talk about the picture she made on her own just how many things we could talk/teach her about! I could say:
"Let's count the stripes on your rainbow", or "if you added all the raindrops and all the strips in your rainbow what would the total number be?". The list goes on and on.
Guess what? She will think it is all FUN! We have done this after School with a bit more guidance while practicing math facts too. Use the paints while adding two digit numbers. Much better than pencil and paper you usually do every day.
Finger Painting for Kids
Guess what else is great…..it's EASY clean up! If you're at home it all comes off easily with soap and water or a wipe. Roll up the paper and eat the rest of the pudding…..cleanup is done. 😉
Whether you use edible fingerpaints, washable tempera style paints, or watercolors. It all works the same. Fingerpaints bring FUN into learning.
They're not just for School or Preschoolers (even my 14 year old loves this at times). Just let loose, don't worry about the clothing, smile, and clean up will be quick…no worries, just tons of learning – I mean FUN! 😉
Want to see a few of my favorite things that I am totally obsessed with or visit my Etsy shop?? Take a peek and see how many you might already have…twinsies!
Looking for more easy family recipes and tips? LIKE The Typical Mom Facebook page?
Then sign up for my free newsletter, and follow me on Pinterest! 😉
***** If you LOVED this recipe give it 5 Stars below and let everyone know what you thought about it. 😉