Free printable Fall cleaning checklist for October is here! Focus on just a few areas at a time so you don't get overwhelmed and purge your house clean.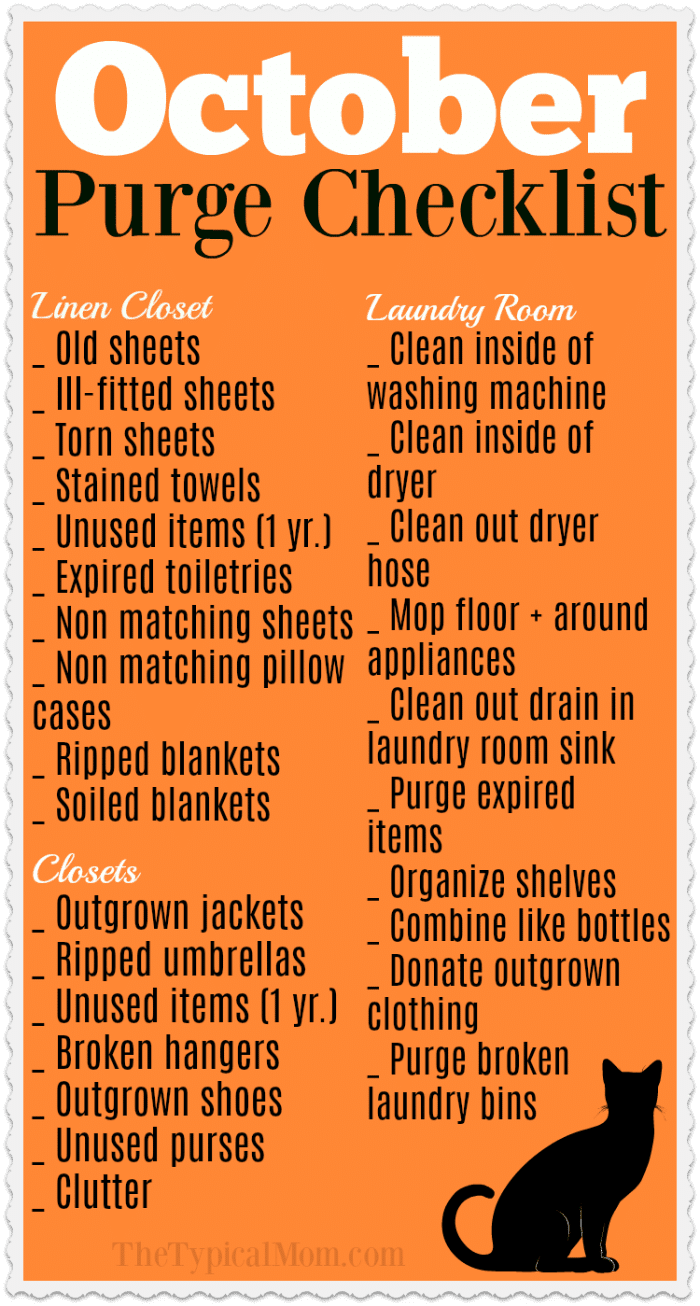 If you've been following The Typical Mom and using our monthly organization printables I have another one for you here for October!! This Fall cleaning checklist will keep you on track going from room to room in your house and staying organized. With all we have going on it is pretty tough to do a massive purge and clean out of our entire house so I provide free cleaning checklists for you to use as a guide and not get overwhelmed. Bring on a new purged clean home! (originally published 10/17, affiliate links present)
The next month we move on to another room or rooms and so on and so forth. Many times we forget to look for things that can save us space or really need to be purged.
Hopefully this free printable will help you stay on track. If you're finding this for the first time I have all the other months available to you here.
Just print out all months from this monthly cleaning schedule post. We have everything from Spring Cleaning printables to what you should go through in January and more.
I recommend creating a home organization binder with these monthly purge lists inside sheet protectors in it. Then you can check things off as you go, wipe clean, then use them again next year and the year after that!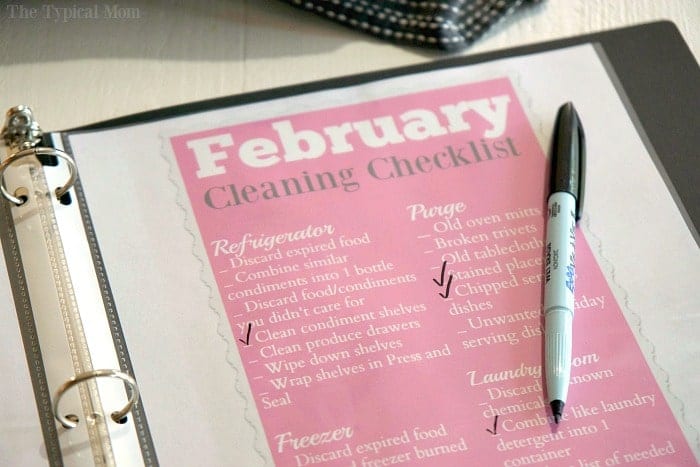 Here are the two version of Fall Cleaning Checklist printables for you.
One is black and white and one looks like you see above.
Let me go over what I mean by a few items on this list:
Ill-fitted sheets – Meaning you may have had a twin bed at one time but got rid of it you should donate them. This goes for outdated window treatments too.
Non matching sheets and pillow cases – You may not care that they match or not so if you don't just keep them. If you do then donate them.
Soiled blankets – Meaning there are stains on them you cannot get out and they have no sentimental meaning to you. Discard these.
Unused items – My philosophy is anything you haven't used or touched in 1 year you probably won't ever use. Donate it and save yourself the space!
Combine like bottles – If you have two bottles of fabric softener then combine them into one and throw away the 2nd container. Never combine different chemicals together, that can be dangerous.
Donate outgrown clothing in your laundry room – If you have kids I HIGHLY recommend having 1 laundry basket that remains on a shelf. Designate these bins for clothing that no longer fits your child.

When you take it out of the dryer and you know it doesn't fit throw it in this basket. Then every month or so either donate them or take them to a consignment shop and get $ in exchange!

Cleaning your washing machine – you can use this washing machine cleaner that is easy to pop in and clean any residue that builds up inside after months and months of using it.
Checking to ensure all carbon monoxide detectors work and light fixtures are functioning well is great to do this month too.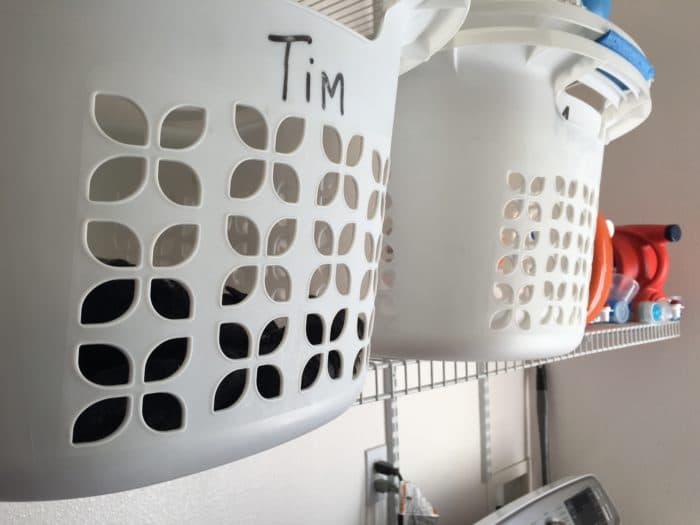 While you're at it organize school papers in a binder.
For more easy recipes, tips and free printables please LIKE The Typical Mom on Facebook and follow me on Pinterest! You can also sign up for my free weekly newsletter which is packed with goodies I know you'll love. 😉