This easy layered ice cream sundae pie is incredible! Layers of fudge and ice cream topped with whipped cream and sprinkles makes it a fun birthday dessert.
I love it when it gets warm outside! Well, we live in California so we are lucky to have sunny days pretty much year round. When summertime comes we are all about spending time together and cool treats like this easy layered ice cream sundae pie dessert! I am all about easy recipes like this layered ice cream sundae pie. With both of us working full time and three girls going every which direction I don't have a lot of time to do much of anything.
A bowl of ice cream with hot fudge and whipped cream is yummy of course, but thinking outside of the box and using those three items to create something that is not only delicious but pretty too is what we love to do.
Ice cream sundae pie
These are the items we used to create this beauty. You could use any flavors you love, or make a homemade base using your Ninja Creami ice cream machine.
Blue Bunny PB 'N Cones (found in the frozen section as you see here)
Smucker's Hot Fudge Spoonable Ice Cream Topping (on end cap as you see here near the carton picture)
Reddi-Wip® original whipped topping (near milk in refrigerated section)
Large burrito size tortillas (bread aisle)
Sprinkles (baking aisle)
Pie pan (we had that at home)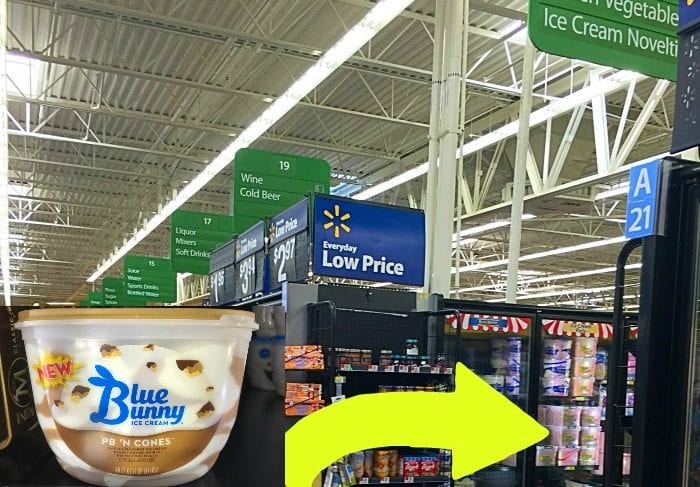 It is really simple to make this pretty dessert, and it is perfect to make for a special occasion like a birthday party too! Large tortillas create the layers as you see here below.
Homemade Pie and Ice Cream
Lay a large tortilla on the bottom of your pie plate
On top of each layer scoop 1/3 of your carton of Blue Bunny® PB 'N Cones™ and spread evenly across the tortilla
Squeeze a W shape of Smucker's Hot Fudge Spoonable Ice Cream Topping on top of that (The way I make it so the fudge is easier to spread is I empty the contents of the jar into a small freezer bag, seal, and cut the corner off so you can squeeze it out on top of your ice cream in a W pattern so it is spread throughout your ice cream pie when cut into).
Top that layer with another tortilla, press down gently
Spoon another 1/3 container of your ice cream
Spread out evenly
Squeeze another W shape of your hot fudge topping
Followed by your 3rd and last tortilla
The top layer will contain the last 1/3 of your tub of ice cream, smoothed out all the way to the edges.
Squeeze the last bit of hot fudge in dollop forms all the way around the edges of your ice cream pie to make it pretty then it's off to the freezer!
Freeze for at least an hour, I usually leave it in for 2 hours
When you take it out shake up your can of Reddi-Wip® original whipped topping and make dollops in between the hot fudge dots on top of your ice cream sundae pie, then a large dollop in the middle.
We sprinkled multi-colored star sprinkles all over when we were done, but that is optional depending on the occasion.
Cut a slice and enjoy!!
Here's a quick rundown:

Use a sharp knife to cut pieces for everyone and enjoy! It is absolutely delicious and a fun new way to make an ice cream sundae!
We made this just for fun….what do you think you would make this easy layered ice cream sundae pie for?