Take a peek at the Dyson Blow Dryer they now have at Best Buy. The new Supersonic Hair Dryer, vacuum, and air purifier would be amazing additions to any home.
I knew a little about the Dyson hair dryer professional model and other products. What I knew was that I loved their vacuums so much I have THREE at home myself! I didn't know much about their other technologies but got to see them first hand at the store in Costa Mesa, Ca. this weekend. Special thanks goes out to Best Buy for sponsoring this post. (affiliate links present, originally published 10/17)
They had a huge Dyson at Best Buy display with their new Supersonic™ hair dryer. I'm totally obsessed with this. If you are a woman who dries her hair frequently you know how it can get it frizzy and dries it out. THIS is the answer my friends, you have to get this!! Let me show you a bit about what I learned.
Dyson Blow Dryer Attachments
Ok so at first I thought it was crazy to spend a few hundred dollars on a hair blower, it's so worth it!! My hair has always been frizzy, but not anymore!! I use this and even tried the Dyson hair dryer attachment since that is a must, and so much better than my cheapo version.
Here's a peek of what I saw during the Dyson at Best Buy event:
Dyson Blow Dryer Case
You can choose from two main colors. My husband actually bought me mine and it is purple, so pretty. It comes with a really hearty case so if you travel a lot you can put it into your suitcase and it won't get damaged.
Dyson Blow Dryer Brush
There is another choice as far as this goes where there is a bristled brush on the end so you can dry your hair and essentially use a round brush at the same time. My hair tends to get tangled much too easily so I preferred the supersonic model instead.
As you can see here there were tons of Dyson products to touch, turn on, ask questions about, and even had an opportunity to win a Best Buy gift card too!
Several Dyson staff members had the answers I needed to understand the differences of each vacuum, why their hair dryer is better than others, and I had no idea they had a fan + air purifier….we so need this too!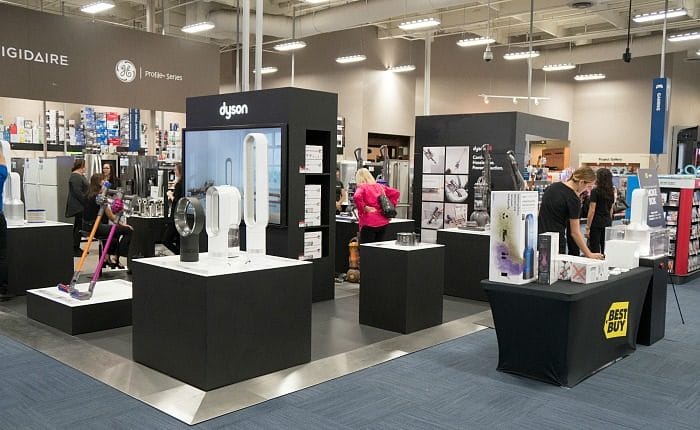 Dyson Hair Dryer Review
We have the orange version you see here below. Their new one is the V8 Absolute Bagless Cordless 2-in-1 Handheld/Stick Vacuum Multi. This is fabulous and has helped tremendously here with 3 messy kids.
I really didn't understand the difference between the different colors but it has to do with charge time and some are meant for people with pets. Getting all the hair those friends leave around the house is a must.
We have two of these handheld vacuums. Both Dyson at Best Buy products are helpful since we have a two story house. Our upright is great for the carpet upstairs too.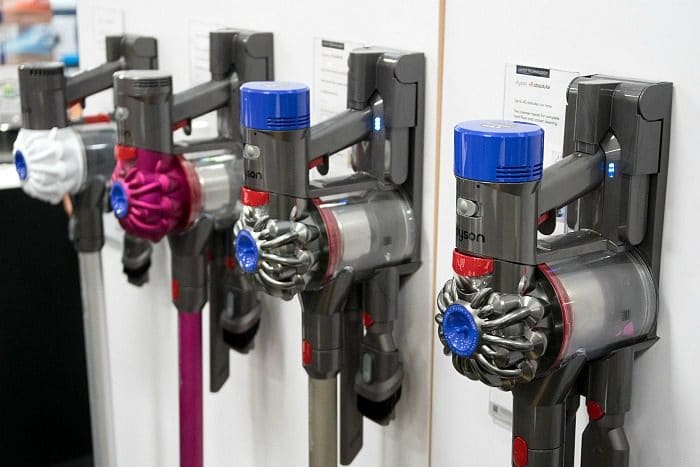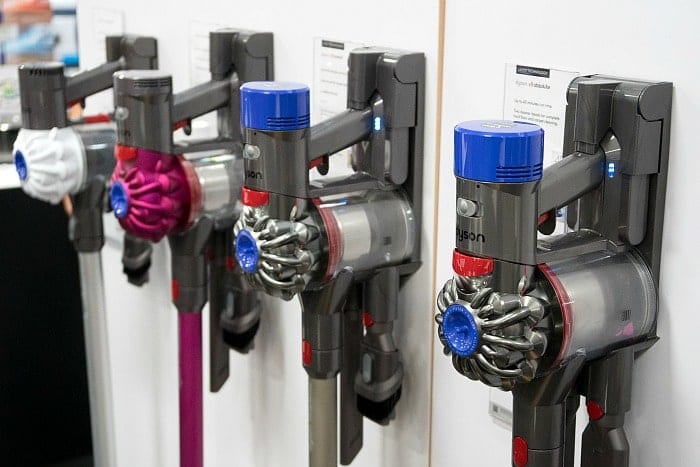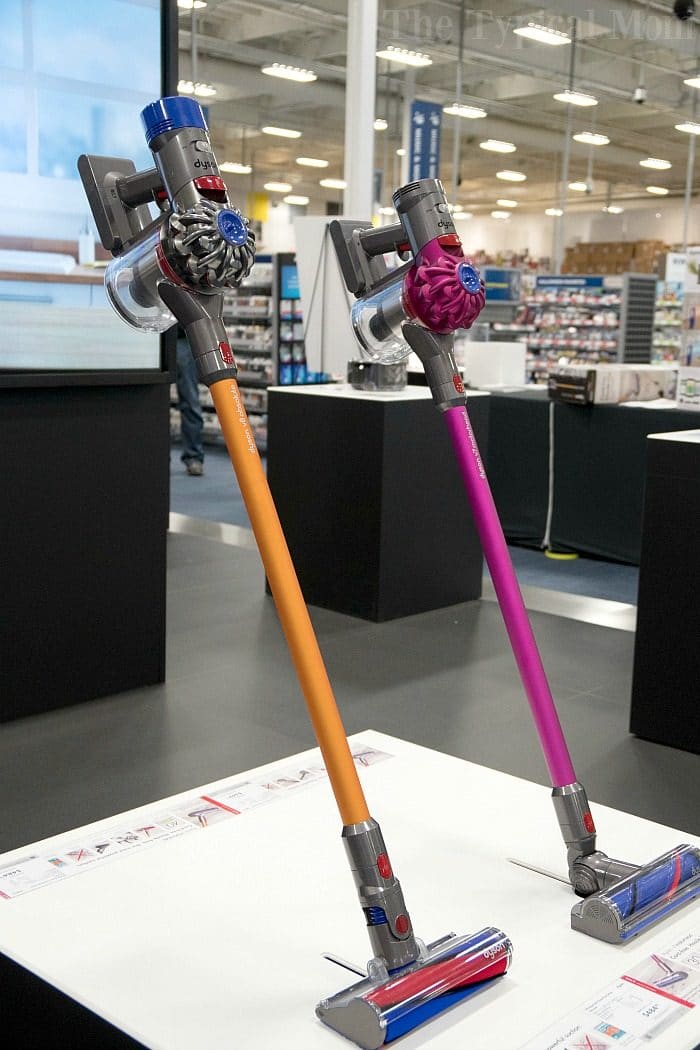 Dyson Vacuums at Best Buy
This is the Pure Hot + Cold Link Air Purifier I was talking about! In each room of our house we have a fan to circulate air. Plus we have an air purifier. Years ago we found that the kids got sick less often if we had several in the house.
This is all in one….and is much prettier than the ones we have!! Killing 99.9% of germs and allergens in the air, it is definitely on my list of things to purchase. For more information about Dyson at Best Buy visit their site and read all about the new products they have.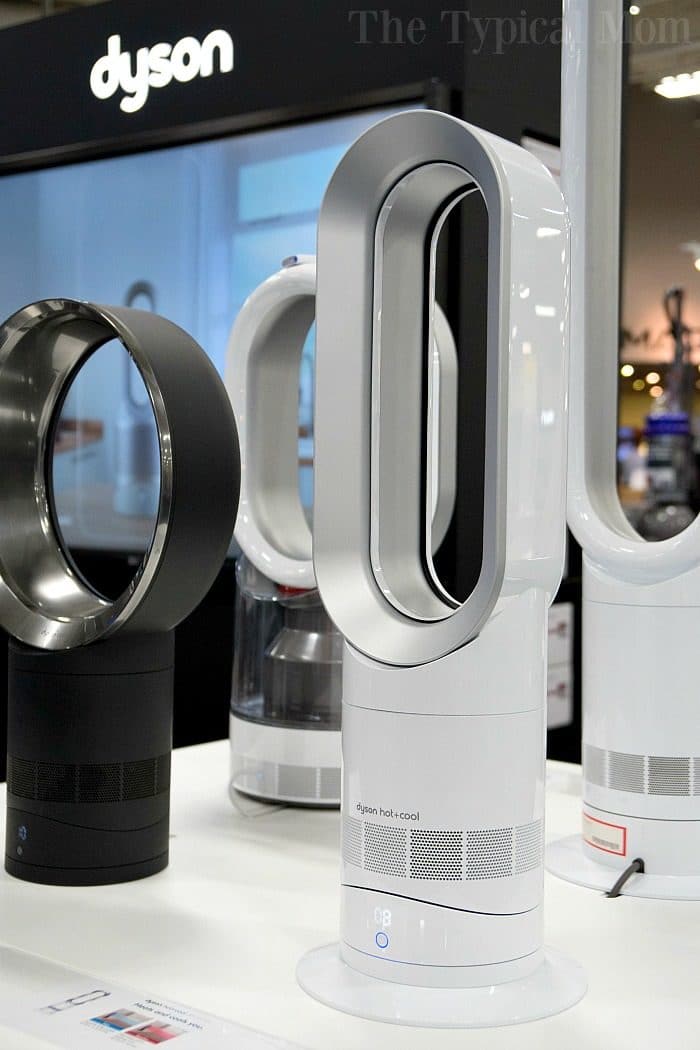 Want to see a few of my favorite things that I am totally obsessed with?? Take a peek and see how many you might already have…twinsies!
Looking for more easy family recipes and tips? LIKE The Typical Mom Facebook page?
Then sign up for my free newsletter, and follow me on Pinterest! 😉
***** If you LOVED this recipe give it 5 Stars below and let everyone know what you thought about it. 😉