Best cowboy butter recipe or dipping sauce you can serve as compound butter for steaks, with seafood melted or a savory spread on toast. If you loved our sweet Whataburger Honey Butter Recipe version this will be your favorite compound butter condiment too.
There are a lot of ways to make different cowboy butter recipes depending on your tastebuds. If you make Round Steak on the Stove often this will amp it up to the next level!! With fresh herbs and seasonings you can make this in 5 minutes to spread or melt and serve. (affiliate links present)
Cowboy Butter Steak
One gem that captures the essence of the Wild West is this butter roll recipe. With its savory, blend of butter and spices, this recipe adds a touch of the frontier to your dinner experience. Here we'll share our compound and cowboy butter sauce recipe too and how to serve it.
The origins come from the days of chuckwagon cooking. This dates back to the 19th century cattle drives. Ranchers relied on simple yet flavorful ingredients to fuel their demanding work, and this creation came about to enhance their normally bland meals.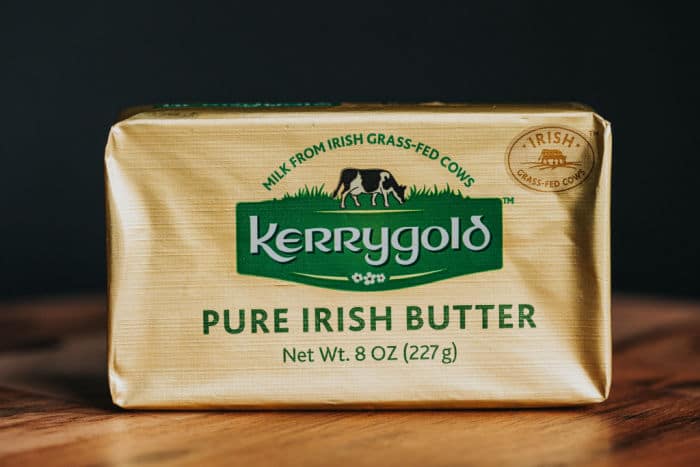 Cowboy Butter Ingredients
Making the T Bone Steak in Oven should be done at the same time, doesn't take long. All you need is a spoon, small bowl and wax paper or saran wrap if you choose to make into a roll. Before diving into the preparation process, let's familiarize ourselves with the key ingredients that give this condiment its distinctive flavor;
Salted is better for this vs. unsalted butter since it is the star ingredient and meant to wow you with flavor. Will make this a creamy, savory base with your fresh herbs and spices to create bold flavors.
Kosher salt, with its larger flakes, adds the ideal level of salinity and enhances the other seasonings without overwhelming the palate.
Freshly ground black pepper brings a gentle heat on top of Mayonnaise Rolls, complementing the richness of the spread.
Chopped fresh parsley contributes a fresh, herbaceous note and a vibrant green hue.
Italian seasoning is optional but gives the log a blend of dried herbs such as basil, oregano, rosemary, and thyme together.
The pungent aroma and rich taste of minced garlic are key components of this recipe, adding depth and character.
Fresh chives bring a mild, onion-like flavor and a subtle hint of sweetness to balance the savory elements.
Fresh thyme provides an earthy, herbal undertone.
Optional: add a pinch of crushed red pepper flakes or jalapeno powder to make spicy, smoked paprika for color, or dijon mustard for tang.
A splash of lemon juice adds brightness and a touch of acidity to round out the flavors. You could substitute for lime too but this is traditionally what is used.
Butter for Steak
How to Make Cowboy Butter – Now that we've acquainted ourselves with the ingredients, let's embark on the journey of creating this log. Before you start, make sure you have all the ingredients at hand. Having everything prepared and measured will streamline the process. Remove butter from the refrigerator and allow it to come to room temperature.
Wash and finely dice the fresh herbs. Mince the garlic cloves. In a mixing bowl, combine the softened butter, kosher salt, freshly ground pepper, Italian seasoning, minced garlic, diced parsley, diced chives, diced thyme, and lemon juice.
Use a fork, spatula, or electric mixer to thoroughly blend the ingredients together. The goal is to achieve a uniform mixture with all the flavors well incorporated into the butter.
Take a small taste to assess the seasoning. If needed, add a pinch of salt, pepper, or lemon juice to balance the flavors to your preference.
This can be used immediately as a condiment, spread, seasoning, or melt to serve with Instant Pot Crab Legs. Alternatively, you can roll it into a log using plastic wrap, chill in the refrigerator, and slice into rounds for a convenient and attractive presentation.
Steak Butter
Now that you've mastered the art of making this, let's explore some delightful ways to savor this savory spread; Slather this on smoked corn on the cob for a taste of summer in every bite. Add a bit of heat with cayenne pepper or hot sauce for that one. Great on hot baked potatoes for a rich and flavorful alternative to traditional toppings too.
Of course this compound butter is a perfect companion for grilled steaks or grilled meats of any kind really. A dollop of it melting atop a sizzling steak elevates the dining experience. Enhance the taste of grilled or broiled seafood, such as shrimp, lobster, or salmon, by melting a pat over it.
Cowboy Butter Dipping Sauce
Steam or roast your favorite vegetables and toss them in this melted, like our Cajun Garlic Butter Sauce for a delightful side dish. Another great way to serve Cowboy butter if you are serving a savory meal you want to dip with all the things, like crab legs.
Want to see a few of my favorite things that I am totally obsessed with?? Take a peek and see how many you might already have…twinsies!
Looking for more easy family recipes and tips? LIKE The Typical Mom Facebook page?
Then sign up for my free newsletter, and follow me on Pinterest! 😉
***** If you LOVED this recipe give it 5 Stars below and let everyone know what you thought about it. 😉
Cowboy Butter Recipe
Best cowboy butter recipe or dipping sauce you can serve as compound butter for steaks, with seafood melted or a savory spread on toast.
Instructions
Combine all of these ingredients in a bowl until incorporated. Taste and adjust according to your taste buds if you want a bit more lemon for acid or salt go ahead and do so until it is perfect. Spoon what you would like to use immediately into a bowl and enjoy on top of steaks etc….

To make into a solid log to slice, spoon on to a long sheet of saran wrap with the same amount all the way across in a row.

Roll up and use your hands to form into a log, twist the ends closed and put into your refrigerator for 2 hours.

Then you can slice (then put wrap on to the open end to seal shut and not dry out) and enjoy over time.
Nutrition Facts
Cowboy Butter Recipe
Amount Per Serving (1 oz)
Calories 46
Calories from Fat 45
% Daily Value*
Fat 5g8%
Cholesterol 13mg4%
Sodium 137mg6%
Potassium 6mg0%
Carbohydrates 0.2g0%
Protein 0.1g0%
Vitamin A 185IU4%
Vitamin C 1mg1%
Calcium 4mg0%
Iron 0.1mg1%
* Percent Daily Values are based on a 2000 calorie diet.