I know I am not the other Mother who is so busy that I tend to live out of my car, have to set the alarm on my phone to make sure I don't miss pick up time, and many times forget to eat entirely throughout the day! Yes, we've all been there and let me tell you….I'm not pleasant to be around when I'm hungry! Let me tell you the top 20 Mommy must haves I swear by, and that you can find in my purse right now. 😉 #WhenImHungry #CollectiveBias
I admit it…..I have forgotten to pick up my Kindergartener on time before (blushing). That was the day I went out and got a smartphone for the simple fact that I needed to set an alarm 30 minutes before school got out…..so I wouldn't do that again! I am always on the run! Jr. High drop off begins at 8 a.m., followed by Elementary drop off at 8:40 a.m., if I'm lucky I can make a quick run to the gym (sometimes I don't make it on the list of priorities though unfortunately), I work full time as a blogger, part time as a substitute teacher, have a house to take care of and OH…….Ding Ding Ding…….it's already time to pick up the kids from school!! There just isn't enough time in the day to get it all done, I know….you get it. 😉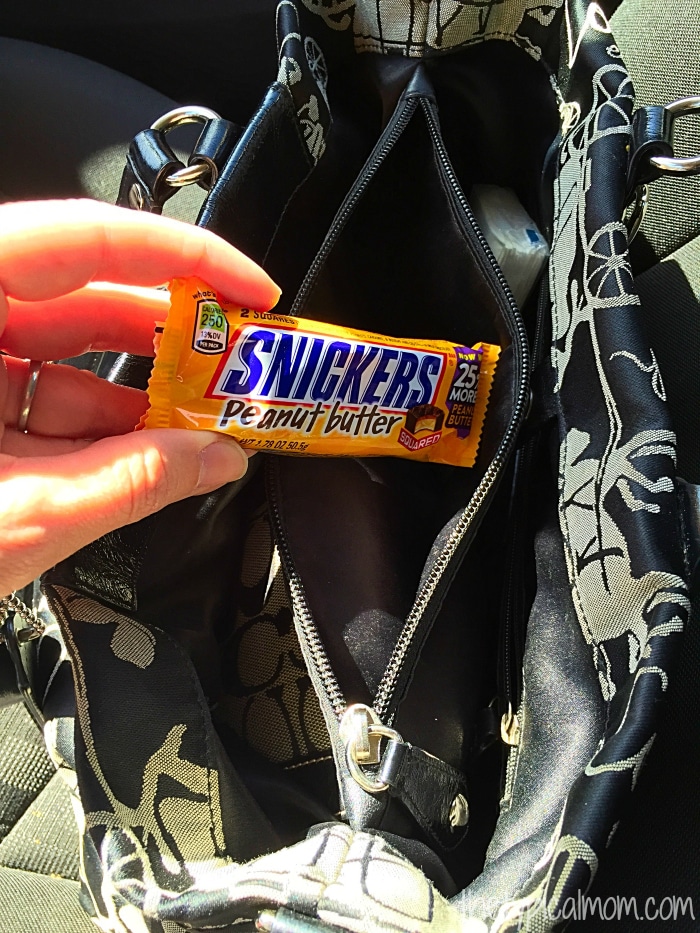 Let me show you my "secret stash" and life saver when I have gone all afternoon without eating and wonder why I'm lacking energy. It doesn't take long for me to realize I haven't fueled my body at all, and here I sit at pick up time again…..luckily my SNICKERS® savior is here in my little pocket. 😉 It's not like I hide my favorite snack. Oh no, I just happen to make sure it goes right in that middle zipper pocket there in my purse so it isn't found and taken by the little people in my lives. 😉 This one is my favorite SNICKERS® for two reasons…..I LOVE peanut butter, and it comes in two pieces so I can have one now to get me through homework time, and then the other piece when we are off to practices!
Of course SNICKERS® has been around since I was a kid, but now they have the yummy peanut butter version I talked about and an almond version too which is super yummy. I'm often shopping at Family Dollar looking for things I can use to make fun $1 crafts so I usually grab a few while I am there…..I am all about one stop shopping with my lack of time!
With all the kids at home (didn't forget anyone today), homework complete, and dinner started for my husband and older 2 girls…..it is now time to take my youngest daughter to swimming. Perfect time for a little breather for me while she's in stroke refinement class. Ahhhh……let's check my email, take a few pictures of her, and have the second piece of my SNICKERS® peanut butter bar. Perfect to tide me over until the two of us get home for dinner. 😉
The next morning it starts all over again but I make sure to get one run in before I start my hectic day (yes we have to take care of Mommy too), and when I'm done a quick snack is what I need….almonds this time, so good! On to the rest of my day with some energy! Wanna know what I keep in that purse of mine to get me through the day(s)…here's a peek. 😉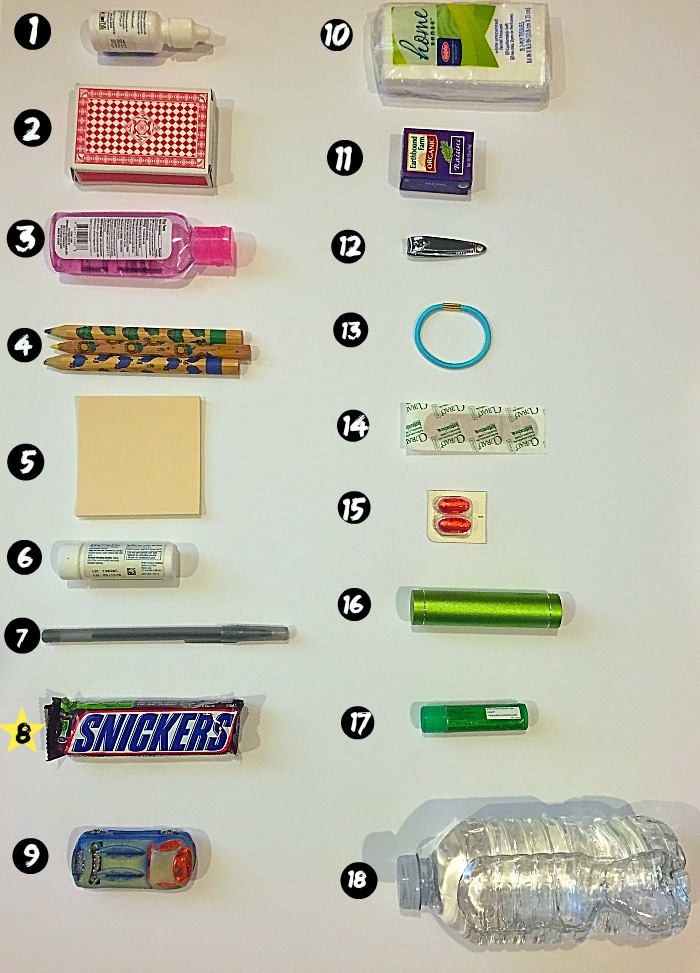 Let me show you what 20 Mommy must haves I swear by with this hectic schedule of mine!
1. Eye drops – My eyes are forever dry after being on the computer all day and these help my vision.
2. Playing cards – Great when sister tags along to practice and needs to be entertained. Go fish or solitaire.
3. Hand sanitizer – Enough said!
4. Coloring pencils – Always handy to keep little ones busy.
5. Sticky pad – Use with colored pencils or pen for kids or yourself when you need to take a note.
6. Pain relievers – Headaches or back pain, enough said!
7. Pen – You can never have enough.
8. SNICKERS® – You've seen here how they have saved my day!
9. Small Car – I have all girls and this still has been a lifesaver keeping them busy everywhere.
10. Kleenex – No need to explain.
11. Kiddie snack – Small raisin boxes take a while to pick them all out which keeps them busy longer. lol
12. Nail clippers – Believe me when you have a hangnail, need a tag removed, or kids get a splinter you'll thank me!
13. Hair tie – I at least have one for me on a windy day at soccer games, usually have a few for all of us.
14. Band aid – You know your kids have asked you for one in the middle of nowhere.
15. Allergy pills – When I'm invited over to a new friend's house who has a cat, I'm so thankful for these.
16. Portable cell phone charger – If you don't have one you MUST invest in one, it has saved my day.
17. Chapstick – For you and your kids on windy hot days.
18. Water – I can never drink enough, refill when empty.
I know….I only pictured 18 but 19 and 20 are things you wouldn't leave home without(and probably obvious):
19. Phone – Doubles as my camera too. 😉
20. Wallet – Though I rarely have cash this is obviously a given.
Who are you when you're hungry??!! SNICKERS® wants to know and has a fun contest about it too! Enter the SNICKERS® "Who are you when you're hungry?" contest by uploading a personal photo or video from your Computer, Facebook, Instagram or use the SNICKERS® Meme Generator to create something new! Voting begins at Noon on 5/11/15 and ends at 11:59:59AM ET on 7/15/15.
You can also see more great SNICKERS® recipes and fun stories on the SNICKERS® social hub.