Here is a great resource for those just starting to coupon. Coupon tips for beginners will help you understand the basics on saving money with coupons.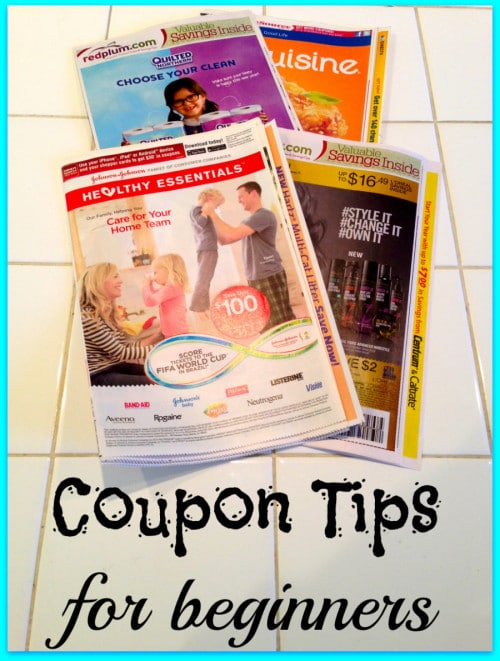 When I first began couponing I was looking for all the tips and tricks I could get in order to save money at the grocery store. That was tens of years ago and I still look for any way I can save a dollar (or two or three) on items and have compiled some coupon tips for beginners here for you. (originally published 1/15, affiliate links present)
1. Organize- Once you've followed my suggestions on how to organize your coupons on my Couponing for Busy Moms post. You should be able to quickly whip out the ones in each aisle without any problems.
Just travel down each aisle pulling out the stack that corresponds to the items in that aisle & look for the SALE tags hanging down.
Make sure you have a great binder you can categorize your coupons.
2. Double Up- If you're in the deodorant section let's say, pull out all the coupons for that product you have and one by one look for a SALE tag next to the brand you have a coupon for. – –
Many times it will be marked down & with the coupon (typically $1 off for these) you will pay less than $1/ea. out the door.
If you don't have a coupon for the brands on sale look & see if there is one attached (as seen below with sunscreen).
Many times coupons are there for you to grab, & when it's on SALE then you get to double up without any clipping!
You can get FREEbies too (like the candy shown below) combining BOGO offers in the store + BOGO coupons (paid for 2, got 4 free). Of course, if you're desperate then that's another story.
3. Prepare for later- If you have more than 1 coupon for a product that is on SALE, think about whether it is something you use on an ongoing basis (deodorant is something you know you/hubby or your tween will always need).
If you do stumble across this great, on SALE + coupon, deal then use all the coupons you have and stash the extras away for another day.
Typically nonfood products last for quite some time (hint: search in the back of the row for the longest exp. date). It is best to use the opportunity to ca$h in on the savings so when you run out the next time you can just go to your "extras closet" & grab one you already snagged at a bargain!
You can see how I did that related to Birthday gifts HERE.
4. Find the clearance section – In every grocery store there is a clearance/sale section. Use your coupons to combine those blowout prices with your extra coupon savings to get FREEbies.
Many times there are only a few boxes of an item left that they aren't going to carry anymore or an abundance of something that don't fit on the shelves.
These items end up in the clearance section of stores but are still good. You can use coupons with the discounted prices many times to get the item entirely for FREE!
Don't be embarrassed by a "managers special" sticker, rather smile knowing you got a fantastic deal!
5. Save- If you have a coupon for an item (that is not a must have at the time) but it is not on SALE, or the item is on SALE but you don't have a coupon to use in conjunction with that markdown, then save the coupon & move on.
You should always go into a store with a list or idea of what you're going to buy, but be open to changing your menu selections.
If you cannot double up on the items needed for that dish, but you can to prepare a different meal.
It very well may be on SALE and then you can use that coupon the next time. Be flexible and always print coupons online before you hit the store too, HERE are a few online companies.
6. Order two – Find a deal on your local newspaper that has coupons in it and order two or more to come each Sunday. Call them if you cannot find the paper on sale and ask if you order more than one paper on Sundays can you get a lower price on your subscription.
Always ask for extra savings….all they can say is no (MOST times when I ask for a discount people will give it to you, but they won't offer unless you ask). If you are looking for more tips my other posts are below.
There is also a great book for coupon moms full of tips and tricks that isn't too expensive if you want to get really serious about saving. (affiliate link)