If you are moving locally or across the country you need to stay organized! Here is a free moving home checklist to stay on task and make sure you don't forget all the little things you need to do when you plan a move. Using this moving guide can save you a ton of time and minimize the OH NOs!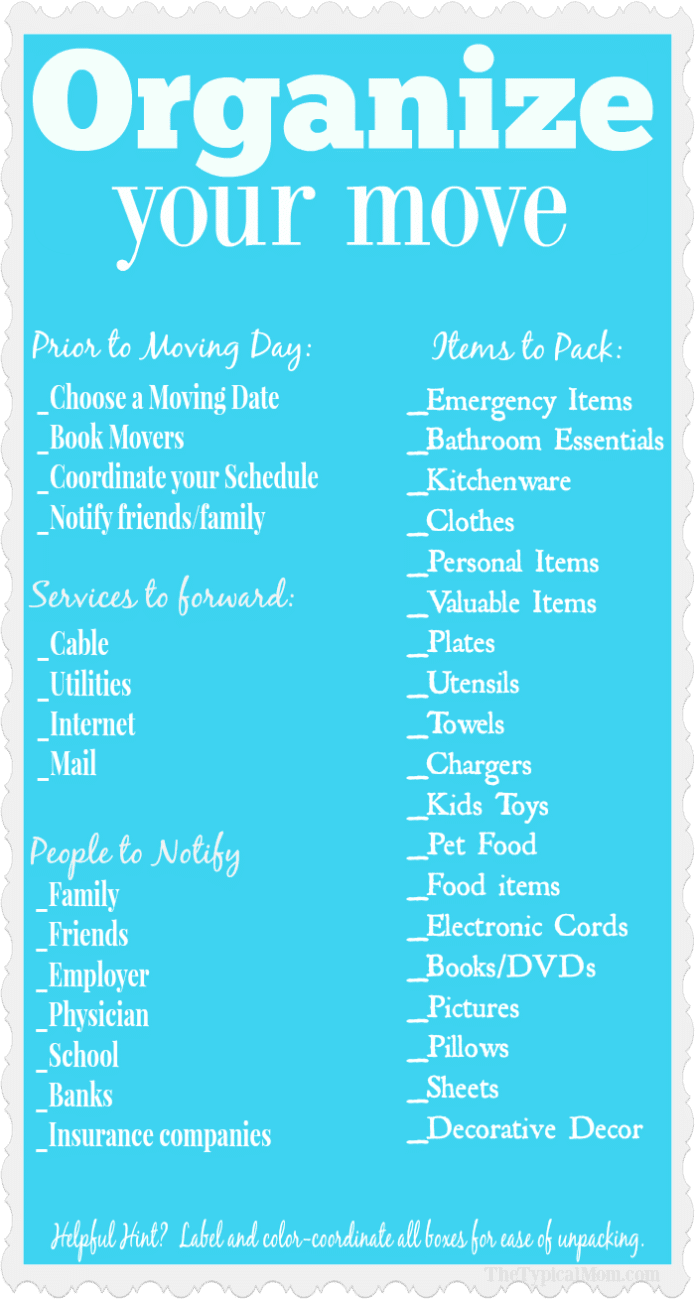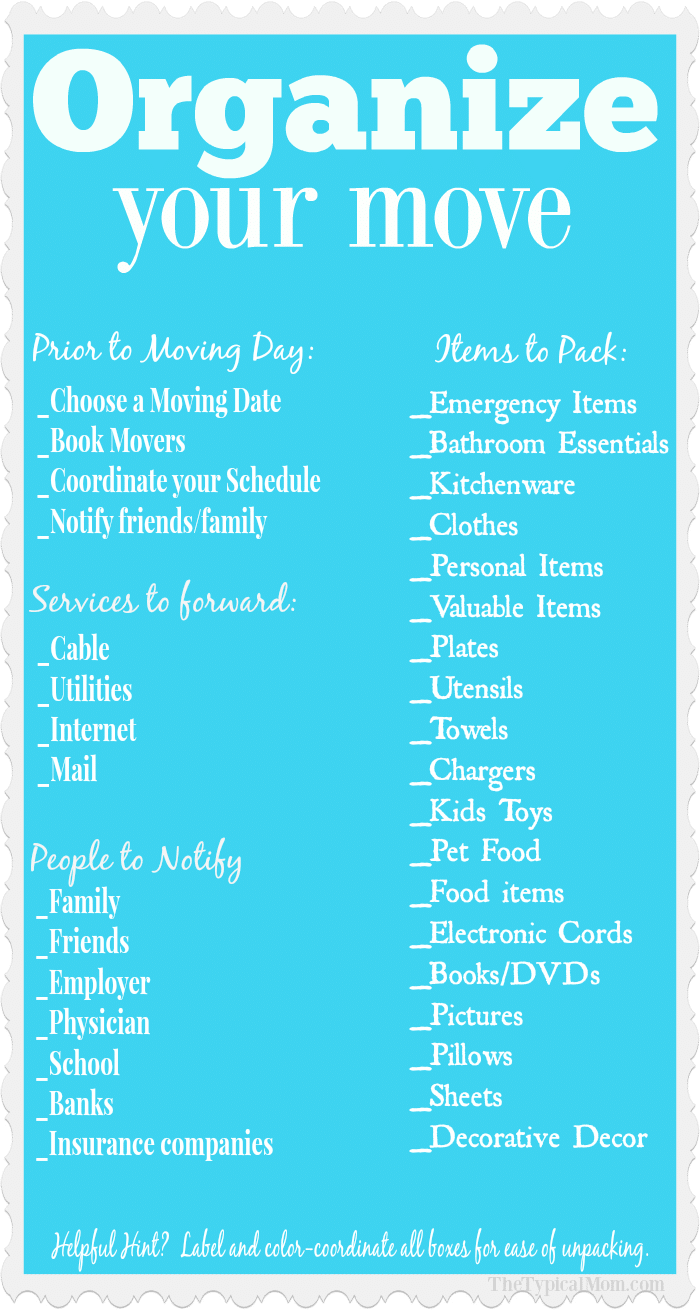 It's go-time. You have a destination to where you are moving, you know the timeframe on when you need to be moved by…now what? Now, it's time to start zoning in and really planning on that move. This moving home checklist will definitely keep you organized! (originally published 2/18, affiliate links present)
Moving House Checklist PDF
Details are crucial when it comes to having an effective moving plan. Long gone are the days when one can just successfully "wing-it" and hope for the best. Each day from now on, up until the moment you are physically being moved, need to be utilized to their fullest.
How does one successfully plan and prepare for their move? Here are some simple suggestions to help you get started on planning a smooth move.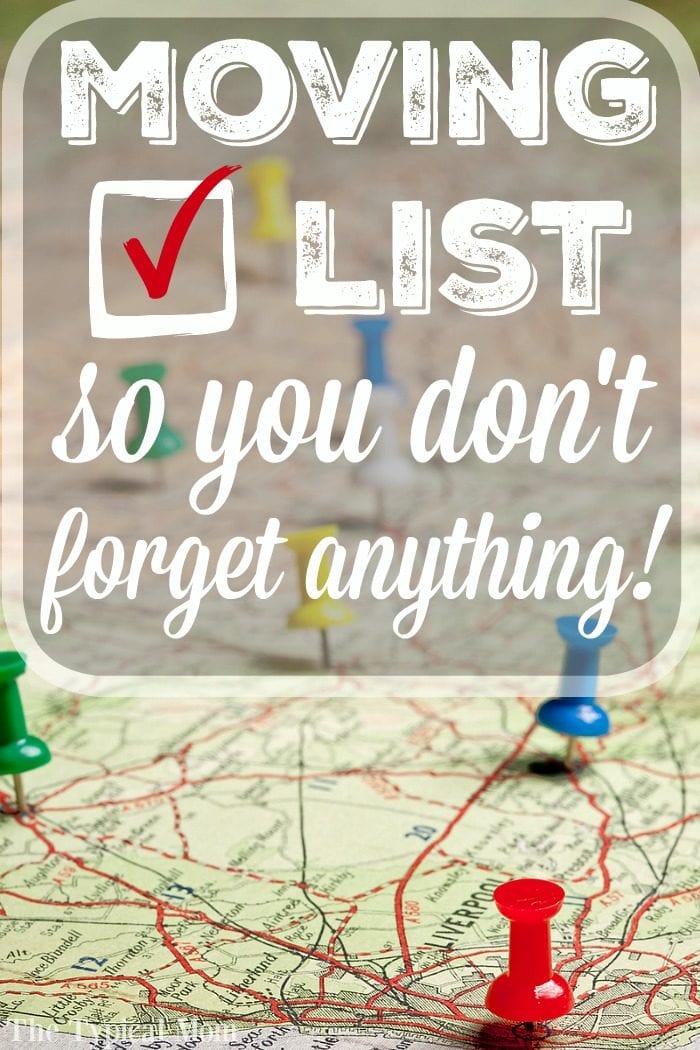 Checklist for Moving out of State
There are so many little things you need to do when you first plan your move. In the chaos even the big ones can be forgotten…or not done FIRST in order to streamline the process.
If you're out of your twenties you probably don't have a bunch of friends willing to help you move. They used to in exchange for a few pizzas (those were the days). First and foremost you need to figure out what your budget is. How involved do you want your movers to be? This will make a big difference in the overall cost.
We have several moving tips and tricks for you here starting with a list below. Sometimes pen and paper works better.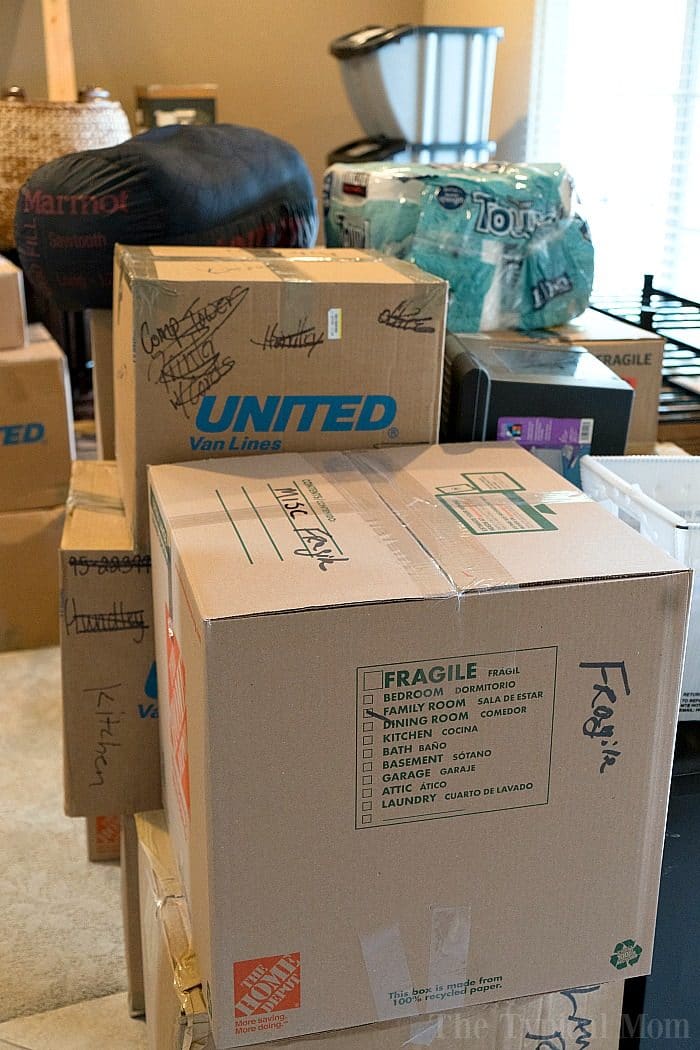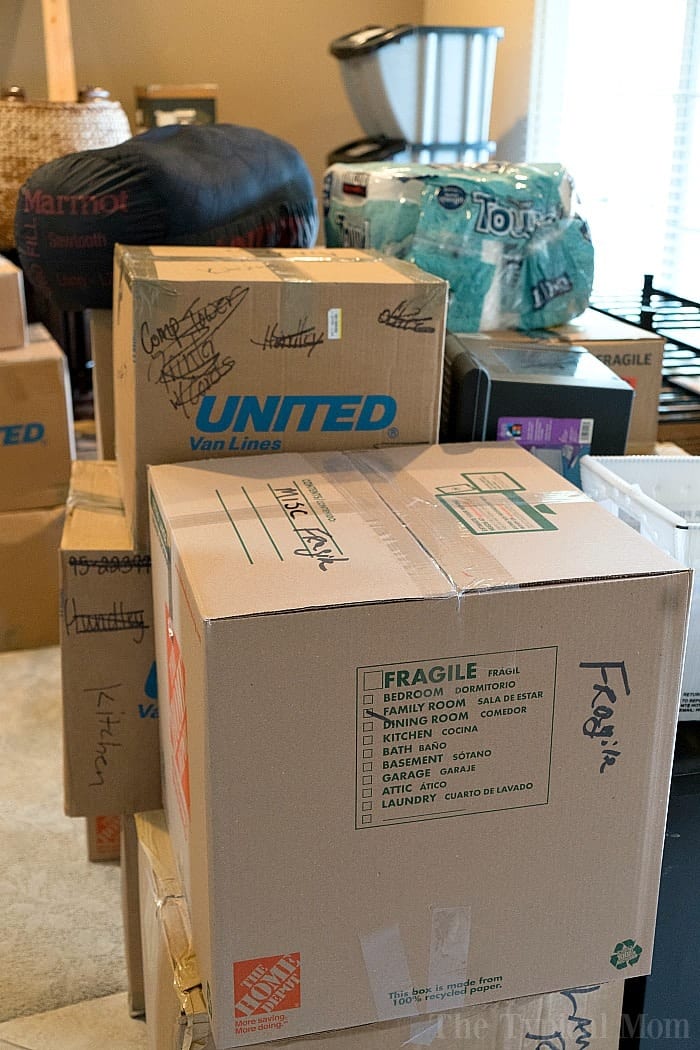 Free Moving Checklist
Stay organized. Label everything, you won't remember what is in the box! Use our moving home checklist
Sit down and budget. We all know moving is expensive. there is a HUGE range of how expensive it can really become depending on how involved your movers are.

If you have a smaller budget you will need to prepare to do all the packing. Load it yourself. Maybe you just pay movers to drive to your new home and unload on the other side.
If you have a bit more money to work with you could not lift a finger and have everything done for you….figure out your budget as soon as you know you are moving so you can work with what you have available. Here are some tips on how to save money when moving on a budget.
Book Movers. Do this ASAP. Do not wait. There are such things as "moving seasons" where moving companies and movers can actually be booked out for weeks or longer at a time. Summer months are especially busy.

Once you have a definitive date of when you need to be moved out of your current location, confirm the moving company that you are going to use right away. Don't delay.
There isn't anything worse than having a date to have to be gone, but not having any movers available to help you out. A helpful tip? Even before you have a date of when you have to be out of your current location.
It may be helpful to call around to moving companies to see their availability during a certain week or month. That way, you have options and knowledge before making any final decisions about anything.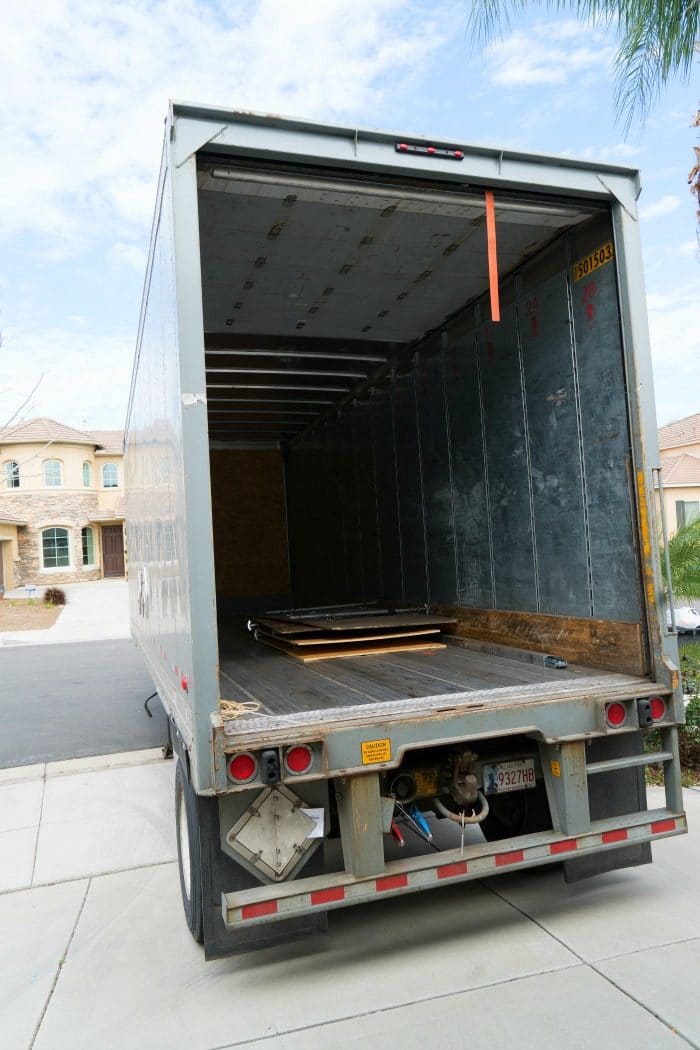 Packing Checklist for Moving
Don't forget the details! It's easy to remember your belongings when you're making a move, those are nice tangible items right in front of you…but what about the details that you aren't staring at you so easily in the face? Yep, you guessed it….utilities and all those extras.
Utilities. This is another task that one shouldn't delay on. Even utility companies can get back-logged at times. Make the call to have your services transferred or started fresh at your new location.

That way, when you make your move and arrive at your new home, you have running water, electricity and thermostat controllable rooms! Just as important? Disconnecting the services at your current location.

(Double check your contract obligations before doing this if you are a renter!) If you forget to disconnect your services, and someone else moves in behind you and uses the utilities for a few days before it all gets straightened out, you'll likely be held liable to pay for those charges since your name was still active at that address, on that account.

Cable. If you have cable notify them of your move and where to return those cable boxes. Ask if they have service at your new home and just transfer the service. If not, make sure you give them a date for disconnection and give them your forwarding address so they can prorate that month and send you a refund for what you've already paid.
Water, Gas, and Trash will need to be notified of your move as well so the account is taken out of your name and you aren't billed once you leave.
Don't forget your house. If you're selling one home and moving into a new one you will also need to make sure to switch your new homeowners insurance.
What do you need the first day of moving in?
Gather records. If your children are still in school, especially if they are transferring mid year, gather their school records right away.

Gathering health records from the various doctors is helpful as well. Finding a new physician prior to your move is important especially if you are under a doctor's care for something.

Notify your friends, family, schools, organizations, etc. Let people know that you are going to be moving. Don't forget to tell those who are in your life, that you will soon be living in another zip code.
Forward your mail. Thankfully, this step can be done in person or online via the Postal Service. It's an important one, don't forget it. Don't take the chance of putting a ding on your credit score by missing a bill or having packages returned. If you don't forward your mail this may occur.
Coordinate your schedule to coincide with moving day. This is a really important part of your moving home checklist and you should do this as soon as possible. While planning ahead for movers and everything else to be booked and ready.

Don't forget to plan for yourself as well. It may be a good idea to be there during the move. This way you can ensure that there are not any issues or questions. If so they could cause a lag or stall in the moving process.
If you are planning on taking a day off of work to be able to be there. Make certain that you have that time available to take off. Look ahead at days that work for you as well. Fgure in your scheduling needs when trying to pick a perfect moving date that works for all involved.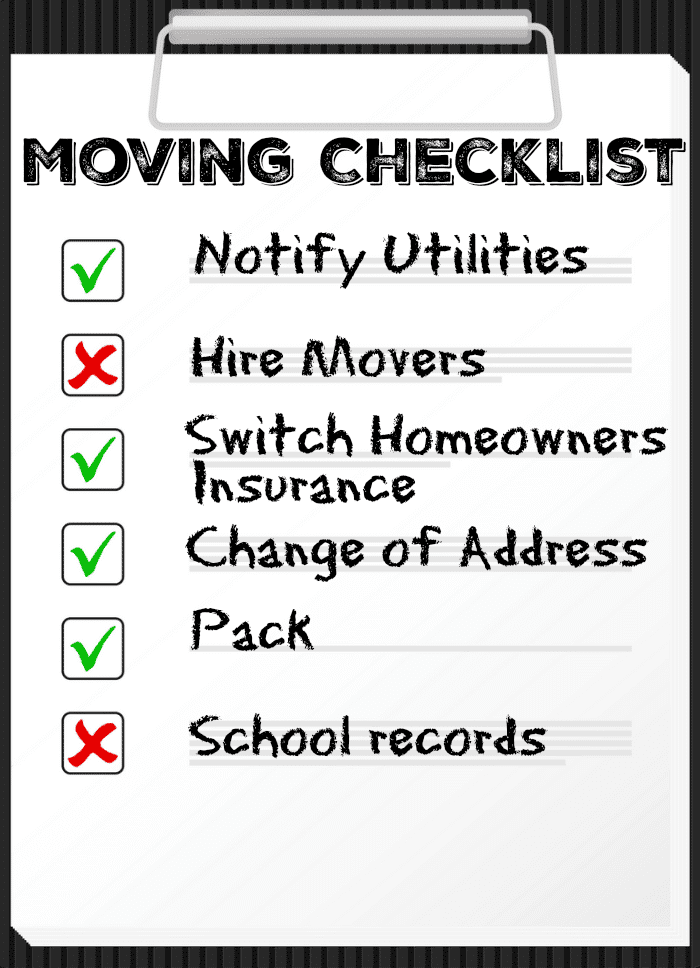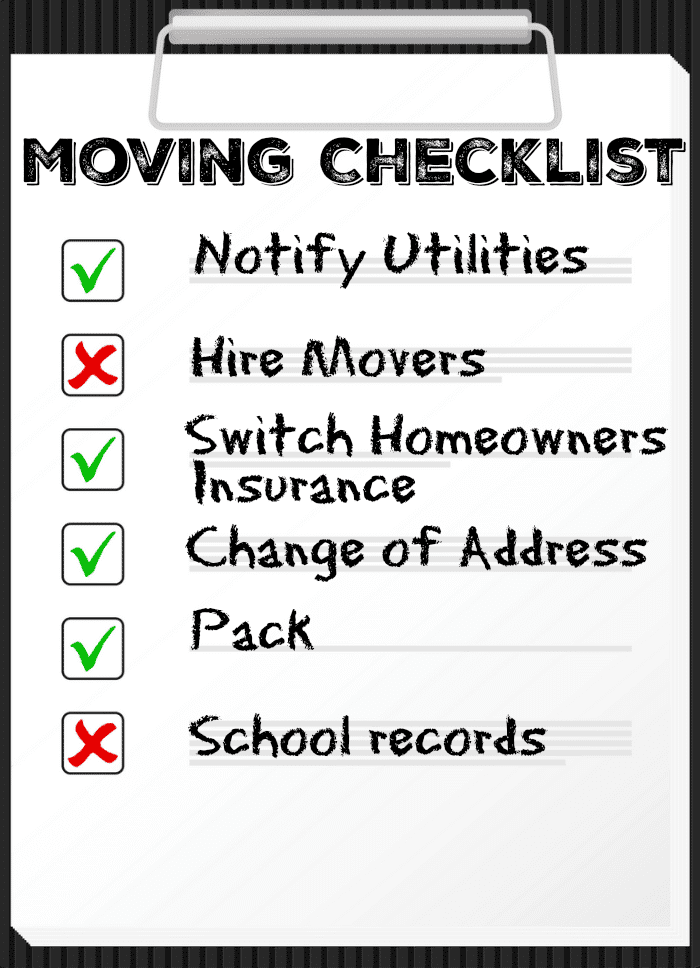 Planning ahead for your move is key in attempting to have it go as smooth as possible. While there are sure to be hiccups along the way, the more one can plan the less issues will occur.
Try being prepared by being proactive with a few suggestions above. Our free moving home checklist, and get a head start on your planning and preparation for your move.