How to make your own lunchbox by repurposing a milk jug. This is a fun repurposing and learning activity to do with kids at home.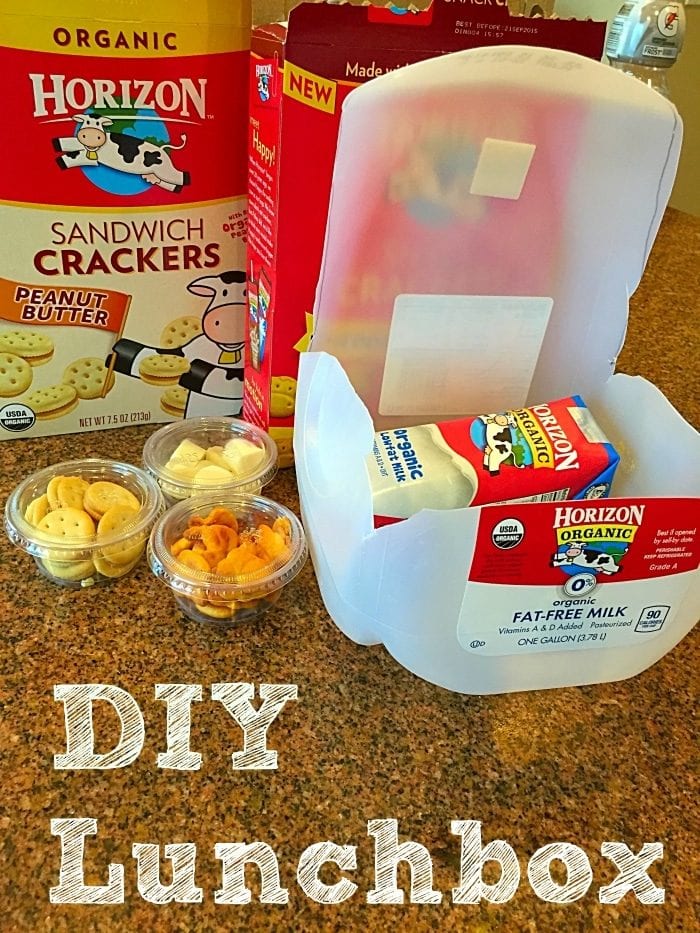 Do you like to do repurposing activities with your kids…..I do! It is fun to create something fantastic out of something ordinary that many times would have been thrown away. This week we used our imaginations and came up with a way to make your own lunch box using an empty milk jug….how fun is that??!! Special thanks goes out to Horizon for sponsoring this post so we could share our creation with you.
During the weekends and Summertime we do a lot of outings. Snacks are a must on our trips!
It is important for our family that we purchase products that are organic, while still tasty for the kids to enjoy. Horizon has many of the items we like to fill those requirements, along with great organic milk that is in cute portable containers too. Here's a great Earth Day activity you should try.
The first thing you will want to do when repurposing this milk jug and make your own lunchbox is to mark where you are going to cut.
Use the guide of the sticker on the front of the jug and make a straight line right above where the word Horizon is. Now it's on to the back.
Make your mark on the back like this with a little dip on both sides where your line goes up. Then all the way to the top where it starts to curve in toward the opening. That will be the top to your lunchbox.
Once you cut along those lines it will look something like this. Now what you will want to do is push in the three sides, not the back, in toward the center so they are curved a bit.
It helps if you cut small notches in each corner to allow the plastic to bend in a bit. This will help the lid to fit better. I used a large razor blade with a handle to do all the cutting but you would use scissors as well.
Now to keep it closed I just used two pieces of velcro (has adhesive on the back) and a piece of ribbon. Put one piece on the inside behind the Horizon milk label. The other one that will be opened and closed will be on the top of the box.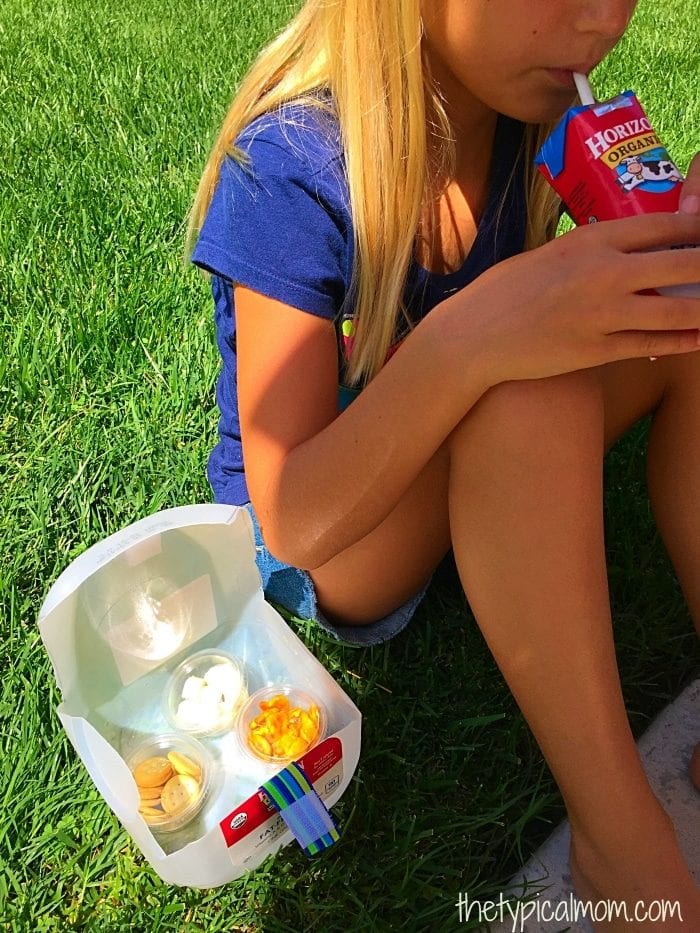 That's how to make your own lunch box! It has actually worked well for taking snacks with us to the park as well as lunch when we've left for the day to do some exploring this Summer.
I filled small plastic containers I had with Horizon peanut butter filled crackers, cheese crackers (shaped like cows, so cute), and the third one had a piece of string cheese cut up.
Add one of their convenient milk containers (white milk or chocolate) and you have a snack they will love! Add a sandwich and you have yourself a lunch to bring along on your adventures too.
This conversation is sponsored by Horizon. The opinions and text are all mine.