What Legoland Snow Days is all about and why you should visit. If you want to experience snow in Southern California, this amusement park has an easy and fun way to do that.
Complete with sledding, ice skating, a snow area and more, it's so great! If you live in SoCal and the thought of lugging all the things up to the mountains so your kids can experience snow, think again. You can enjoy all the rides of this park as well as let them sled all in the same place now!
Legoland Snow Days
Legoland Snow Days begins on November 22nd, and end on January 4th. Right outside the Legoland California entrance they have a real ice rink with skates, helmets, and fantastic "seal helpers" too!
Snow at Legoland
My kids had been skating once or twice before but still aren't fantastic skaters. These seals were great for them! We geared up, each child was given a seal, and they had a blast pushing them around for added stability.
For a while they were sitting on them and making their way around the rink. They pushed each other for the 90 min. ice skating session.
Legoland Snow Days
After our time was up we headed into their nearby cafe to get some food, and it was fantastic!! The cafe inside had warm soup, drinks, desserts, and individual items you could pick and choose from that were really tasty.
The part we really liked the most though was the LARGE play area they had inside the cafe for kids to run off some steam, while we ate.
This pirate ship was a play area inside, around, and had loads of legos around it. They were free to create a masterpiece while the parents were able to eat and chat. I seriously wish we had a restaurant like this near our house, it would be Packed! 😉
Once we were finished we treated the kids to a special dessert…..S'mores!! YES…..they had a bag of graham crackers, marshmallows, 2 chocolate bars, and long sticks for purchase inside this cafe. We headed outside!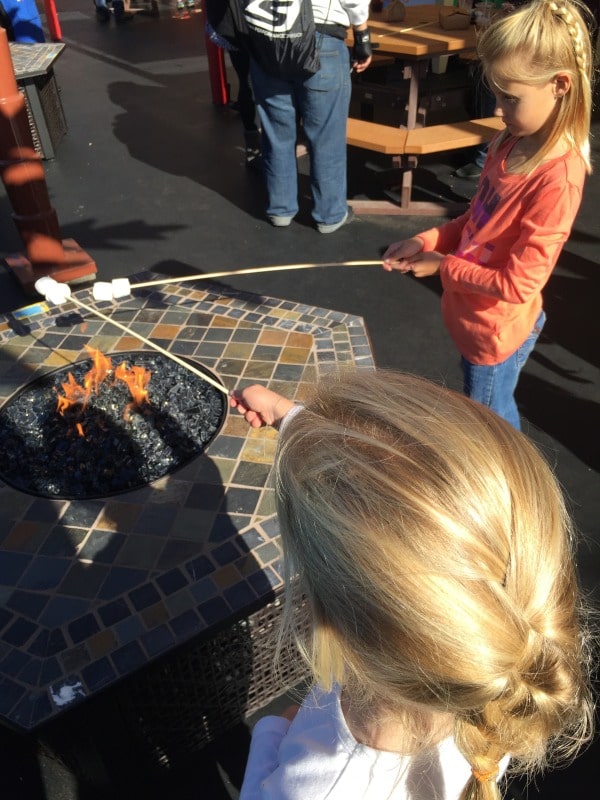 During Legoland Holiday Snow Days, they light these fire pits that are located just outside the ice rink.
They have staff members there if you need any help. Making sure the children are safe while they are roasting their marshmallows. This was one of their favorite parts of their visit (Mommy got one too, so yummy)!
Snow Days at Legoland
Our first stop inside was the Snow!! Born and raised in sunny Southern California, my kids don't get a chance to experience snow very often.
This is a BIG deal!! Just inside Fun Town is a winter wonderland filled with snow to play with and tubing that my kids just couldn't get enough of! It wasn't crowded at all.
They would slide, tote their tube up to the top again, and slide down this hill over and over and over again.
Once we were done we headed to the other side of the tubing area. There was a huge area filled with snow. Hence the Lego themed snowman at the top of this post. They had a smaller area with sleds there too to slide down.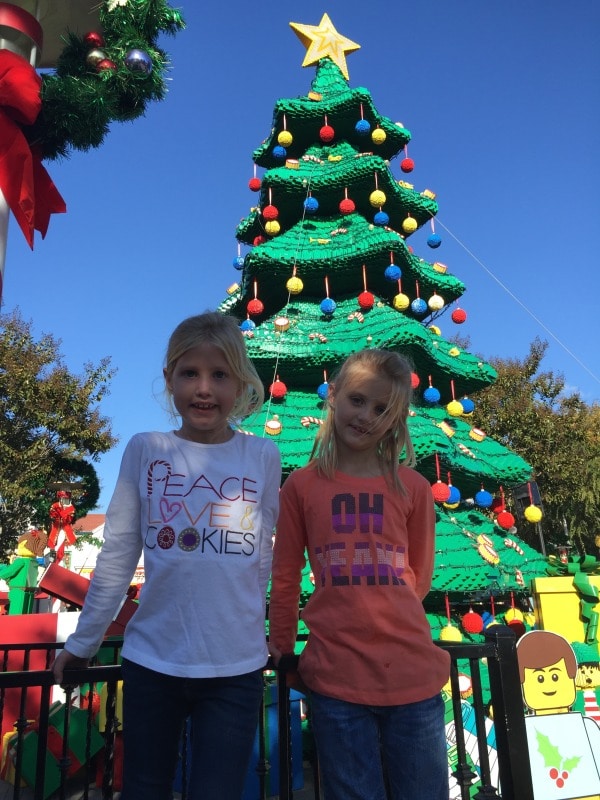 All around the Holiday Snow Days area inside Legoland there were holiday inspired Lego structures like this humungous tree made of Legos! Sooooo cool! It is amazing what they can create using Legos.
Since it was their first time, my kids really enjoyed looking at the animals, presents, trees, and other structures inside the park made entirely of Legos!
Of course during Legoland's Holiday Snow Days event their regular rides are open and we had to ride them too! The Royal Joust was the biggest hit as my kids are HUGE horse lovers!
The Sky Cruiser pedal powered car ride was great to get an bird's eye view of the park, and they got a real kick competing against Daddy on the Kid Power Tower to see who could reach the top first!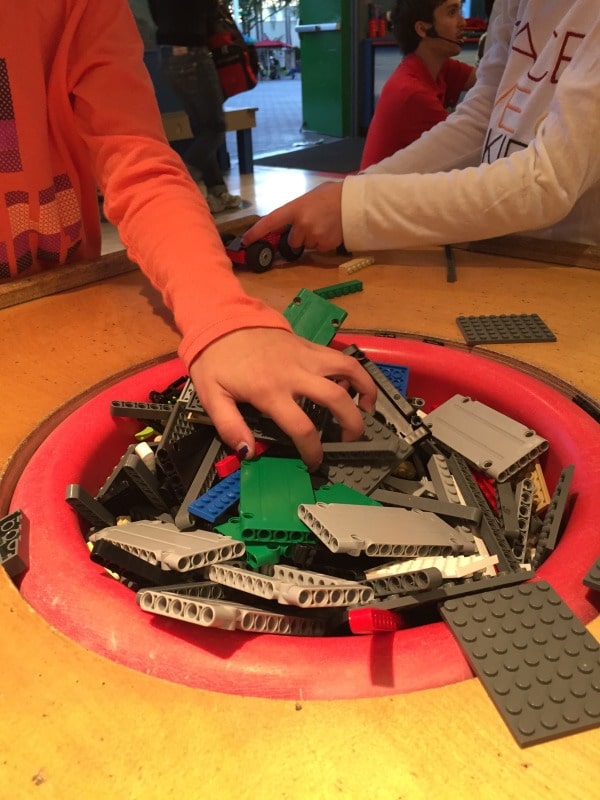 Legoland California Events
Before we headed home we stopped into Legoland California's creation station area where the kids built Lego cars and raced them against other children who creating masterpieces in there.
Great time for hubby and I to rest after a long day of fun. We had such a great time experiencing all that Legoland Holiday Snow Days had to offer.
It is unusual in Nov. or Dec. for our California kids to be able to ice skate, build a snowman, or experience snow all in one place….thanks to Legoland California for creating the Holiday Snow Days experience for us to enjoy this year!
If you'd like to visit Legoland Holiday Snow Days, there is a great deal going on right now!! Purchase tickets and visit Legoland between Nov. 1st and Jan. 4th, and then you can return to Legoland for FREE for one day in 2015. Legoland FREE tickes