Best homemade shortbread cookies for decorating with just 3 ingredients! Plain or dipped in melted chocolate, these are tender and buttery melt in your mouth dessert ideas for the holidays.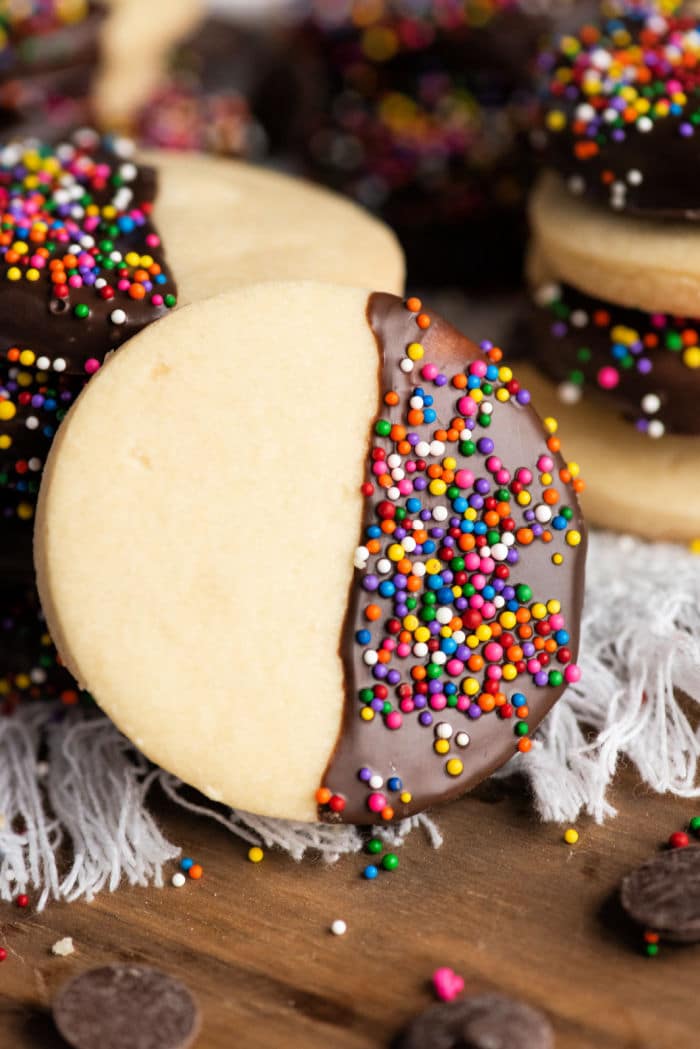 Best shortbread cookie recipe for decorating are what the holidays are all about. They'll literally melt in your mouth with every single bite. Get ready to introduce a new family cookie favorite with this simple shortbread cookies recipe. You can rest easy knowing that you're going to treat everyone in the family with this simple dessert. (originally published 12/21, affiliate links present)
Traditional Shortbread Recipe
I think it's safe to safe that the best part about making shortbread cookies at home is that the crunchy texture just can't be topped. You can serve these cookies with a cold glass of milk or grab one for each hand.
If you want to go ALL out with a layered look, you can use this as the bottom of our pecan shortbread bars.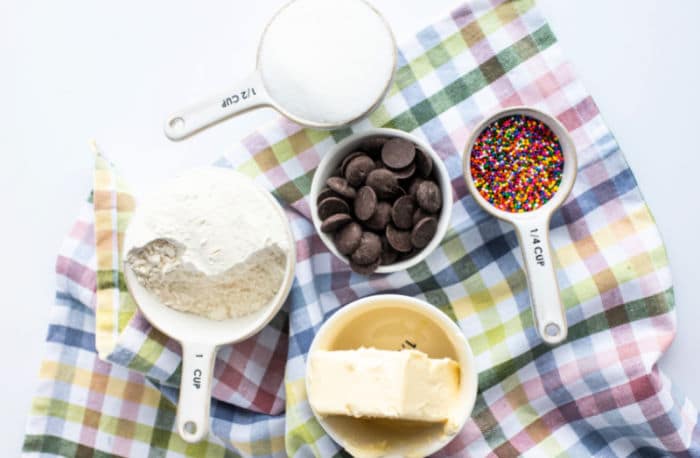 Shortbread Cookies Recipe Easy
Since this simple shortbread dessert takes just seven simple ingredients, there are no cutting corners on making these easy cookies. I highly recommend using top-notch ingredients like real unsalted butter (not salted butter!) and flavorful chocolate chips.
One of the other top tips for this shortbread cookie dessert is that you need to be sure that you're mixing the butter and sugar well until creamy. I always use an electric mixer or a stand mixer to get out all the lumps. (Make sure the butter is a room temperature to help with the smoothness!)
When I roll the dough, I make sure to use a flour surface because I'm not taking any chances of having any of the dough get stuck and be unusable. You can always add flour to the counter if you need more.
Best shortbread cookie recipe for decorating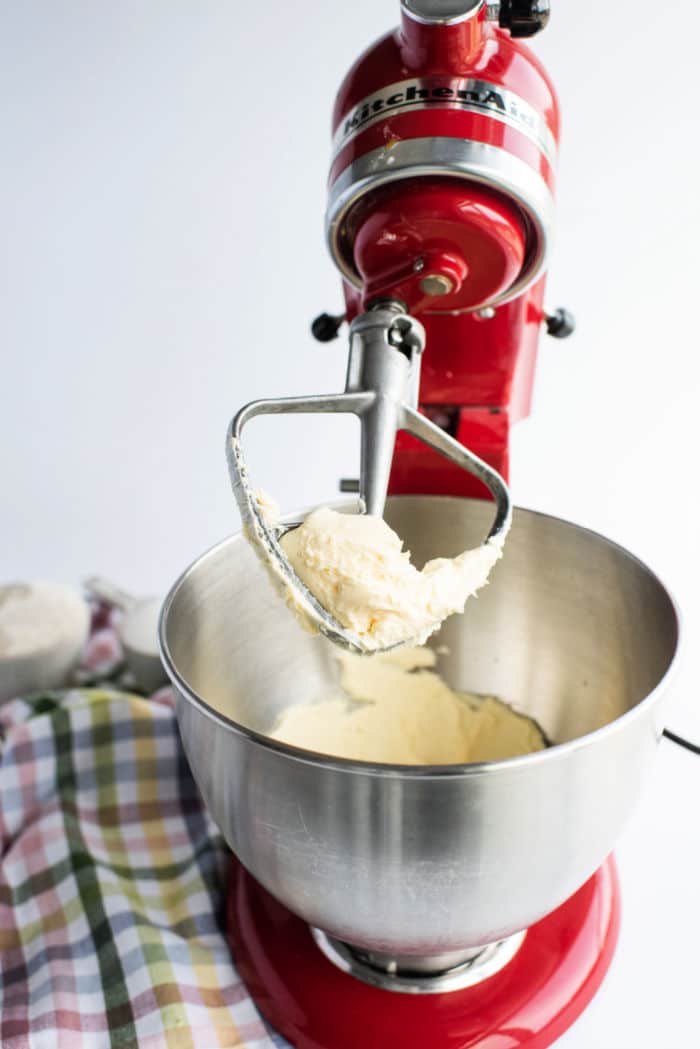 3 ingredient shortbread cookies
If you're a baking fanatic like me, you've probably noticed a ton of other recipes out there for classic shortbread cookies. Options can be good but I'm sure mine is going to be one of your favorites.
Some Christmas cookie recipes call for confectioner's sugar or powdered sugar but I think that regular and butter do a great job. You'll also find recipes that have you make the dough and wrap it in plastic to let sit in the fridge for a few hours. No way – no one has time for that.
My other super baking secret is that I add a bit of coconut oil to my chocolate chips when I'm melting chocolate in the microwave. The flavor of the coconut oil gives a nice hint of coconut and helps the chips melt perfectly and be smooth.
Butter shorbread recipe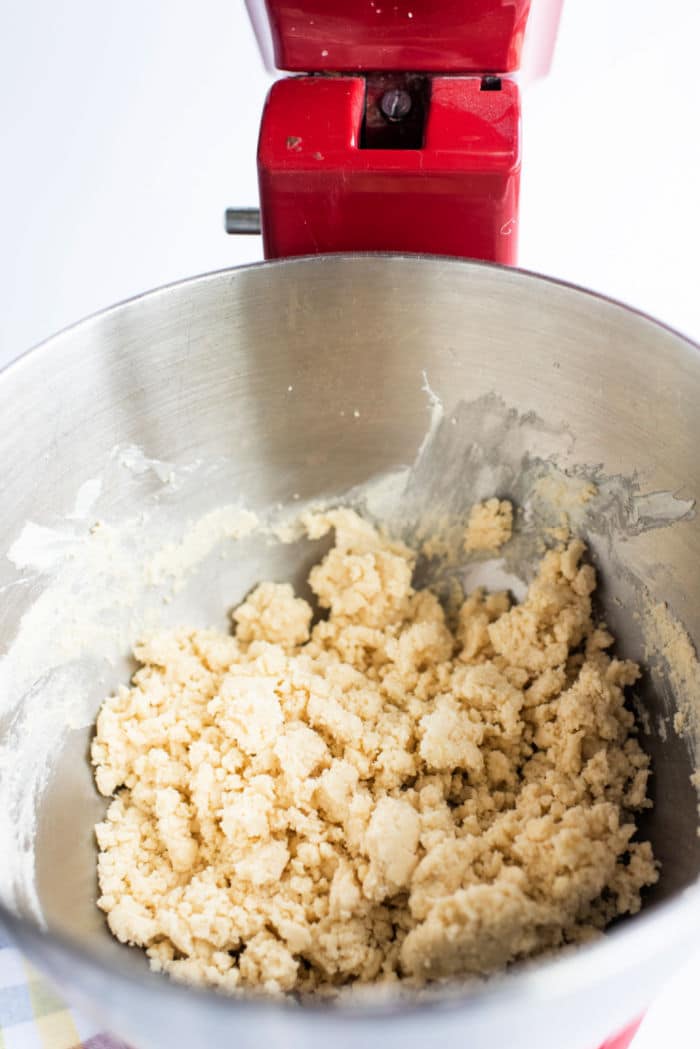 I just add the two ingredients to a large bowl and microwave for a short time, stir, and repeat. When it's time to dip the cookies, lay the waxed paper on a baking sheet and dip the cookies in the melted chocolate and let dry on the baking sheet. This may take up to 30 minutes to dry but it's totally worth the wait!
Should shortbread dough be chilled before baking
You should, 30 minutes min. is best. There's a reason that I like to take this easy cookie recipe with me when I attend holiday cookie exchanges. It seems like everyone brings a chocolate chip cookie or a sugar cookie recipe, but no one thinks about classic cookies that we all ate growing up.
I like this simple cookie recipe because you can decorate with chocolate, sprinkles, or just a little dusting of powdered sugar. This recipe lets you have a bit of creative freedom that results in stellar taste.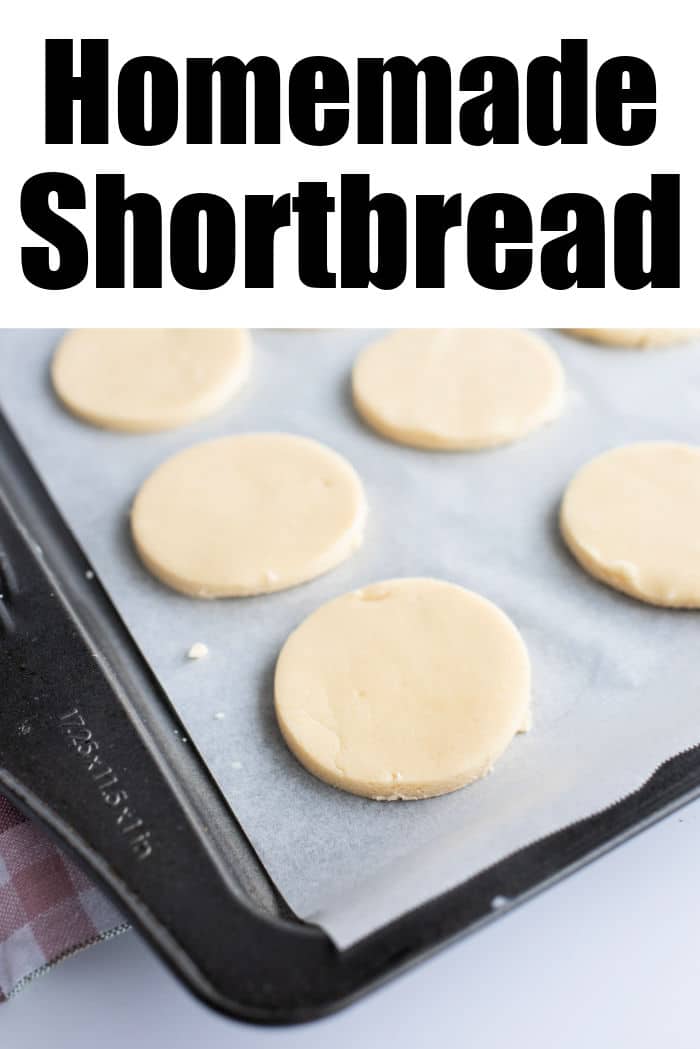 Can you freeze shortbread cookie dough
You can, wrapped in plastic wrap. Freezing these baked cookies is always a good idea. Not only do these cookies freeze well but they unthaw quickly and kept their taste. All you need to remember to do is store them in an airtight bag or container to keep them from getting freezer-burnt.
When it is time for you to snack on them again, just move to the fridge and let them unthaw quickly that way. You can also freeze cookie dough before baking it, but I actually prefer to do bake them all at once and then freeze to eat when I want.
Do you put sprinkles on shortbread cookies before or after baking
Before so they will stick. Don't forget that this recipe is a blank canvas for making some truly unique flavors and tastes. While classic is delicious, it may not be what you're craving when you make them.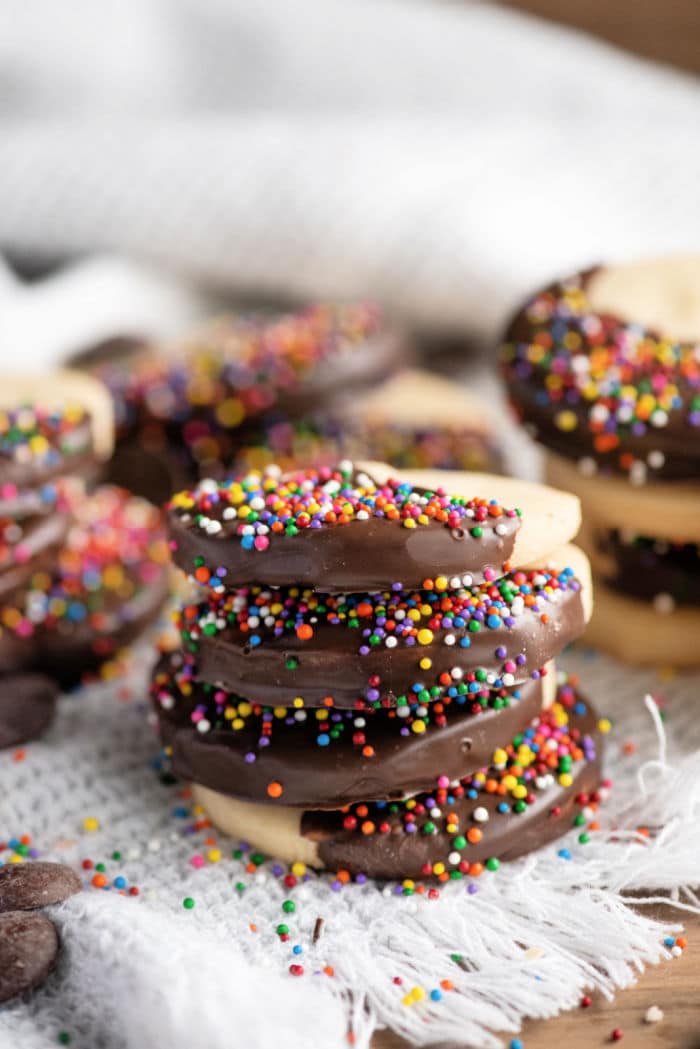 Kids love to take two cookies and put frosting in between them to great a shortbread cookie pie. (and I secretly love this idea because it looks so darn good!) They then roll the edges of the frosted cookies in sprinkles and give a whole new look and flavor.
How to make butter cookies
My other weakness when it comes to adding toppings is that I'm pretty obsessed with whipped cream. It's a light and simple addition and you can literally dip the cookie right into the whipped topping tub. (don't judge me – it's good)
I can't wait to hear what you think about this easy shortbread cookie dessert. Whether or not you plan on making it just as directed below or put your own spin on it, make sure to come back and tell me your thoughts!
Want to make these in a small batch? Make our simple chocolate chip cookies in the oven or make air fryer cookies too!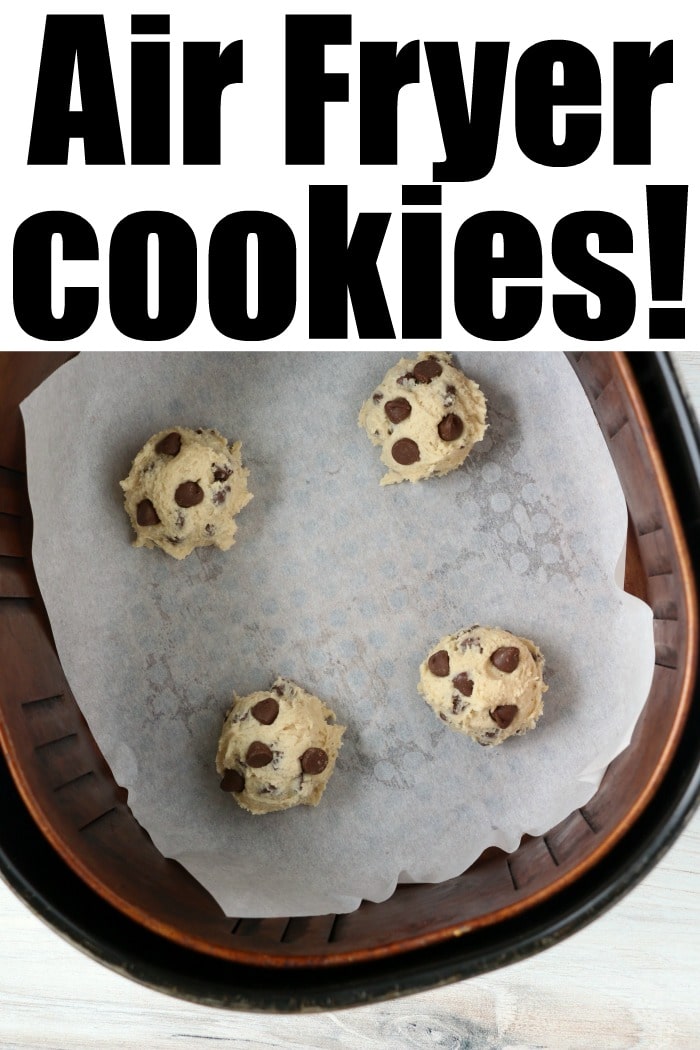 How Long to Bake Shorbread
Here's a quick rundown of how they are made:
Preheat your oven to 350 degrees. Line two baking sheets with parchment paper or use a silpat sheet so they don't stick.
Use a mixer to cream the butter and sugar together until light and fluffy. Add flour slowly and mix until a crumbly dough forms.
Press dough into balls. Then roll out on a flat floured surface.
Use cookie cutters to shape into shapes. Make all the same size.
Place on lined cookie sheets to bake for 10-12 minutes. You just want the edges to become a light golden brown.
Remove from oven and move cookies on to cooling rack.
Want to see a few of my favorite things that I am totally obsessed with?? Take a peek and see how many you might already have…twinsies!
Looking for more easy family recipes and tips? LIKE The Typical Mom Facebook page?
Then sign up for my free newsletter, and follow me on Pinterest! 😉
***** If you LOVED this recipe give it 5 Stars below and let everyone know what you thought about it. 😉
Homemade Shortbread Cookies
Best homemade shortbread cookies recipe! Plain or dipped these are tender and buttery melt in your mouth dessert ideas for the holidays.
Instructions
Preheat oven to 350 degrees F. Line two baking sheets with parchment paper.

Use an electric or stand mixer to cream butter, then add sugar and mix until light and fluffy. Add flour slowly and mix until a crumbly dough forms.

Press dough into a ball, then roll out flat on to a floured surface.

Use a cookie cutter to shape into circles or any other shape.

Place on lined cookie sheets and bake for 10-12 minutes or until just the edges are golden brown.

Remove from oven and move cookies on to cooling rack.

If you want to dip them melt chocolate chips with coconut oil in microwave in 30 second intervals. Stir in between cook times until smooth but no longer.

Dip cooled cookies into chocolate, place on parchment paper, add sprinkles and allow to cool.
Nutrition Facts
Homemade Shortbread Cookies
Amount Per Serving (2 oz)
Calories 181
Calories from Fat 90
% Daily Value*
Fat 10g15%
Cholesterol 21mg7%
Sodium 73mg3%
Potassium 17mg0%
Carbohydrates 21g7%
Protein 2g4%
Vitamin A 253IU5%
Vitamin C 1mg1%
Calcium 13mg1%
Iron 1mg6%
* Percent Daily Values are based on a 2000 calorie diet.