We usually have some sort of pasta dish during the week, and always need some sort of yummy bread to go with it.  This easy cheese biscuit recipe makes a perfect duo for a family meal, and your kids can help you make them! Let us show you how. This is a sponsored post written by me on behalf of Schreiber Foods, Inc. All opinions are entirely my own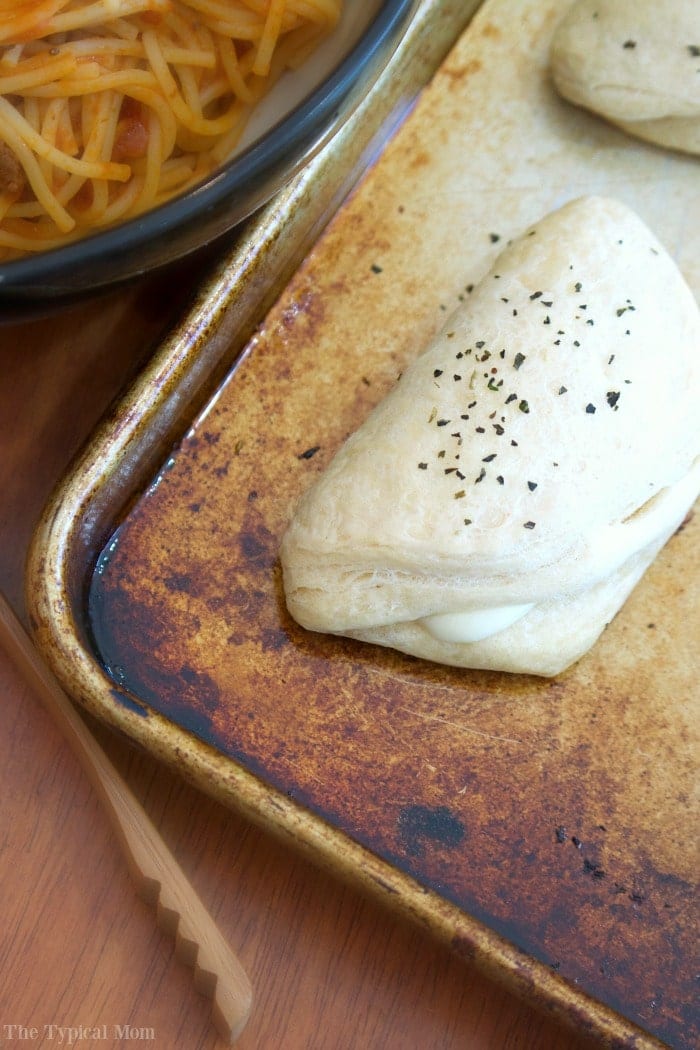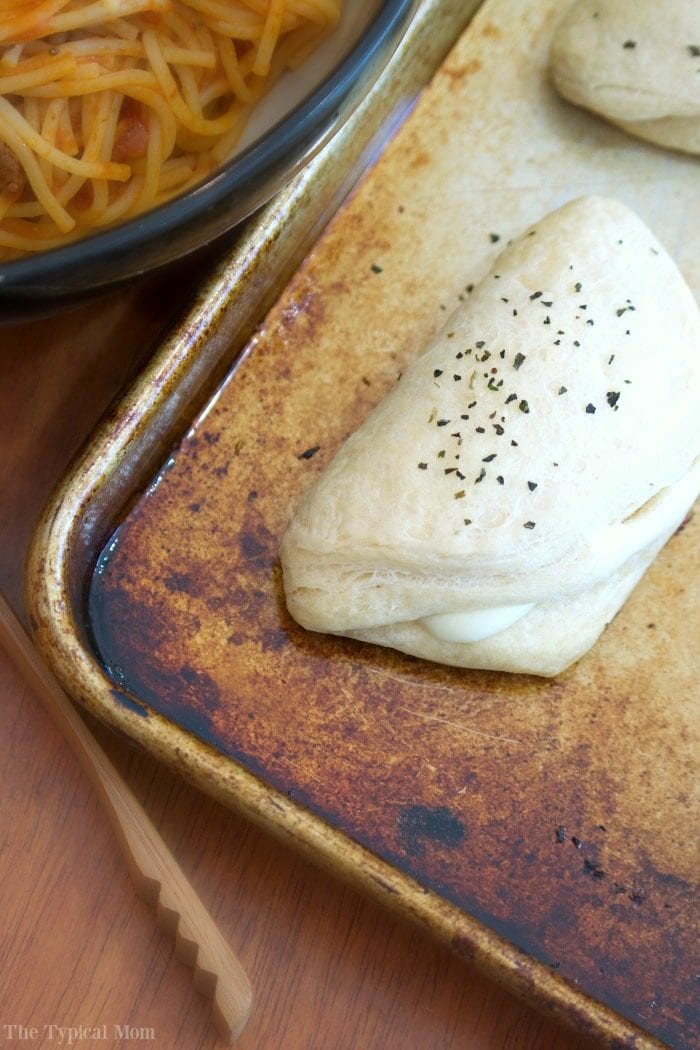 You only need a few items to make these cheesy biscuits, and with kids in the house you surely have the most important one…string cheese!! My kids LOVE string cheese (ok, I do too). As a snack, in their lunchbox, and their perfect when we're on the go for picnics or during a long day of sporting events. You will need to grab a few to "stuff" inside these biscuits, they turn out amazing! Let your little helper assist you with this several parts of this recipe.
Take out your package of Disney® Frozen String Cheese and let them open 4 of them (ok and snack on a few during the process). If you haven't seen these fun versions of cheese yet you can find them in your Walmart dairy case, there's a coupon for $1 off here + some fun activities for them to do while the biscuits are baking too!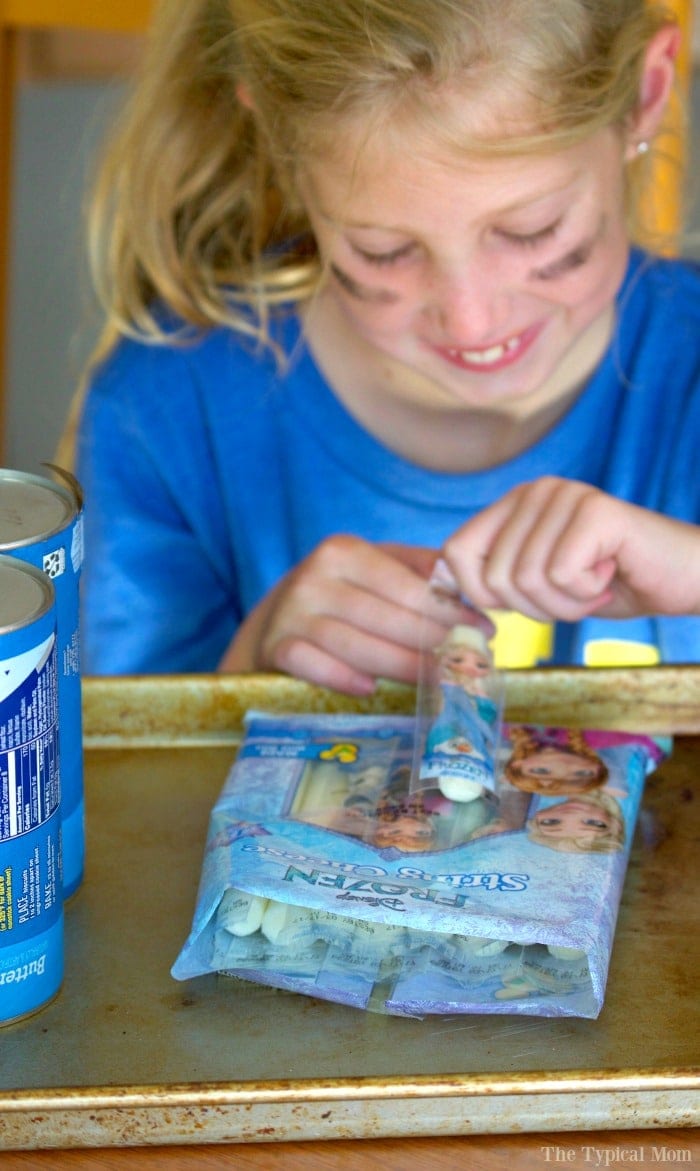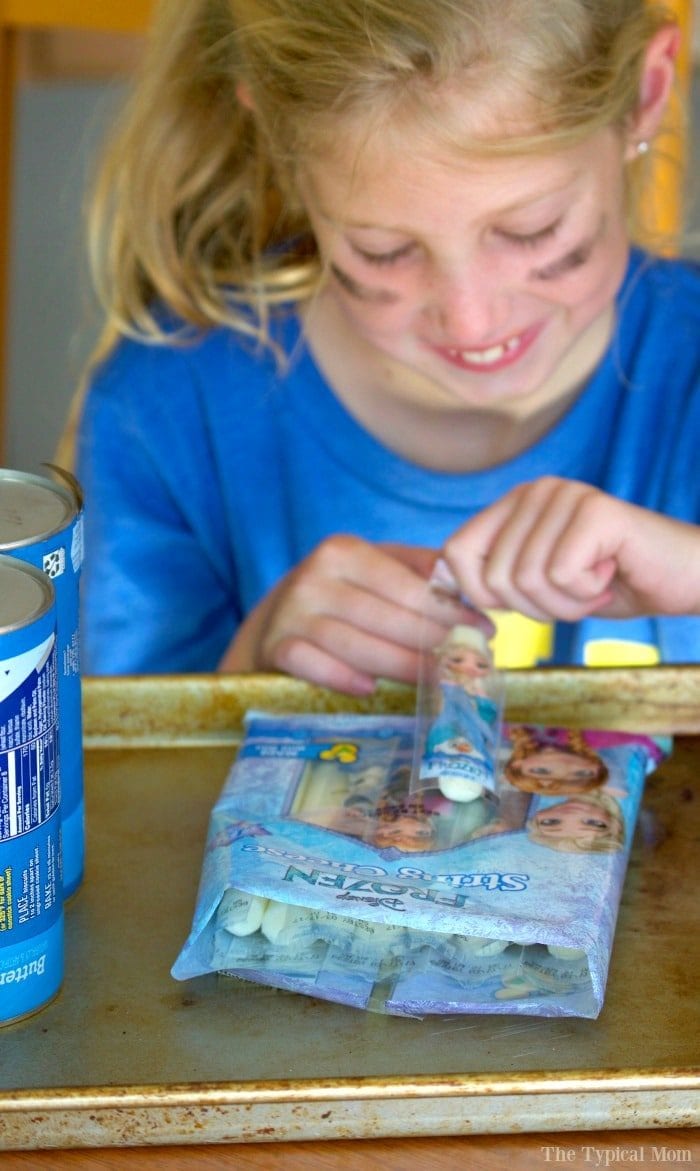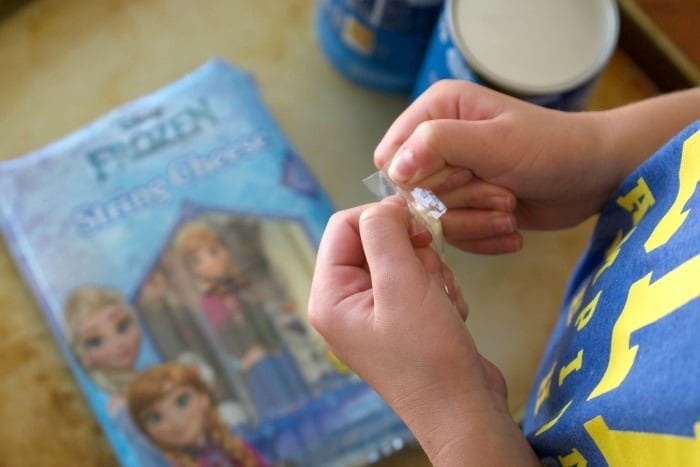 My littlest one had just returned from school where they had a jog a thon, so after she had one for herself she got to unwrapping 4 more to make our easy cheese biscuit recipe together. I have 3 girls so Disney® Frozen String Cheese is quite popular in our house. They usually don't last long since each one takes their lunch to school. It's a perfect addition to their lunch boxes as string cheese gets calcium and protein in them and tastes yummy (I even snack on them throughout the day, but don't tell them).  Now cut each piece into fourths and we're going to stuff our biscuits full of garlic, butter, and cheese!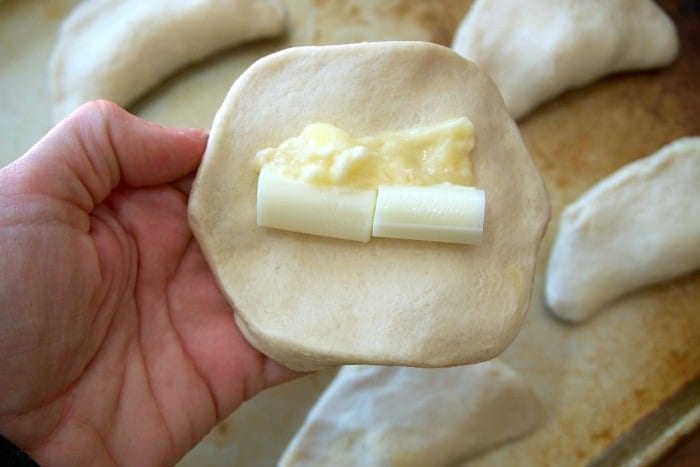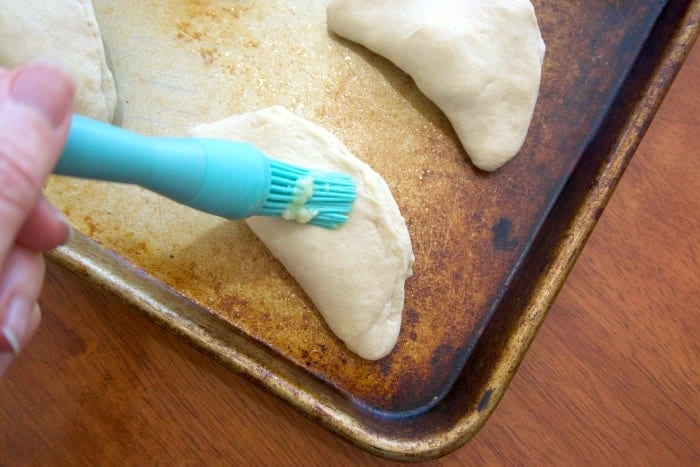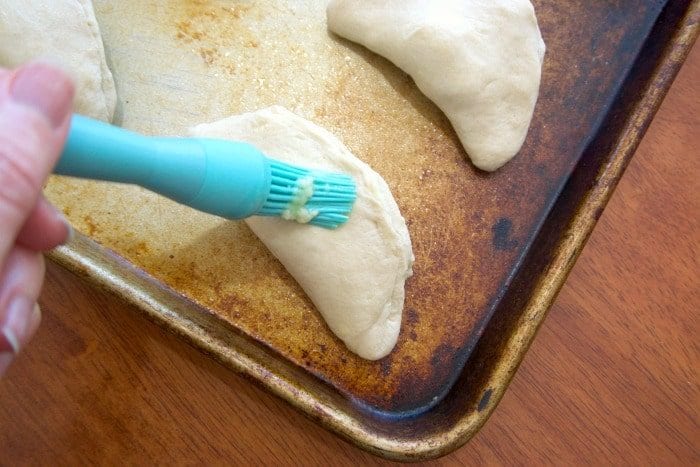 You want to flatten your refrigerated biscuit out with your hands and then position the 2 pieces of cut string cheese side to side as you see above. Then, add a bit of your softened butter and garlic mixture inside so it's stuffed with tons of flavor. Next, press the edges together well so it resembles a half moon or an empanada shape. Make sure the edges are tightly pressed together, you could even put it on your cutting board and use a fork on the edges to ensure they don't come apart in the baking process. Then brush the melted butter and garlic mixture on top of your biscuits and put a dash of basil on top for a bit more flavor and color. Now they're ready for the oven!
Easy cheese biscuit recipe
Easy cheese biscuit recipe
Ingredients
1

String Cheese

1

pkg

refrigerated biscuits

1

stoick

softened butter

2

tsp

minced garlic

pinch of basil
Instructions
Cut string cheese into fourths. Spray pan. Melt 3 tbsp. butter with 1 tsp. minced garlic in 1 bowl and mix 3 tbsp. softened butter with 1 tsp. minced garlic in another bowl. Flatten a biscuit and put 2 pieces of cut string cheese inside with 1/2 tsp. softened butter/garlic mixture. Fold ends together so it is half-moon or empenada shaped and place on cookie sheet. Bake at 325 degrees for about 15 or until lightly browned. Serve.
Nutrition Facts
Easy cheese biscuit recipe
Amount Per Serving (2 oz)
Calories 10
% Daily Value*
Cholesterol 1mg0%
Sodium 27mg1%
Calcium 2mg0%
* Percent Daily Values are based on a 2000 calorie diet.
Your kids can help you with most of this recipe which is great to get them involved so they enjoy cooking, and to spend time together too. When your cheesy biscuits come out of the oven they are ready to serve and packed with flavor. It adds a good source of calcium and protein to your biscuits too and is perfect to pair with pasta or even soup!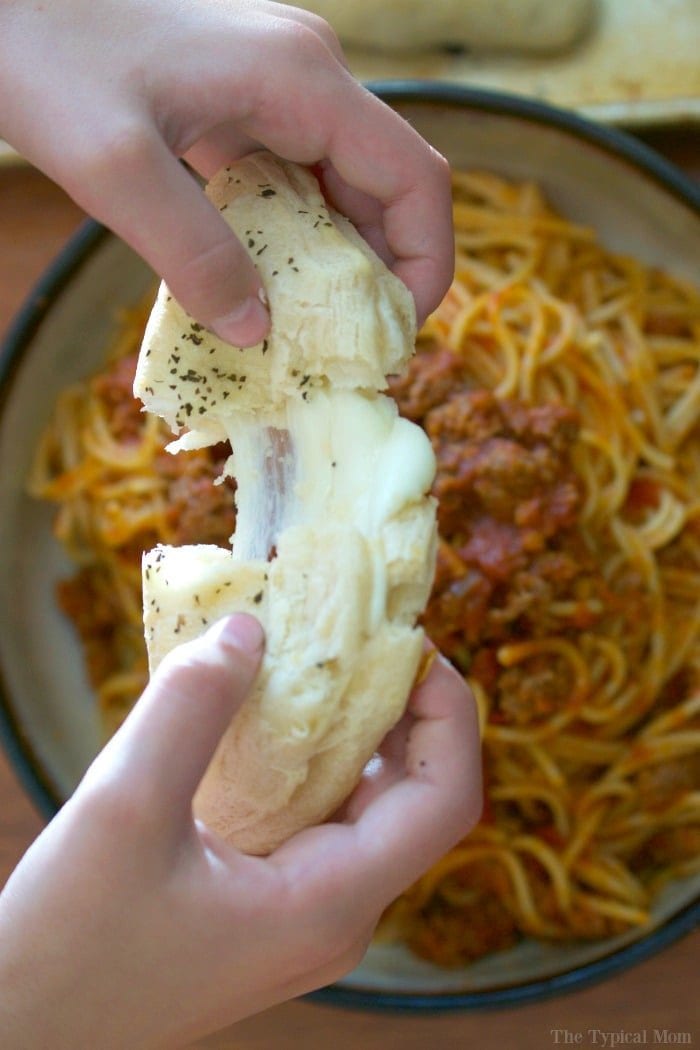 These are great the next day too, and my girls have even taken them to school as a snack the next day (if there are any left after dinner). Let us know what you think of our easy cheese biscuit recipe, and if your kids love the fun Disney® Frozen String Cheese packages in their lunches too! For more fun activities and tips for moms, plus a $1 coupon, visit cheeseadventures.com.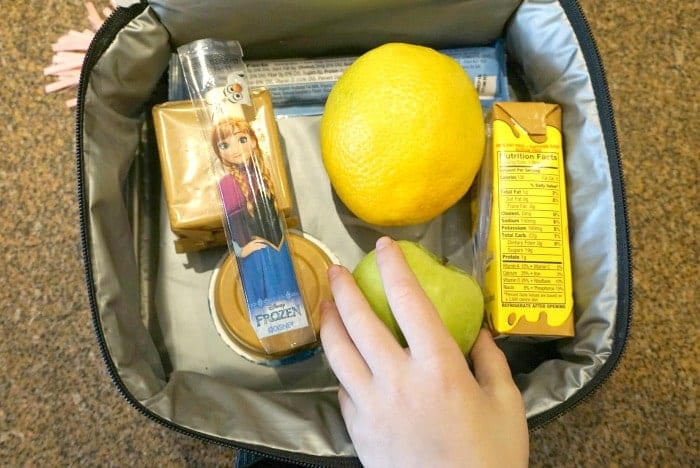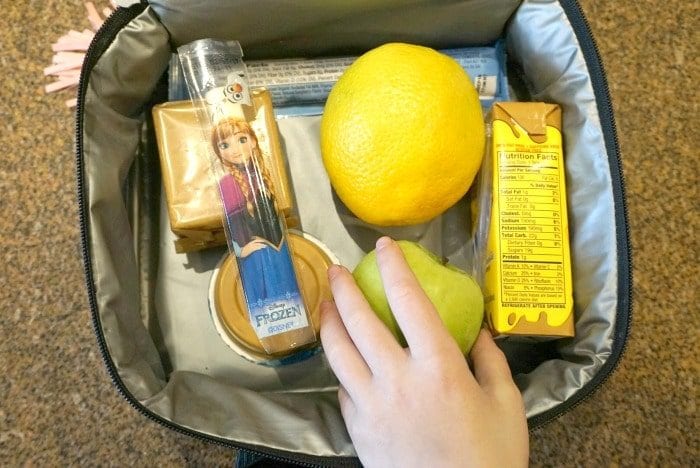 .