Free Bridal Shower Bingo cards are here! Use this free printable wedding game before the big day at your party to save you money and have a fun game full of laughs.
Are you looking for a great game for everyone to enjoy at your upcoming wedding party? You're in luck. This Bridal Shower Bingo will have everyone laughing, communicating, and racing to win that awesome bingo prize! If you love free printables this is just one here on The Typical Mom blog. (originally published 3/20, affiliate links present)
Bridal Shower Games Free
Part of the bridal shower fun is food, games, and pretty bridal shower themed decor.
Everyone knows that when they get invited to a special party like this, it's going to be a great way to sing praises about your friend and chow down on some great food!
And you can always count on playing some fun and hilarious bridal shower games.
Some people might actually say that the best part of going to a bridal shower is all the fun games that everyone plays! If you are the host you are likely looking for ways to make the event fun but not cost you an arm and a leg. Best way to start is find freebies and then go on to the Dollar Store, and then shop beyond that.
Bridal Shower Bingo PDF
No matter if you're a bingo connoisseur not, you can easily get the hang of this fun and addictive Bridal Shower Bingo. But just remember…there can only be one winner so you're going to have to bring your "A" game and be ready to play!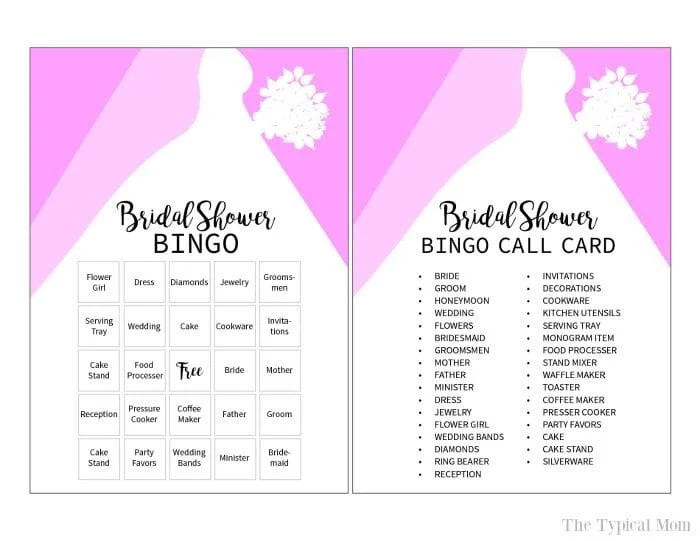 What games are played at bridal showers?
Obviously Bridal Shower bingo is popular but there are some other party games you'll love as well. Have a child at heart marrying, maybe Disney bingo is more appropriate? Some other popular choices are:
He said she said bridal shower game is probably the most popular and gets people rolling on the floor. You may think you really know your loved one but play this and you'll see……
Guess the Romantic Movie Quote
Name that Love Song is a fun one that wouldn't cost a thing. Use an Alexa to create a playlist for the day. Each person gets a paper and tries to figure out the name of each song for a point each.
"If I could give one piece of marriage advice" game can be something the person of honor can keep as a momento.
Here are 5 more printable party games you can play too

I love the advice cards the best, everyone cherishes those for years to come
All of these bridal shower games are pretty self-explanatory and would be great ideas to have in accompaniment with your Bridal Shower Bingo.
Do you give prizes for bridal shower games?
Yes, unique bridal shower gifts are always good. They don't have to be anything elaborate either. A nice candle, a scented lotion, or even a goody bag full of sweets and treats are all great game prizes that you could easily have on hand.
Bridal shower prizes tend to get everyone excited about playing because we all know it's so much fun to win! It's best to order online places where you get free shipping on orders.
How many games do you play at a bridal shower?
Just because of time, the best option is to keep it to 1 or 2 games, at most. Most times there is a large group of people attending the bridal shower so if you can keep the games simple and easy, it ensures that people won't be committed to staying at the bridal shower all day long.
If you're having a bridal shower that is open to children, make certain that you're doing something to keep them in on the fun as well.
Bridal Shower bingo can be totally kid-friendly, too, so have a few kid's prizes available just in case a child wins instead of an adult. (Great kid's prizes for bingo could be candy, water toys, coloring books, reading books, and more.)
Free Bridal Shower Games Printable
Bingo is a game that everyone loves to play but there are some important tips to keep in mind. (and be prepared, some people might get really competitive with the game!)
Make certain everyone can see and hear
There's nothing worse than missing a move during the game. There's certain to be a lot of chatter going on during the bridal shower so make certain that everyone is aware that the game is starting and all who want to play have time to get seated and ready.
Provide all the supplies needed for Bridal Shower Bingo
Have the bingo cards, pencils or bingo markers, and anything else your guests might need to play bingo there and ready to go. That way it's a smooth transition to start the game without any hiccups.
Decide ahead of time if you're going to stop the BINGO game once there is a winner or keep going
Sometimes, bingo games keep going to have multiple winners. This is totally fine but it's something to announce before the game starts. That way when someone shouts "bingo" people know not to clear or toss their cards. The more winners, the more fun!
Have fun playing this Bridal Shower game. It's fun, addictive, and a total blast to play with all your family and friends! You're about to find out who has a hidden competitive side that you never knew about!
Don't forget to get as many free printable Bridal Shower Bingo cards as guests you'll have. Just make copies plus a few extras in case some unexpected guests arrive, or one gets ripped.
Free Bridal Shower Bingo
Want to see a few of my favorite things that I am totally obsessed with?? Take a peek and see how many you might already have…twinsies!
Looking for more easy family recipes and tips? LIKE The Typical Mom Facebook page?
Then sign up for my free newsletter, and follow me on Pinterest! 😉
***** If you LOVED this recipe give it 5 Stars below and let everyone know what you thought about it. 😉