Here are a bunch of fun outer space bingo and other activities for kids to do at home. Use for an outer space birthday party too. If you're child is studying outer space these activities come in handy or just for fun on the weekend.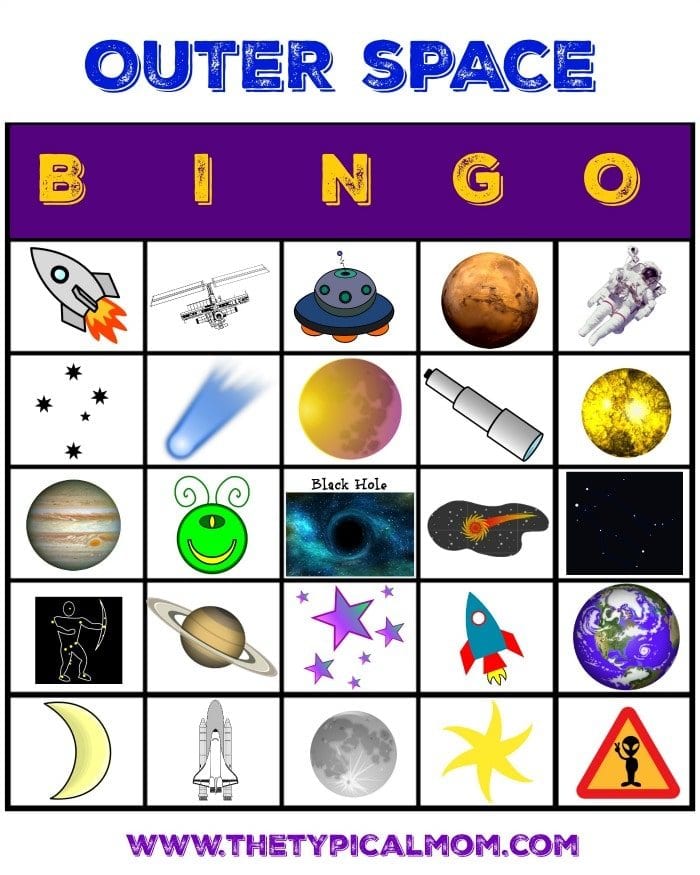 If your kids love learning about outer space we have some fun crafts and snacks for you to try! My daughters began to learn a lot about the planets and solar system this year. We created a few fun space activities for kids together so they could share them with you (love that). 😉 Sponsored by Tyson Foods, Inc. (originally published 5/16, affiliate links present)
Outer Space Bingo
This weekend we decided to go out and take a little hike. Along the way we thought a few rocks would make cute martian "pet rocks". Everyone gathered a few to take home. We had the paint and google eyes. All we would need on the way home would be some lunch…which we would make into something space themed too.
Let us share our space bingo cards with you to have fun and other activities that have the same theme.
Space Bingo
On our way home we began to brainstorm what we could make with one of their favorite foods, corn dogs. That would have a space theme to it and they came up with a brilliant idea all on their own! Kroger had the State Fair® corn dogs they enjoy so we started there, and picked up a red apple to help us create our planet. 😉
This idea is not only fun if you're thinking of having a space birthday party or themed afternoon. It's a great way to incorporate fruits and veggies into foods they already love too.
This apple was perfect for creating the ring for Saturn. You could use a slice of cucumber too! Take a look at how we made our fun planet.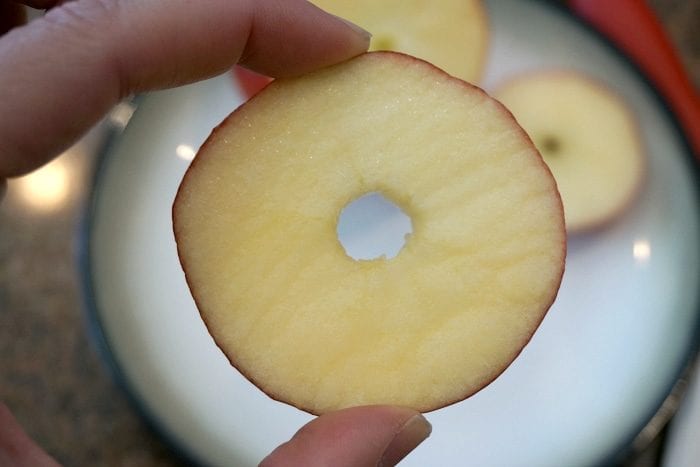 Space Bingo PDF
My 9 year old thought "we could cut off the top and leave the bottom of the corn dog in place and just remove the middle. It created a kind of a circular planet, then the apple would be Saturn's ring" Ok I'm bias but that's kinda' brilliant. 😉
On to one of their favorite space activities for kids they could snack on. Who doesn't like a friendly martian pet rock.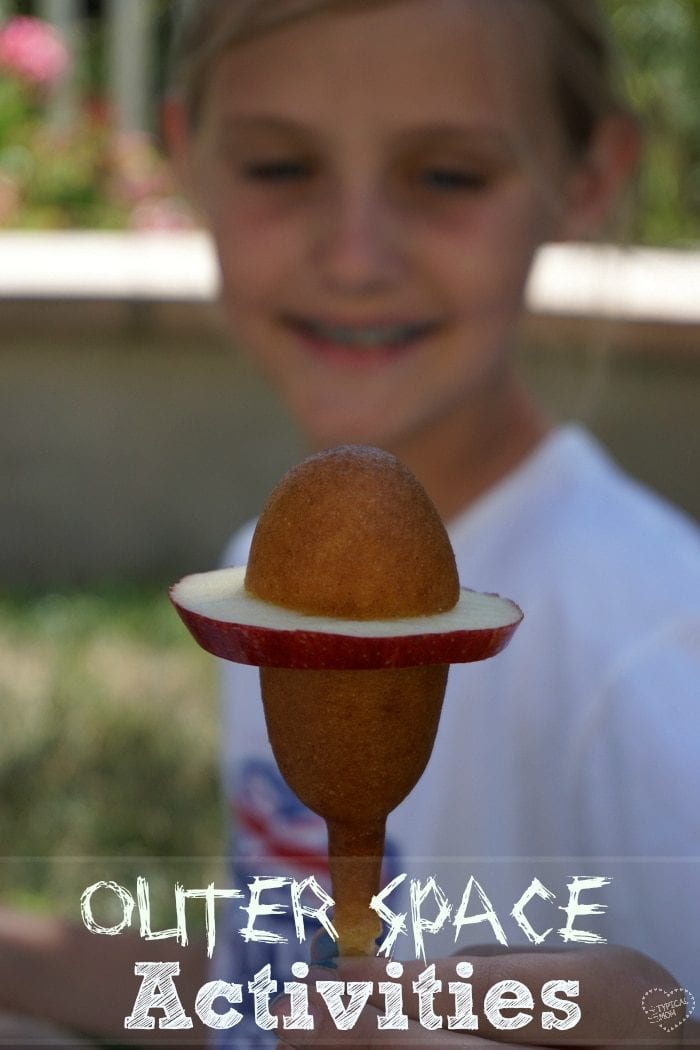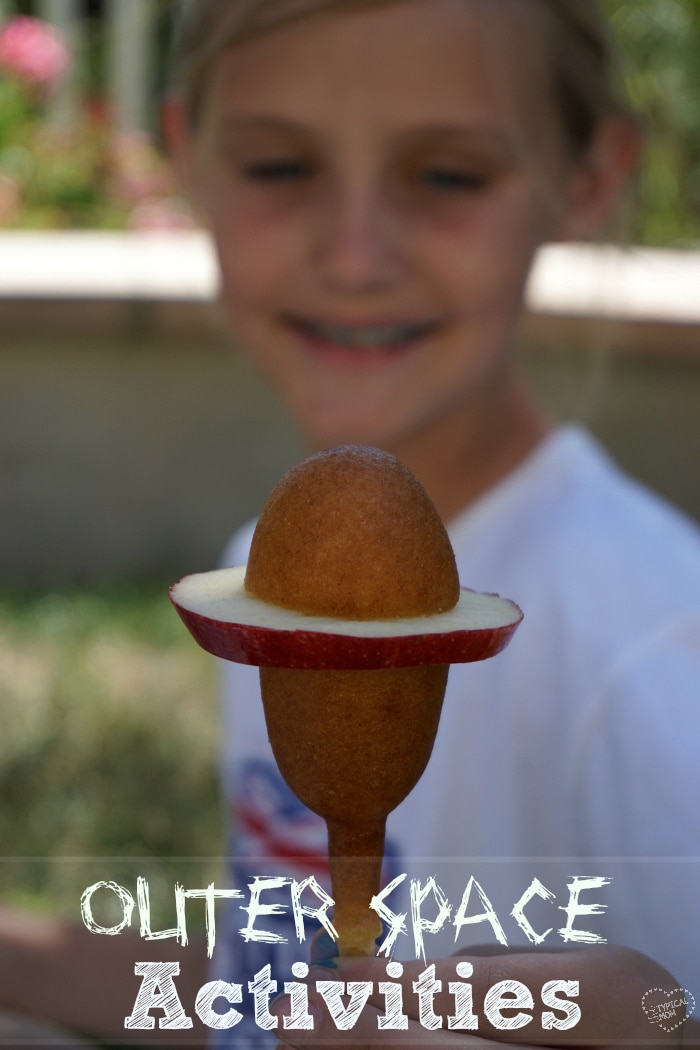 Outer Space Activities
First of all, have them change into some "dirty clothes" we like to call them. You know, something you won't mind getting completely ruined. Getting dirty is half the fun. We use our grass so drips of paint won't have to be cleaned up off the patio later.
Brush the dirt off the rocks they found (or wash and dry them), and give them a few different colors of paint and brushes. Washable tempera paints work better than watercolors.
A piece of cardboard or large paper plates can be used for their painting surface. We used a bakery box that was in the recycle bin.
The key is to let them be creative, have fun, and use what you already have at home.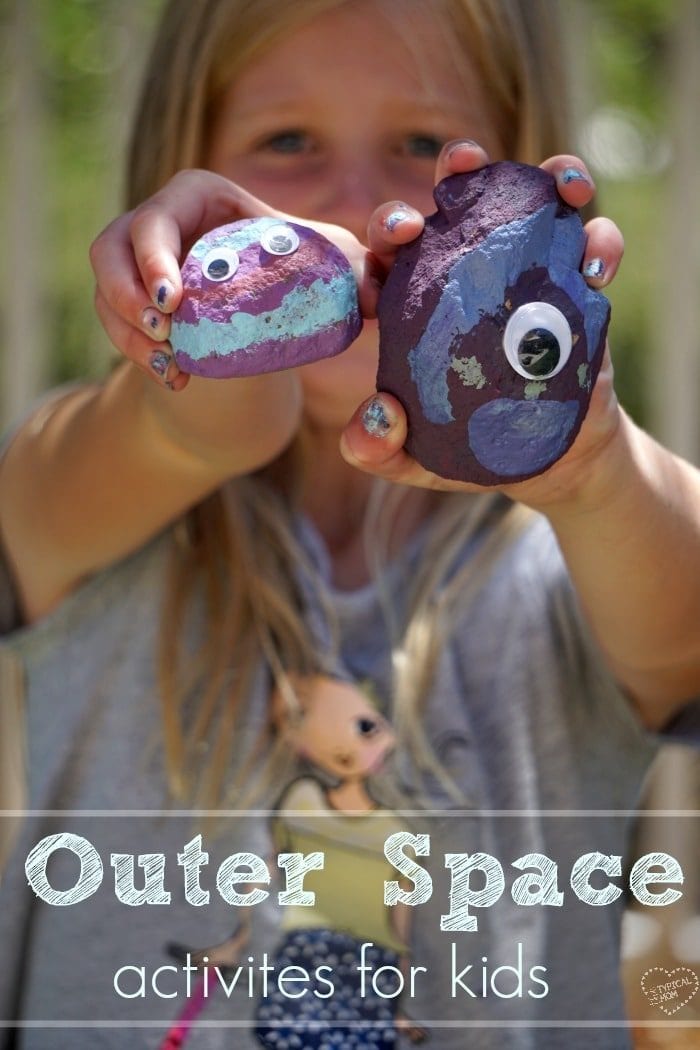 Free Space Bingo
A little paint, imagination, google eyes, and our outer space friends were created! To round out our space filled day we played a little Outer Space BINGO. Perfect for any afternoon. You can print your free Outer Space Bingo cards here.
If you're playing with multiple children here are 3 other Outer Space bingo cards
For the caller just cut up 1 Bingo card into squares, pull 1 at a time and hold it up. Have them guess what each picture is, then if they have it on their Bingo card they can put a penny or small candy on that spot until someone wins!
Life's an adventure! Get out there and explore the area in which you live in with your children.
Create fun projects and don't worry about the "mess" that's created, and play with your food every once and a while (it's okay).
Coming up with new and fun ways to "play" with your food gives kids the opportunity to try new things because they're "fun" and they made it themselves! If you love free printables we have more bingo games to print out here.