Details for San Diego Kids FREE October activities is here! TONS of free things kids can do like the zoo, safari park, Sea World & more at no charge at all.
Next month is San Diego Kids Free October!! Well, ok it's technically not called that, but it mind as well be with all the FREEbies they are offering. Seriously. Free train rides, free entrance to the San Diego Safari Park, free entrance for kids to the San Diego zoo, museums and more!! Check out all the goodies they are offering and take advantage of it + Tell a Friend!!
Here is the deal for the zoo which is popular. Kids 12 and under get into these places FREE of charge with adult paid admission.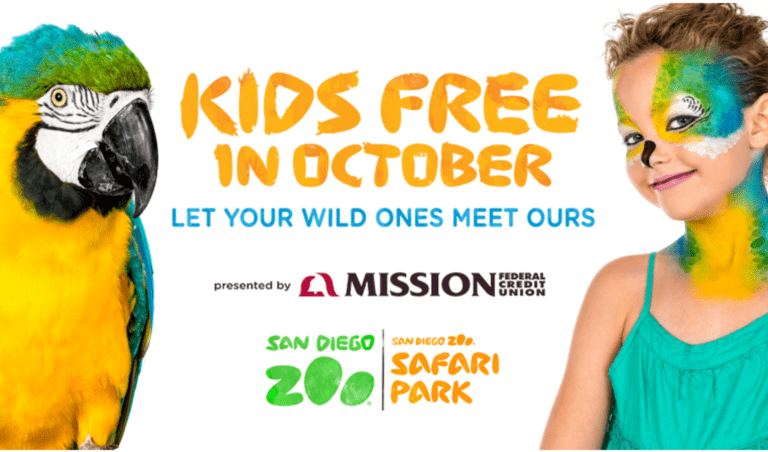 1-2 kids can get in FREE per paid adult depending on venue. Details at very bottom when you click on link of where you want to go. Dates go from Oct. 1st – 31st.
Now is a great time to visit somewhere new, or visit again if it has been a while. It's like a buy one get one free opportunity but for tons of different free things to do in Southern California.
We have been to the Safari Park, Zoo, Birch Aquarium (which I highly recommend). We hadn't been to a few of the museums they offer though so we headed there last year.
San Diego Kids Free October changes the locations yearly so check every Sept. Mark your calendar for a new place each weekend in Oct.!
Here is the complete list of Kids Free October activities for 2017: below are a few of our favorites
The USS Midway
Birch Aquarium at Scripps
Charter site seeing bus tour
If you haven't taken your kids on a trip on the train it is great fun! It doesn't really matter where you go. Just pack a lunch and head out on an adventure just to say you went on one.
Train lovers will be thrilled about this one.
Ride on Amtrak
Children's Nature Retreat
Railroad Museum
If your child has an interest in surfing this is a great opportunity to try it. Whale watching is one experience we did during Girl Scouts that my daughter will never forget.
I get sea sick but was fine on the boat that left out of the San Clemente area and we did see a few…they guarantee it! Even little ones get a kick out of this experience.
Museums that offer hands on experiences are always fun for all ages, even older kids.
Surf free with Surf Diva
Ride and Play Free at Belmont Park
Old Town Trolley Tours
San Diego sailing tours
There is SO much to do during San Diego Kids Free October month. Take advantage of it and let us know which ones were your favorite!
There are many others listed here on the San Diego website, with other offers like places where kids eat free as well. Those the ones above are some of our favorites there are many more too.