Easy orange creamsicle cookies taste just like the popsicles you love! Using orange juice and a few other ingredients they're a great Summer dessert.
OH my goodness, these orange creamsicle cookies came out so yummy!! It's Spring break here and my girls are off of school. We decided to do a bit of baking (one of our favorite activities). I let my little one be "boss for the day" and she chose this quick easy dessert. 😉 Sponsored by Tampico Beverages. (affiliate links present, originally published 4/17)
Orange Dreamsicle Cookies
With just a few simple ingredients (including a favorite orange drink of ours) we came up with our favorite popsicle flavor in the form of a cookie! I know you loved orange creamsicles as a child!
Orange and vanilla flavors go well together, and they came out so great in these cookies too. It was fun baking together and teaching her how important it is to get every measurement just right. When it comes to the glaze you can pour on as much as you'd like.
She'd never heard of or seen anyone use orange zest before so that was a learning experience, but they got a "mmmmmm, good" when they were done in about 30 minutes start to finish.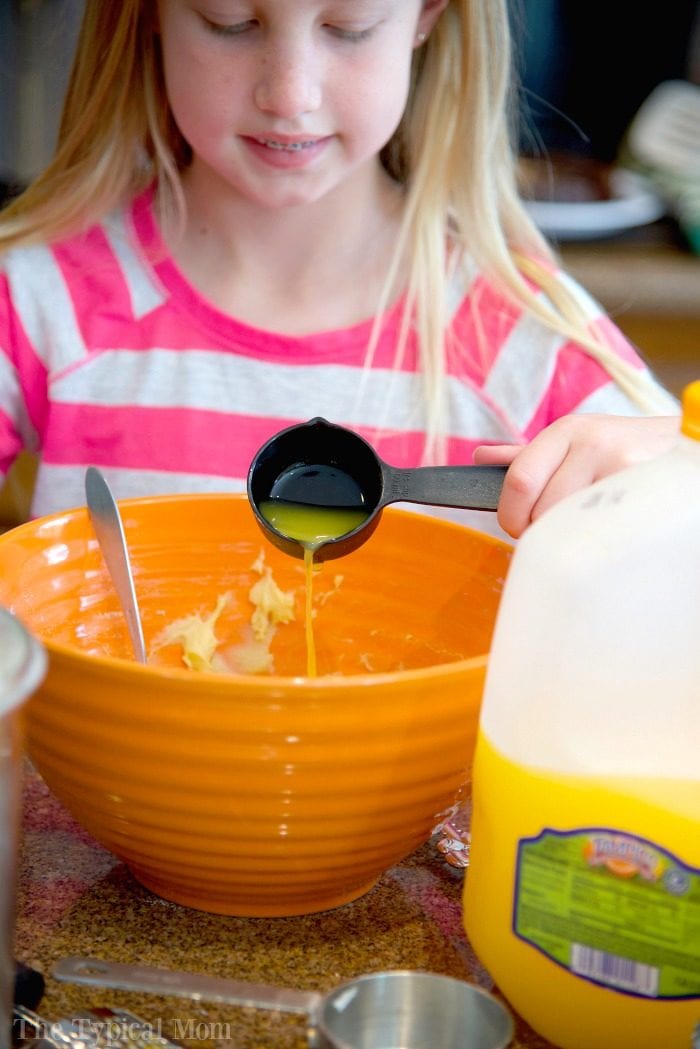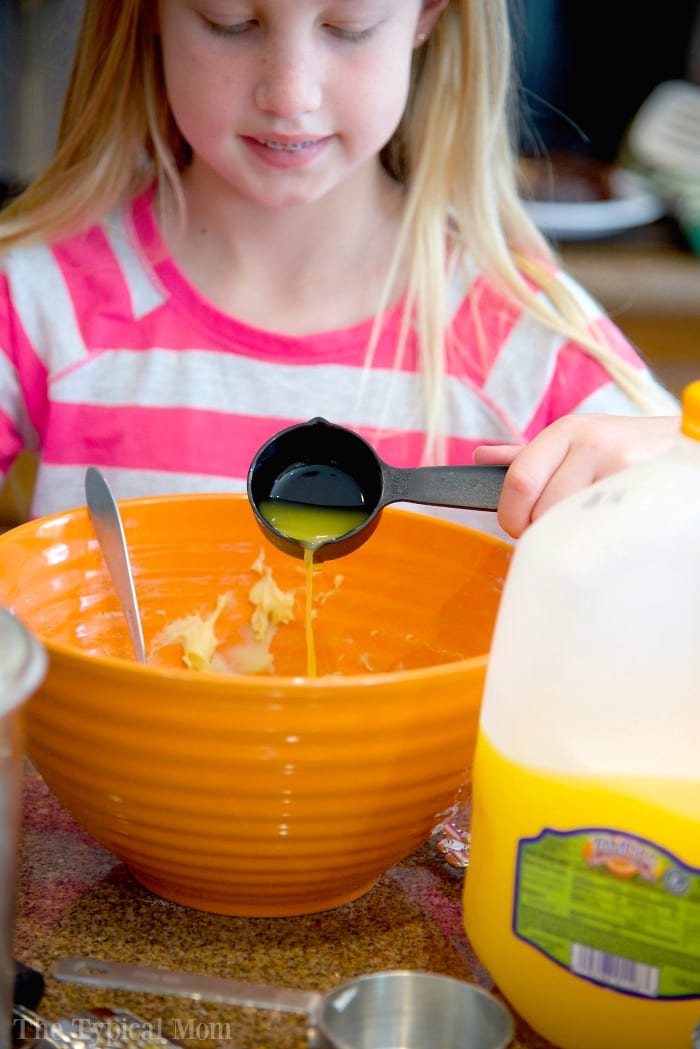 Orange Creamsicle Cookies
It's good to let your kids take charge every once and a while and be part of the creating process. Even if you have to help a bit with the measurements, the "dumping" in part gets them excited ;). For a quick method you can follow our cake mix lemon cookies with OJ instead. These are homemade. Here's how you make these easy orange cookies.
Tampico orange drink or orange juice
Egg
Softened butter
All purpose flour
Sugar
White chocolate chips are optional but give them more of a vanilla flavor
Powdered sugar
Baking soda
Orange zest
Could add a touch of vanilla extract if desired
Try baking with your little one and let them be "boss for the day"! Let them make this orange creamsicle drink too.
If you have a cooling rack it is best to remove them from the baking sheet so they don't overcook and put some parchment paper down underneath to catch the excess glaze. No need to wait until they cool completely and are at room temperature. Spoon the orange glaze over your warm cookies, top with a bit of orange zest and enjoy! They really do taste like a creamsicle.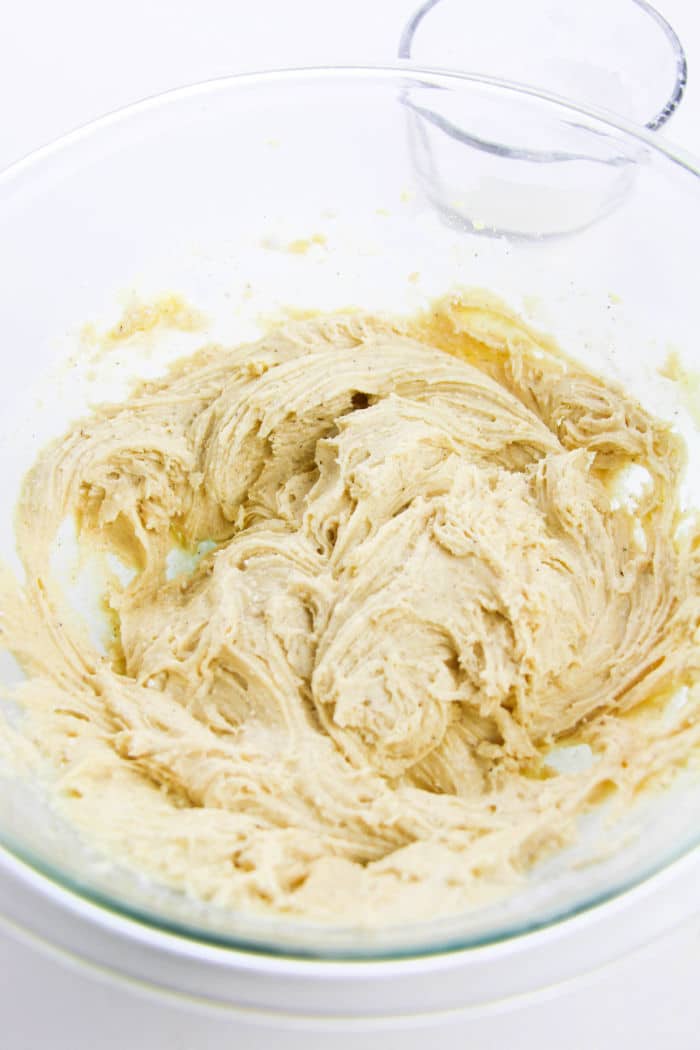 Creamsicle Cookies
You can certainly add white chocolate chips into the batter if you would like, or leave them out. Those work quite well. About 1/2 cup folded in at the very end works. Makes them taste more like the ice cream for sure with the vanilla inside and the orange flavor outside. Make sure your scoops are the same size on the tray so all bake evenly and come out chewy.
Add dry ingredients into one large bowl, and wet into another and mix each one well.
Combine together and mix well.
Fold in white chocolate chips and 1 tsp orange zest.
Spoon dough balls of the same size on to lined baking sheet with parchment paper, should make 12-14.
Bake at 400 degrees for 8 minutes, do not overcook (just until edges are barely brown). Put on cooling rack.
Mix together powdered sugar and 1 tbsp Tampico or orange juice. Spoon on to warm cookies and top with a pinch of orange zest. Enjoy!
** If you want a bolder lovely orange color you could use a drop of orange gel food coloring into the batter.
Orange Cookies
Can you use orange extract instead of orange juice?
Yes you can. If you don't have orange drink like Tampico and you still want to make creamsicle cookies you could use a few drops of extract instead.
What can I substitute for orange juice?
You can use lemon juice instead with a bit of added sweetener to balance out the tartness of the fruit. Maple syrup or a liquid sugar work well for that. Orange extract works as well as orange drinks like Sunny Delight.
Want to try another citrus cookie this summer? Of course you do. You will love our lemon blueberry cookies for dessert as well.
Creamsicle Orange Cookies
Now texture is a whole other animal and everyone has their preferences. If you like them crunchy like Chips Ahoy then go for 10 minutes. 8 minutes is how long to bake cookies so they are chewier, cooled on the cooling rack. Another tip for very chewy cookies is;
Cover the cookie dough and refrigerate it for at least 30 minutes (or up to 24 hours). Chilling the dough helps prevent excessive spreading during baking and promotes chewiness.
Once chilled, use a cookie scoop or spoon to portion the dough into balls and place them on the prepared baking sheet. Leave enough space between each ball to allow for spreading during baking.
Bake in the preheated oven for 8-10 minutes (depending on size) or until the edges are golden brown and the centers are slightly soft. Be careful not to overbake, as this can lead to crispy cookies instead of chewy ones.
Allow the cookies to cool on the baking sheet for 2 minutes before transferring them to a wire rack to cool completely. Once cooled, enjoy your delicious chewy cookies!
By following these steps, you should achieve a delightful batch of chewy cookies. Remember, baking times can vary, so keep an eye on the cookies as they bake and adjust the time as needed for your desired chewiness.
Want to see a few of my favorite things that I am totally obsessed with?? Take a peek and see how many you might already have…twinsies!
Looking for more easy family recipes and tips? LIKE The Typical Mom Facebook page?
Then sign up for my free newsletter, and follow me on Pinterest! 😉
***** If you LOVED this recipe give it 5 Stars below and let everyone know what you thought about it. 😉
Orange Creamsicle Cookies
These easy orange creamsicle cookies are so good and taste just like your favorite popsicle, but better! Using orange juice and a few ingredients they're perfect for the Summer.
Instructions
Preheat oven to Add dry ingredients into one bowl, and wet into another and mix each one well.

Combine together and use a mixer on low speed to make batter smooth.

Fold in white chocolate chips and 1 tsp orange zest.

Spoon on to cookie sheet, should make 12-14. Bake at 400 degrees for 8 minutes, do not overcook (just until edges are barely brown). Put on cooling rack.

Mix together powdered sugar and 1 tbsp Tampico. Spoon on to warm cookies and top with a pinch of orange zest. Enjoy!
Nutrition Facts
Orange Creamsicle Cookies
Amount Per Serving (3 oz)
Calories 125
Calories from Fat 9
% Daily Value*
Fat 1g2%
Cholesterol 14mg5%
Sodium 35mg2%
Potassium 29mg1%
Carbohydrates 25g8%
Protein 2g4%
Vitamin A 20IU0%
Vitamin C 0.9mg1%
Calcium 11mg1%
Iron 0.7mg4%
* Percent Daily Values are based on a 2000 calorie diet.