Knott's Berry Farm seasons of fun throughout the year can be yours if you snag some season passes for you and your family. See what's in store each year!
If you haven't been to Knott's Berry Farm in a while you may not know how many different events they have each year. We're lucky enough to visit several times a year and have been to probably all of them…but I anticipate that they will continue to add more so hopefully we can share those with you too later! Here is a peek at what you could expect to see and do if you purchased season passes, a look at Knott's Berry Farm seasons of fun if you will. 😉 Special thanks goes out to Knott's for sponsoring this post, and offering the passes we are giving away today below.
Let's start with the New Year! Knott's Berry Farm has a lot to do the day before the clock strikes 12:01 and the year rolls over to a new one. See all the events they had that day we attended! There are fireworks if you dare to stay until midnight too. lol. It doesn't matter what age you are it is always fun to celebrate the New Year with some fun and rides.
Knott's Berry Farm Seasons of Fun
Ok now Knott's Berry Farm's Boysenberry Festival is probably our favorite time to visit and enjoy some delicious food there. I'm serious when I say everything tastes better with a bit of boysenberry….even the pizza was good!! When you go you MUST buy one of their famous fun buns….you won't regret it (and you can share it with several people).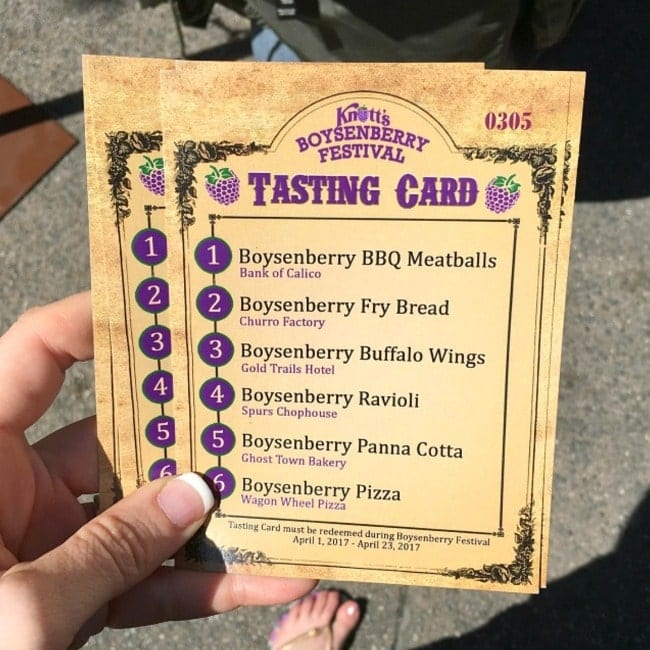 Knott's Berry Farm Spooky Farm is the daytime version of their Scary Farm but without the scary….a little more my style! There are fun characters around the park like this guy, they pass out candy and let the kids trick or treat all day long, and the whole place is dressed up Halloween style!
Knott's Merry Farm is something my kids look forward to each year! Not only is Santa there and you can get your picture taken with him, but in the same location they have fun cookies, baked goods, milk, egg nog, hot chocolate loaded with goodies, roasted nuts, and more! Everything is decorated for this season around the park and of course Snoopy's ice show is all things Christmas!
If you've never seen this show it is pretty incredible! The ice skaters are awesome, there's a great story to it and even though we've seen it over and over again it's still a must do each year!
Ghost Town Alive was new this year for us and was really cool. There are "shows" like this all around the park involving different characters along with the crowd. Another fun thing to see during the year. All of this is accessible to you if you have a season pass to Knott's Berry Farm!!
Not only do you get to participate in all the events like these but you also get extra season pass benefits too like:
Merchandise and food discounts
Summer early entry
Bring a friend pass
Dining plan
Pass add-ons
What we've all been waiting for is here!!
Right now you can WIN 4 SEASON PASSES TO KNOTT'S BERRY FARM!!
a Rafflecopter giveaway