Here is the best beer can chicken recipe to make on the barbecue tonight. Really easy to do and a great way to cook outside in the Summer when it's hot. I know you remember this method from your childhood, now it is time to bring it back.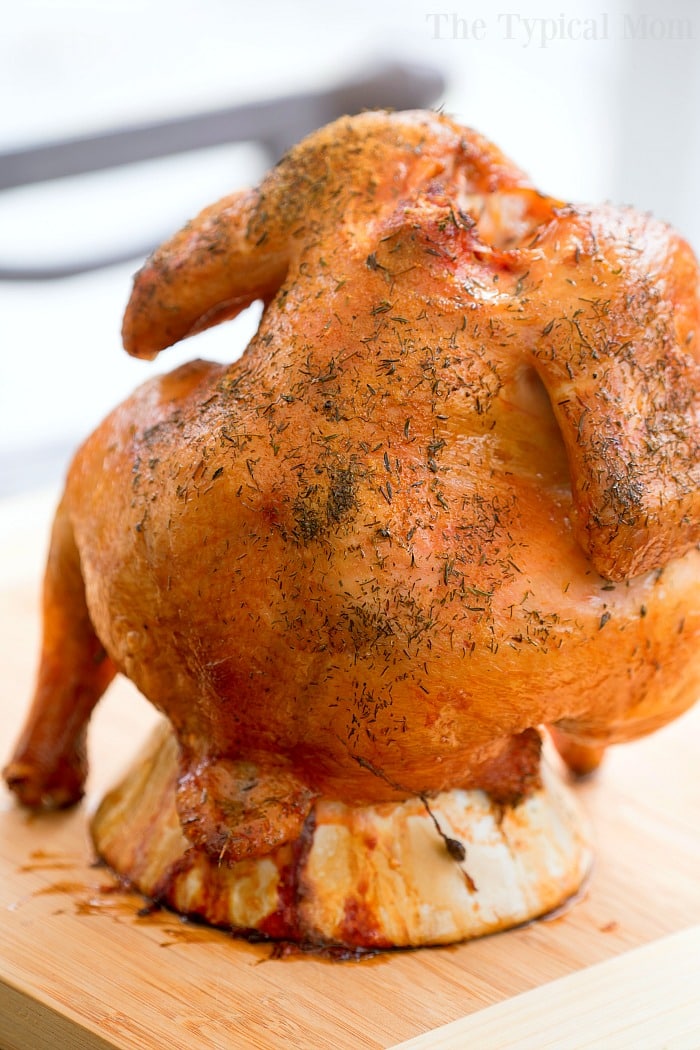 I don't know about you but growing up we had beer can chicken pretty often. I'm not sure why but this trend wore off as I got older, yet it is still a great, easy, and flavorful way to cook chicken on the BBQ…..let us show you how you can make this easy beer can chicken recipe at home too. 😉 (originally published 8/15)
What is the best liquid to use for beer can chicken
Well I mean lager of course. You could use whatever really, it doesn't matter but a blonde light beer is top on my list. Let's be honest. In the Summertime we will do anything to NOT cook or turn the oven on inside the house!
It reaches over 100 degrees where we live for a few months out of the year and the last thing you want to do is heat up your house. So we use our barbecue and smoker as often as possible!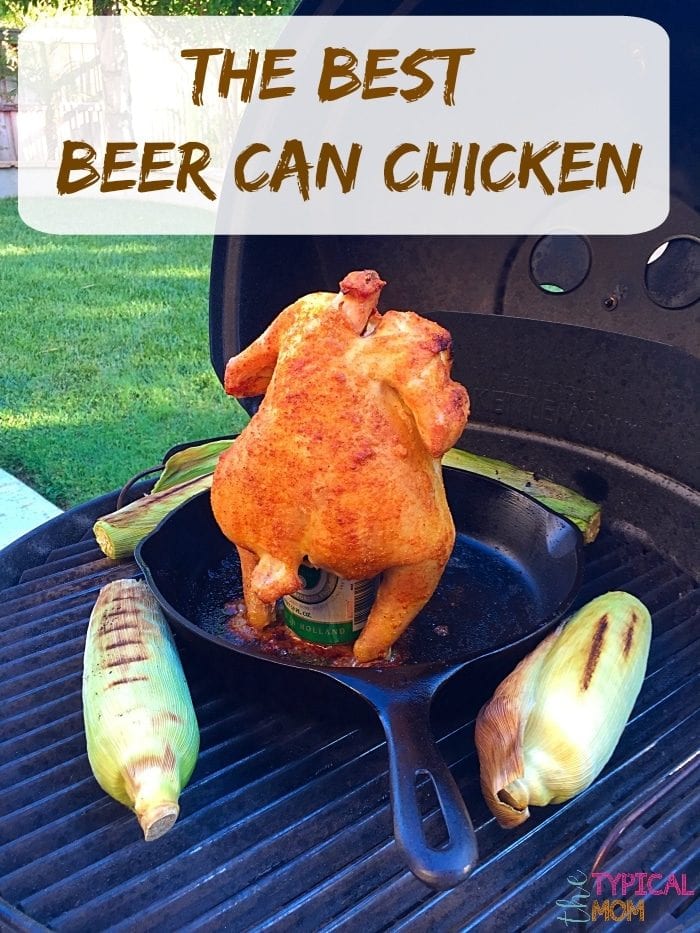 We have made desserts on the bbq and the usual hot dogs and hamburgers. But this beer can chicken recipe is the best. We even cook pizza on the bbq when it's insanely hot outside.
Let me start by saying that neither one of us are beer drinkers. However, the chicken has no residual beer flavor when it is done.
The alcohol burns off in the cooking process so it is safe to feed your children.We have 3 kids and they love this recipe too.
First get either a cast iron skillet like this one or a cookie sheet. It will act as a drip pan of sorts.
Then light your charcoal grill, or start your gas grill so it can preheat.
Best Beer can chicken recipe
How to Make beer can chicken
We used a larger can of beer this time because it's all I could find on sale.

We have used this chicken stand as well that's made of porcelain (seen at the top). Either way it works just fine.

Rinse your chicken.
Pat dry with a paper towel.
Clean the cavity of chicken out.
Pour about 1/3 of the beer out of the can, or else it will end up really overflowing when it starts to boil.
Open beer and if you're using the chicken stand pour it inside. Otherwise, set the chicken upright on the open part of the can until it won't go down any more and is secure.
Then put together a dry spice rub. Use any and all spices and herbs you'd add to any whole chicken you'd bake.
We typically use the same dry rub as our smoked beer can chicken.
Whole chicken on top of beer can
Spray your pan with some non stick spray just to make cleanup later easier, and season the whole chicken as you normally would if you were putting it in the oven.
Make sure when you put your briquettes on you sit them in a pile. Give them some time to cool down and not have a flame above them.
You don't want it to cook super fast. Slow is better for this beer can chicken recipe.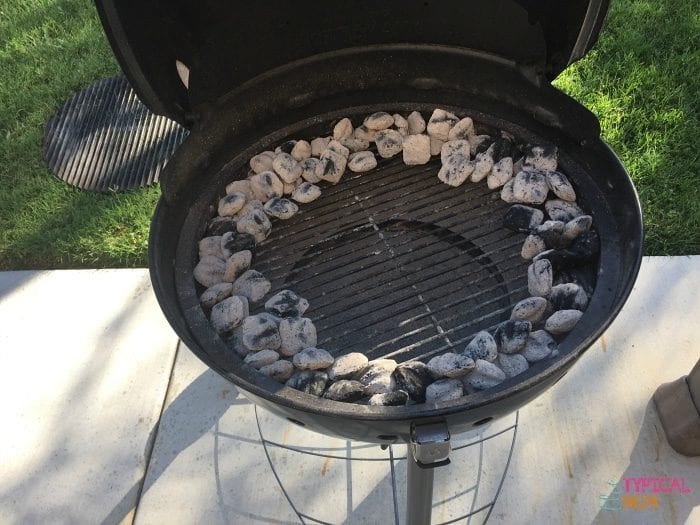 Barbecue beer can chicken
Then, spread the briquettes out in a circle around the edge of the bbq. You will be putting the pan with your chicken in the middle of the grill. You don't want direct heat right under it or it will cook too fast. You don't want to overcook it and have it dry.
Place your cast iron skillet or cookie sheet with your beer can and the chicken on top of that. Place it in the middle of the barbecue once you put the top grate back on and close the lid.
Make sure you use a thermometer when it gets to looking done to make sure the inside is at at least 165 degrees (or higher to 180 degrees).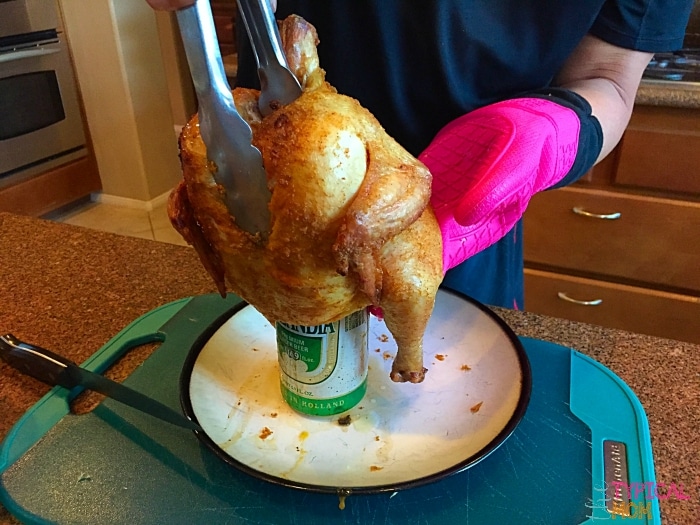 Beer can chicken on grill
When it is done carefully remove the chicken off of the can. Be careful as juice runs out of the cooked chicken.
Allow the chicken to rest for at least 5 minutes before carving to keep the juices in and stay moist.
Cut up and eat as usual. This makes for some of the moistest chicken ever. It's essentially being steamed on the inside by the liquid in the beer. Cooked slowly on the bbq is the way to go.
If you love our beer can chicken recipe you should try cooking a whole chicken in the crockpot too.