I have a monthly chore chart printable for every month of the year, and here is the one for May! Helpful 12 monthly cleaning schedule lists are here for cleaning and purging throughout the year.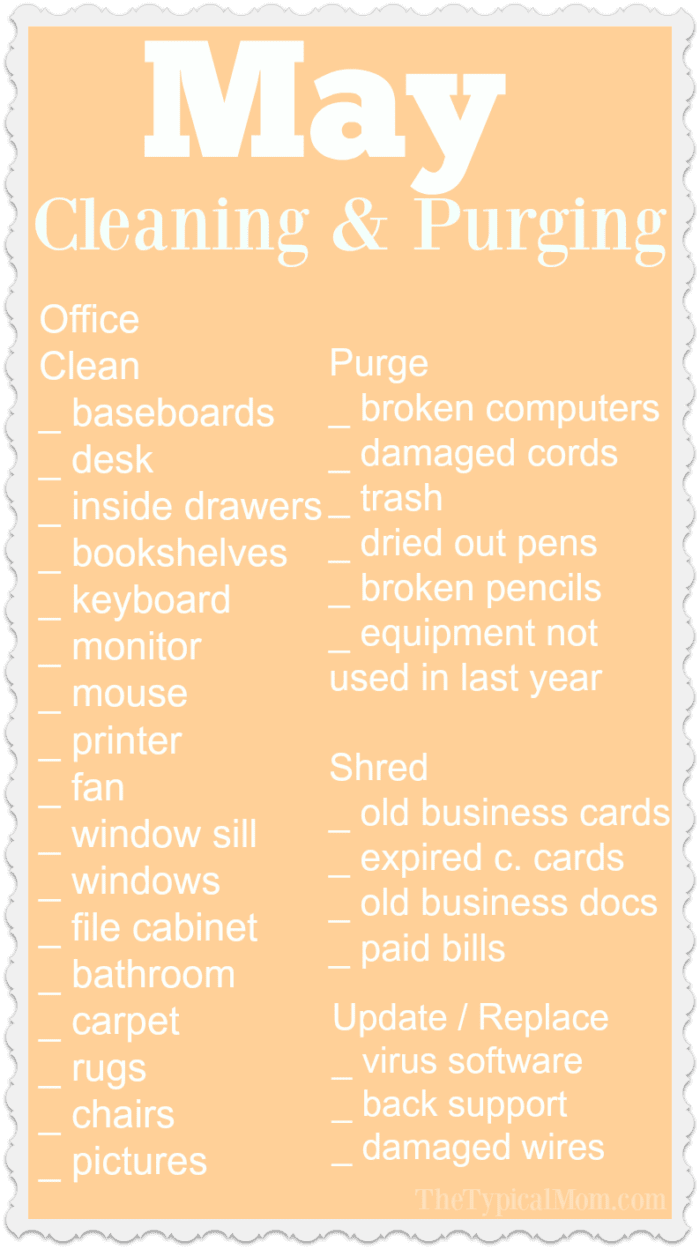 In January I set out to create organization printables in the form of a monthly chore chart. It helped me focus on one area of the house and really clean and purge that spot. Looking at a list for the entire house would just totally overwhelm me. I knew I wouldn't even start if I saw 1000 things I needed to do. BUT if I just tackled one room at a time I knew I could wrap my head around that and get it done! (affiliate links present, originally published 4/17)
Free Monthly Chore Chart
I made one and it was so wildly popular that people asked me to continue for every month of the year. That this helped them create a home organization binder. You too can print out each monthly cleaning checklist and use them year after year. It works out great!
I focused on your office in May to clean and purge. This is what you will need:
Monthly chore chart or you can use this black and white printer friendly version of the monthly chore list
Compressed air duster – great for cleaning nooks and crannies on keyboards etc.
Best back support seat cushion – you should really replace yours at least every year.
Shredder that will shred credit cards too.
Monthly organization printables for every other month of the year are here!


I am telling you that working on one area each month is so much easier than trying to tackle your whole house. It is much more likely that you will accomplish it and not feel totally overwhelmed. Get your kids to help too, mine love the shredding process!
12 Month Chore Chart
Once you are done with this May cleaning and purging checklist then go ahead and print off the other months of the year. Put it into a binder like I linked to above. It has been extremely helpful for me to do it this way. After you've created it once you can use it year after year!
For more easy recipes, tips and free printables please LIKE The Typical Mom on Facebook and follow me on Pinterest! You can also sign up for my free weekly newsletter which is packed with goodies I know you'll love. 😉