If you have a LEGO fan at home, or a Batman fan….or both, they are in real luck!! We were able to experience lots of fun at the LEGOLAND Batman Movie days this weekend! If you've never been to this Lego themed Southern California amusement park they are always changing things up and adding new events too! Now that the LEGO Batman movie is in theatres everywhere, I guess it was the perfect opportunity to bring him into the park for kids to enjoy. Let us show you why my kids had so much fun. 😉 Special thanks goes out to LEGOLAND for sponsoring our visit so we could share these new activities with you.
So the fun started mid February! If you're a super fan it is a great time to visit this and other new areas you may have missed on other visits to LEGOLAND too because now when you buy 1 day you get 4 days for Free too! Batman meet and greets will continue thru April there as well so you haven't missed all the fun, here's the schedule for that. Here is a list of fun Batman inspired events they had!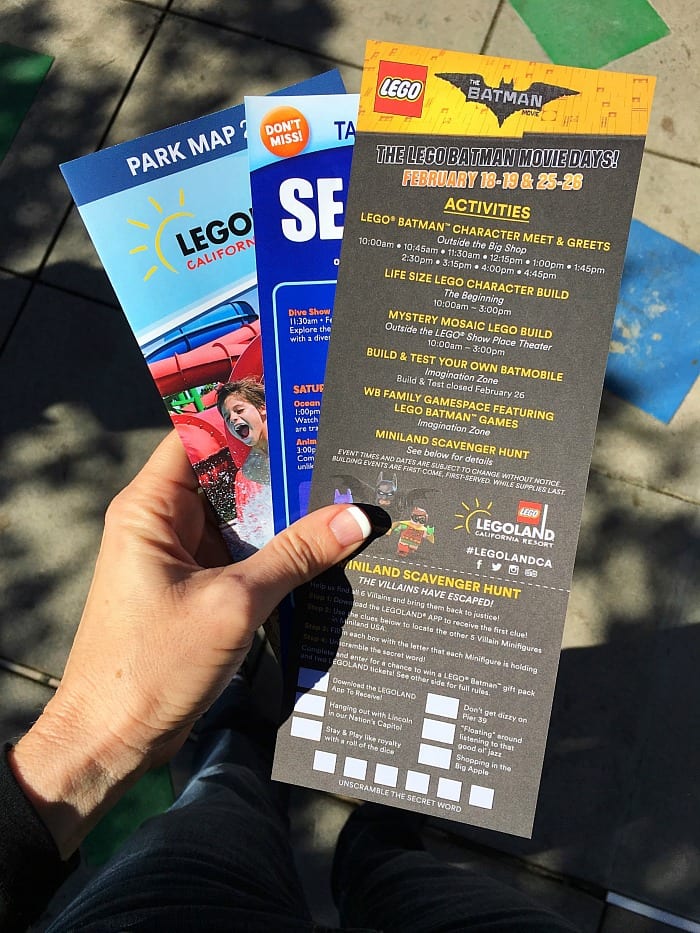 There was a scavenger hunt around the park where you could hit all the different activities and reveal a secret word! We hit the first booth when we entered LEGOLAND California which was a Batman mask you could wear and get into the spirit of things, then Batman himself was available for photo opps!
Different stations included building a mural out of Lego bricks. Each person got to create a piece that included colors in the right order, and then they placed it in the correct position on the board. Each piece slowly completed the entire mural so everyone could participate in the overall creation. Another area had a man creating HUGE Batman and other characters out of….well LEGOs of course. We were on the boat ride at the time while he was building, so we saw him building as we floated by which was fun.
Visit LEGOLAND Batman Movie days and meet Batman himself on these dates and times. Fun family time!