Have you ever been to the Knott's Berry Farm Boysenberry Festival?? We went this year and it was so much fun!! We even got to watch professional pie eaters compete to see how many pounds of boysenberry pie slices they could eat…and boy was that entertaining! Special thanks goes out to Knott's for sponsoring our visit there so we could show you what this yearly festival is all about. Take a peek. 😉
During the annual Boysenberry Festival at Knott's Berry Farm they have special goodies to eat that are loaded with that delicious boysenberry flavor…and some are unexpectedly delicious!! Let's start with our journey when we got there shall we………
Yes…we headed straight for the alligator bites with fries & boysenberry aioli! Amazing!! Even my little ones gobbled them up and although I would never think that alligator would go well with boysenberry anything…it was really good and a nice combination….then off to a dessert we went.
One of the desserts on our Knott's Boysenberry Festival Tasting Card was a boysenberry dessert flauta (2 of them). You can purchase a tasting card when you get there that includes 6 of the best food items that they feature during this time of year. When we grabbed our flautas I had to get their famous fun bun…you cannot visit Knott's Boysenberry Festival without eating one of these!! Picture this: a large homemade cinnamon roll deep fried, and then topped with this luscious boysenberry sauce and sprinkled with powdered sugar…..I know, there are NO words to tell you just how good it is!
Knott's Berry Farm Boysenberry Festival
Then it was on to the pie eating contest! Their reigning champ (standing up here) was ready to keep his title and it was so fun to watch! He ended up winning but it was fun to watch and the contestants were great as they stopped at nothing to try and eat the most pounds of boysenberry pies….wow! I broadcasted the contest live on Temecula Qponer's Facebook page while I was there and it is still there to replay so you can see just how fun it was.
Get a sneak peek here too!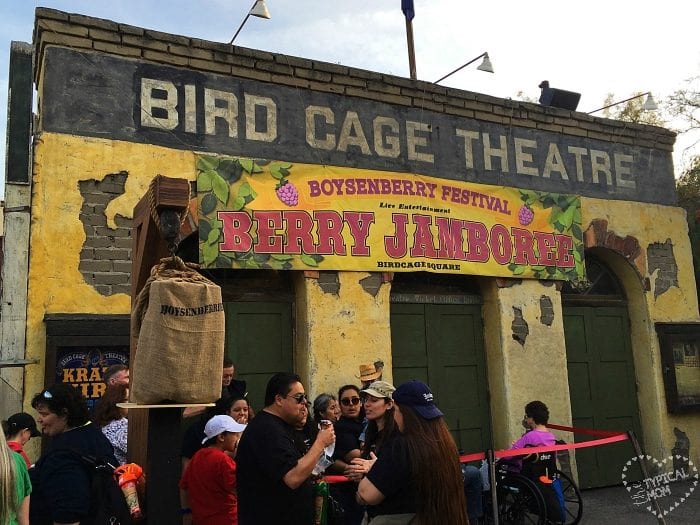 No, the boysenberry festival isn't just all about the food……well kinda' for us….they do have special entertainment during this time of year as well like this Berry Jamboree in the Bird Cage Theatre.
And you can't go to Knott's Berry Farm and not ride a few of your favorite rides of course. This was one of my favorite moments reminiscing about when I was younger and rode this Stagecoach with my teenage friends (ok way too long ago), and now my little ones oohhhh and ahhhh while we're on it…..love!
Before we headed out we grabbed some of their spicy boysenberry bbq wings which were amazing! We live a little over an hour from Knott's Berry Farm so in order to stay at the park a bit longer we stayed the night at their hotel……have you been there??
When you enter the Knott's Berry Farm hotel there is an amazing area with high ceilings and a beautiful chandelier. They have an outside pool with a splash pad area for little ones (it was a bit too cool for us to use it this time but next time for sure), a restaurant (where kids eat free), and different styles of rooms (some with Snoopy headboards and a Snoopy doll on the pillow when you walk in). They also offer deals if you include theme park tickets with your room reservation. 😉
It was nice to have a few beds just down the road from Knott's so we could stay a bit later, if you haven't visited the Boysenberry Festival yet it is a great time for kids and adults of all ages at Knott's Berry Farm!
For more fun travel locations in Southern California visit Temecula Qponer on Facebook and sign up for my newsletter below!