How to make an easy holiday trifle dessert with layers of cake mix and jello pudding frosting. Super simple layered dessert to make.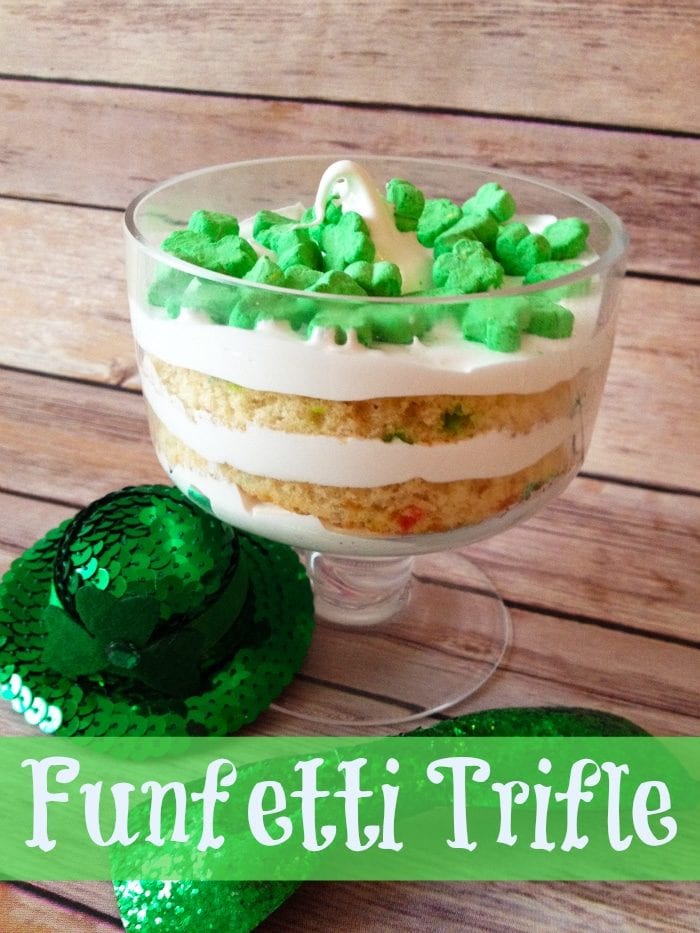 If you want to whip something sweet up for the holidays, a trifle is an easy dessert to make. You can use fruit, cake mix, pudding, candies, or whatever you can come up with to make it a perfect holiday trifle for the occasion. This one is a St.Patrick's Day cake mix trifle, but once you get the hang of making one it is easy to duplicate using other food items from there. Here are the instructions.
Once you have a trifle bowl the rest if up to your imagination and the bowl itself makes it look fancy (even though it is easy to do).
Here to make holiday trifle
First, mix up the ingredients you need to make a funfetti cake.
Instead of pouring this cake batter into a deep pan you are going to pour a thin layer on to a cookie sheet.

Make it about 1 inch thick.

Bake for about 10 minutes.
Allow it to cool. Then use the trifle dish you want to use to "stamp" out circles of cake to use as layers.
Now as far as the frosting layers you can use canned frosting or jello pudding frosting we made here.
You just mix 2 ingredients together to make this, it's super simple!!
For St.Patrick's Day you could add sliced kiwi too if you can find some decent ones. OR top with Lucky Charms marshmallows which come out that time of year.
Mix it up at Xmas and put smashed candy canes on top, or for Easter use Peeps.
Here's a Halloween holiday trifle that's super fun to make. A really cool cake idea for sure. Just use your imagination to make any of these easy trifle recipes for the holidays. Enjoy!
For more easy recipes and crafts please LIKE The Typical Mom on Facebook, sign up for my newsletter, and follow me on Pinterest!