This is how to make edible chocolate playdough or any other flavor for that matter! It's a fun kids activity to do during the summertime or on the weekend and great for toddlers since it is non toxic. Playdoh is fun and this easy recipe takes only 3 ingredients. Stores for days for endless fun for all ages.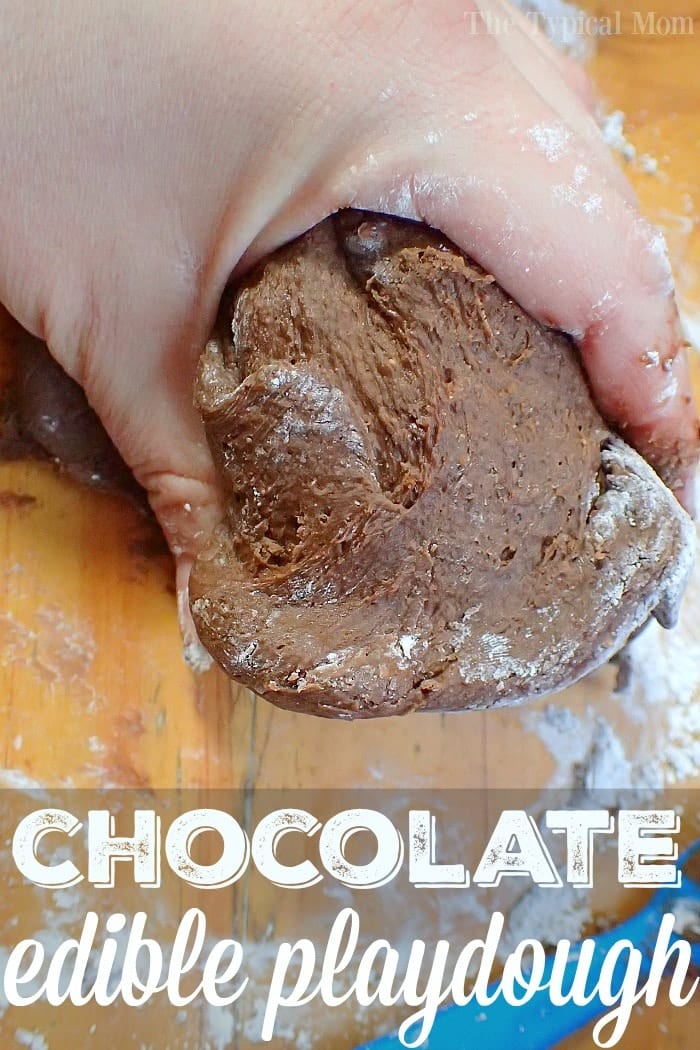 I bet you wish your mom knew how to make edible chocolate playdough when you were younger huh??!! How fun is that?? It doesn't even have to be chocolate, it can be lemon or vanilla. Here's how easy it is to make edible slime or playdough. It's just one of many activities listed on our summer to do list full of free and cheap fun.
NO Cook Chocolate Playdough
Perfect for toddlers and Preschoolers who tend to put their hands in their mouths and you want a non toxic playdough they can play with. This is literally all you need.
Instant pudding is the key to making this edible playdoh and as I said you could choose whatever flavor you choose at the store. You could even choose pistachio pudding! Just get a bowl out and I like to use thin plastic cutting boards as a sort of playing surface when the kneading begins.
We have made many homemade playdough and best way to make slime recipes here on The Typical Mom so after you try this one head back and try another on this list too!
They're all great rainy day activities and especially fun during the summertime when you're thinking of things to do to keep them busy for months on end. It's cheap too…my style!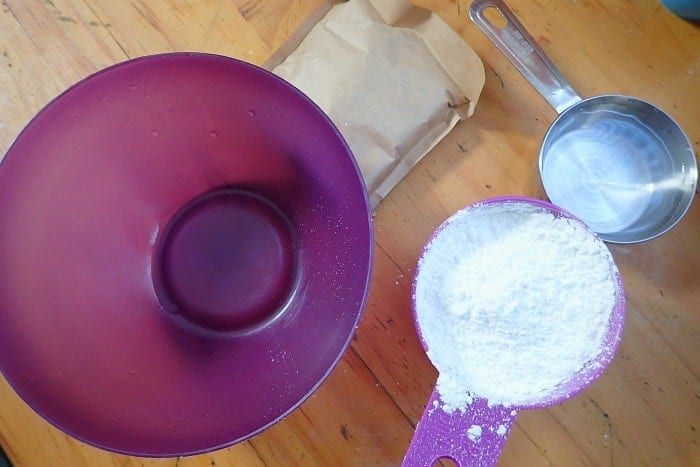 Kids love playdough and slime but if you are the mom of young children you know that many of the ingredients in traditional slime and playdoh are not safe for children that still put things into their mouths.
This chocolate playdough is made with simple edible ingredients, smells amazing and tastes like chocolate pudding all while being 100% safe for the kids to eat when they are done playing.
Chocolate playdough recipe
1 3.9 – 4 oz. package of instant chocolate pudding
1 cup cornstarch
1/4 c. water
That is it!!
Direction to make any flavor edible playdough you want (we just chose chocolate this time). You really could use any sort of flavoring you wanted though. Vanilla or birthday cake would be good as well.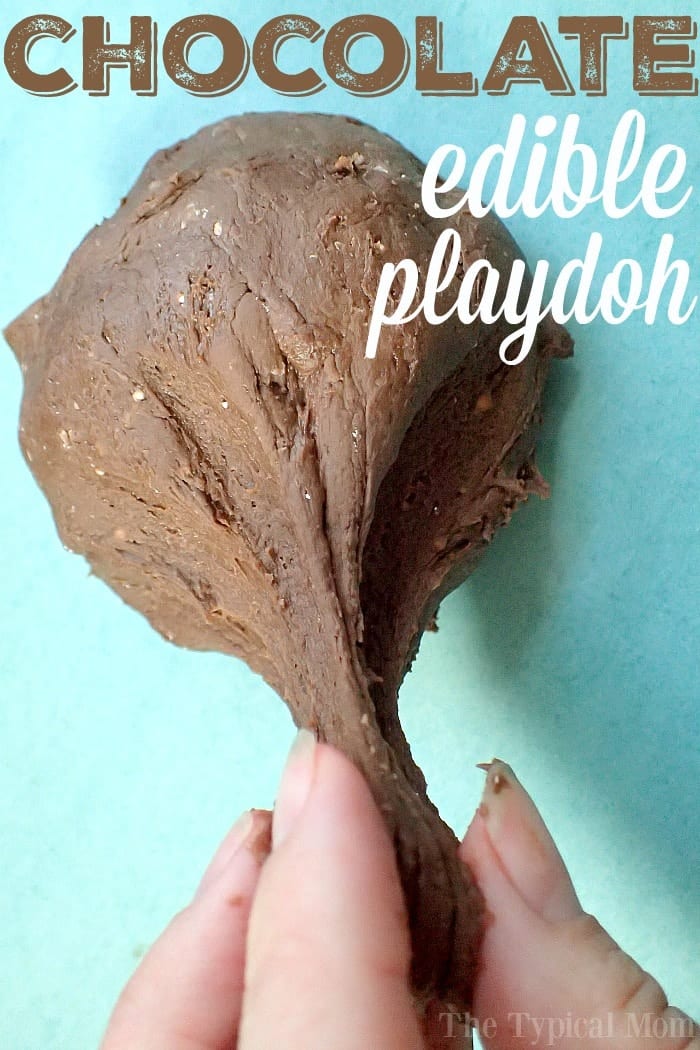 Edible Hot Chocolate Play Dough
Mix dry ingredients holding back a little bit of cornstarch to use for dusting your hands at the table later
Slowly mix in the water in small bits until you have a thick paste
Put the remainder of the cornstarch on a table or pliable cutting board, I like these, and begin to knead your chocolate playdough until it doesn't stick to your hands anymore (let the kids help with this part)
You're ready to play!
Store in airtight containers in the fridge for 3-4 days and take it out for a few days in a row for fun playtime. (if it gets a bit slimy add a bit more cornstarch)
Try it and have fun…then use a different flavor and there's an edible playdough activity for another day!
For more easy recipes, tips and free printables please LIKE The Typical Mom on Facebook and follow me on Pinterest! You can also sign up for my free weekly newsletter which is packed with goodies I know you'll love. 😉