This is how to cook Chinese sausage in air fryer, stir fried, fried in a pan, boiled or steamed. Sweet sausage that is great in homemade Chinese sausage fried rice!
This is how to cook sweet Chinese sausage perfectly so it is a bit crispy on the edges and brings out all those umami flavors! Whether you want to snack on them alone, add into a fried rice recipe, a stir fry with vegetables or another recipe we have tips for you. (affiliate links present)
Chinese Sausage How to Cook
Chinese cuisine is renowned for its diverse range of flavors and ingredients, and one delightful treat that stands out is Chinese sausage. Also known as sausage lap cheong or lạp xưởng. These pork sausages are delicious and versatile that add a unique umami kick to all dishes they are added to.
We will take you through cooking Chinese sausage perfectly a number of different ways so you can decide which is better for you at your home. This is a dried sausage that is cured with salt, made from pork and a mix of spices like soy sauce, rice wine, and sugar.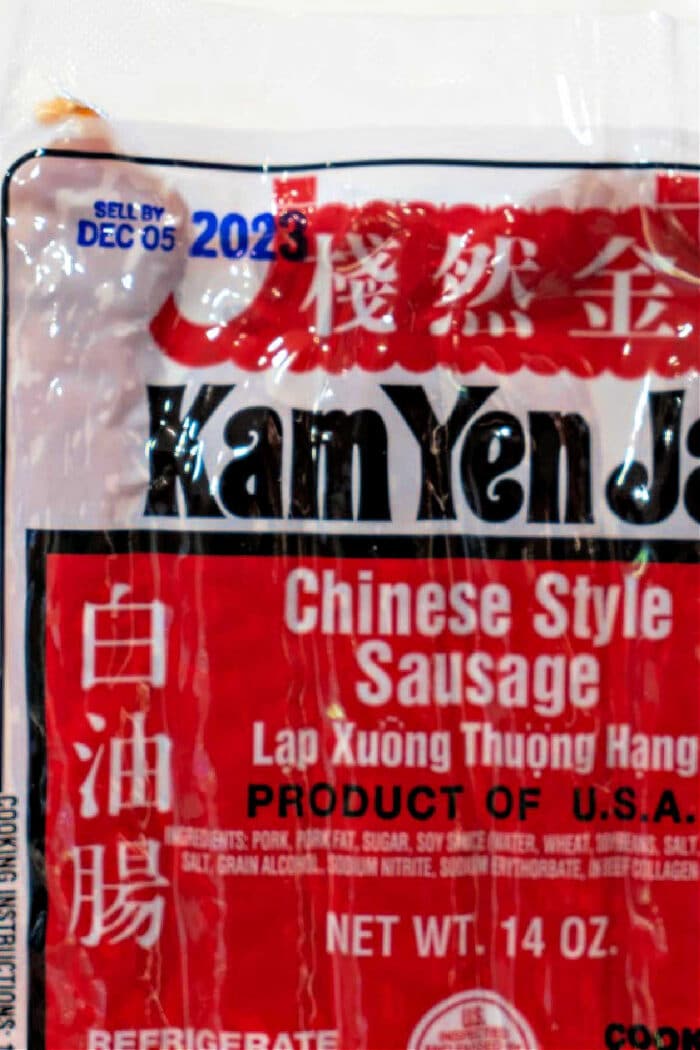 The difference between these and let's say other pork sausage links lies in its distinctive sweet and savory flavor profile. They have a rather firm, chewy texture as well which is unique. There are two main types you can find online and/or at your local Asian market such as Ranch 88 or Marukai:
The sweet variety is more common and has a reddish color
While the savory variety has a darker hue due to the addition of dark soy sauce.
Air Fryer Chinese Sausage
Now let's start to talk about a few different ways of cooking Chinese sausages starting with our favorite way to cook the sausage in thin slices, air frying!! Seriously the BEST method to get those flavors to really burst in a short cooking time and the edges to crisp up. Cooking sausage in the air fryer as a whole gets them to the perfect texture.
Unlike Italian sausages, these are firm all the way thru from the start. They are cured in a salt which give them the appearance of already being cooked but they are not. If sliced thin it only takes a few minutes to finish though, then we make sausage fried rice with them!
Steaming is one of the best ways to bring out the rich flavors of Chinese sausage while retaining its moisture and tenderness. Follow these simple steps to steam perfectly:
Rinse under cold water to remove any surface dust or impurities.
Prick with a fork to allow the steam to penetrate the meat evenly.
Place in a heatproof dish or a bamboo steamer lined with parchment paper.
Steam over medium heat for about 15 minutes to 20 minutes or until fully cooked.
Once cooked, you can slice the sausages and serve them with steamed rice or incorporate them into other dishes.
Fried Chinese Sausage
I mean you could do the same thing in a deep fryer but I am not into submerging in oil. You just add extra fat into the mix and hot air in this machine gets you the same outcome but with a lot less calories. This meat as it is has enough fat in it so you don't need to add any to fry but either way is possible to get crispy.
Stir-frying Chinese sausage with vegetables is a quick and tasty way to enjoy this delectable ingredient. You can add all sorts of veggies along with it in your pan and/or meats like our chicken stir fry. Here's how to do it:
Slice thinly to ensure even cooking and quick absorption of flavors.
Heat a wok or a large skillet over medium-high heat and add a small amount of oil.
Stir-fry the sliced sausages until they start to caramelize and release their oils.
Add your favorite vegetables such as bell peppers, bok choy, or snap peas to the wok and stir-fry until they're tender-crisp.
Use a rice cooker to cook rice on the side and serve together or side by side.
Season with a splash of soy sauce or oyster sauce and serve immediately for a delicious and satisfying meal.
Chinese Sausage Recipes
Boiling is the simplest method often used in various noodle and rice dishes. I will say that in general when you submerge food and cook it in liquid you will loose a lot of flavor and nutrients as well. Because of this it is not my preferred method at all though it is an option if that is all you have. Follow these easy steps to boil sausages:
In a pot, bring water to a boil and add the whole sausages.
Reduce the heat to a simmer and cook for about 8 to 10 minutes.
Remove the sausages from the water and let them cool slightly before slicing and incorporating them into your dish.
We have always made fried rice with these, with egg and veggies but it pairs well with a number of other dishes. You can incorporate them into your Instant Pot vegetable ramen which is great, or add in with scrambled eggs.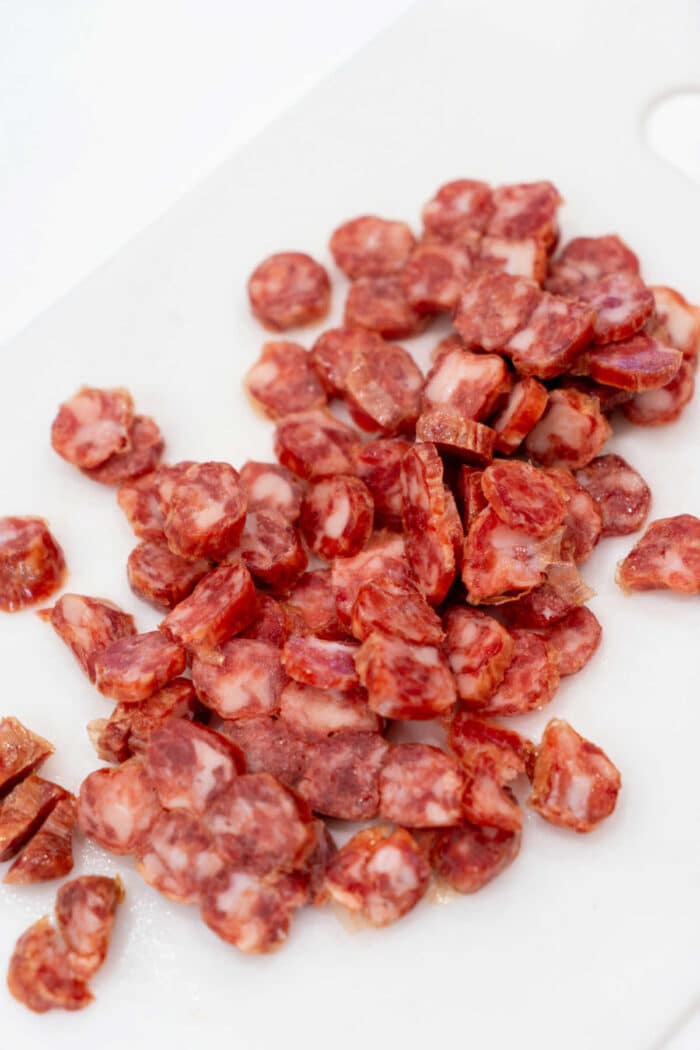 What is a safe internal temperature for Chinese Sausage?
To measure the internal temperature of Chinese sausage accurately, you should use a food thermometer. Insert the probe into the thickest part without touching the bone or the casing. Make sure the probe is not pushed all the way through. It should read 165 degrees F.
Want to see a few of my favorite things that I am totally obsessed with?? Take a peek and see how many you might already have…twinsies!
Looking for more easy family recipes and tips? LIKE The Typical Mom Facebook page?
Then sign up for my free newsletter, and follow me on Pinterest! 😉
***** If you LOVED this recipe give it 5 Stars below and let everyone know what you thought about it. 😉
How to Cook Chinese Sausage
This is how to cook Chinese sausage in air fryer, stir fried, fried in a pan, boiled or steamed. Sweet sausage that is great in fried rice!
Instructions
Preheat air fryer to 400 degrees F for 5 minutes. On a cutting board slice sausages thin.

Break up into pieces as after cutting they usually stick together in clumps. Pour into air fryer basket and cook for 2 minutes, if you want a bit browner toss basket and cook for 1 more minute and enjoy in fried rice or another recipe.
Nutrition Facts
How to Cook Chinese Sausage
Amount Per Serving (1 oz)
Calories 2
Calories from Fat 2
% Daily Value*
Fat 0.2g0%
Polyunsaturated Fat 0.02g
Cholesterol 0.1mg0%
Sodium 1mg0%
Potassium 0.2mg0%
Protein 0.01g0%
Vitamin A 0.1IU0%
Calcium 0.01mg0%
Iron 0.003mg0%
* Percent Daily Values are based on a 2000 calorie diet.