This is how to make cute flower pot cupcakes for a birthday party or set out as table place cards for a festive Spring touch. If you're looking for an adorable dessert to make these flower cupcakes are easy to make and perfect for a summer barbecue treat too.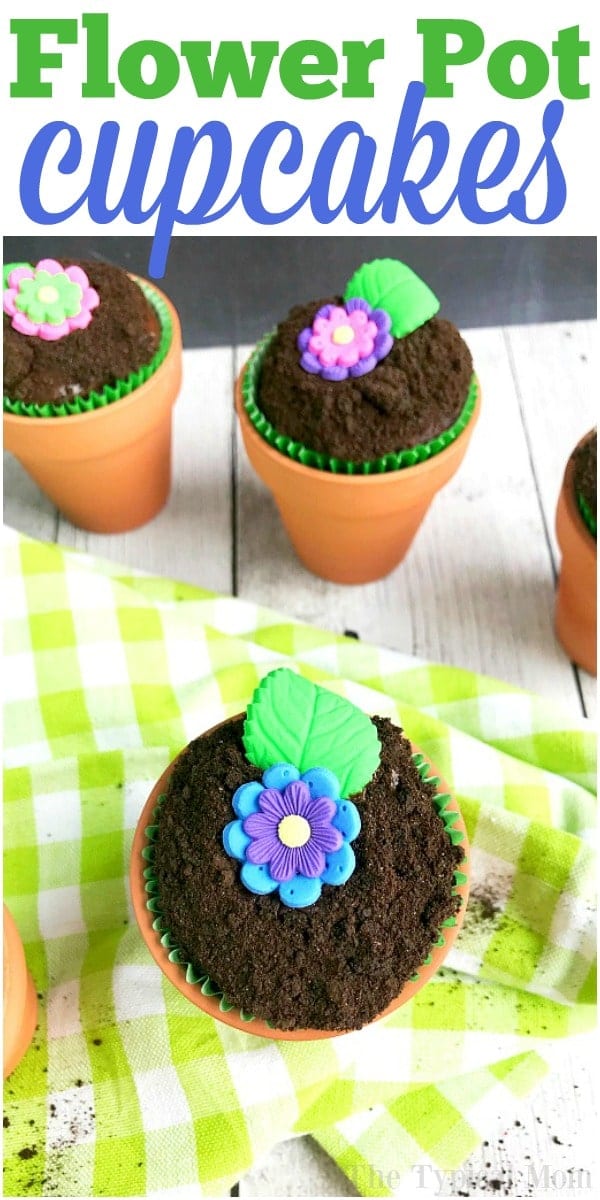 Looking for a fun baking activity for the weekend or throwing a flower birthday party? These flower pot cupcakes are super cute and easy to make! Everything is edible too, other than the pot itself, and that is reusable so you can plant something in it later. It's one of our favorite cute cupcakes here on The Typical Mom blog.
Flower Cupcakes
Just tuck a packet of seeds inside the pot, lower the cupcake inside so it's hidden and when they get home they'll find it. Now that is fun, and an inexpensive party gift.
It's almost Spring so the flowers are starting to peek out and bloom. That is the perfect time for some flower cupcakes if you ask us.
Aren't these little flower pots cute?? They're inexpensive too.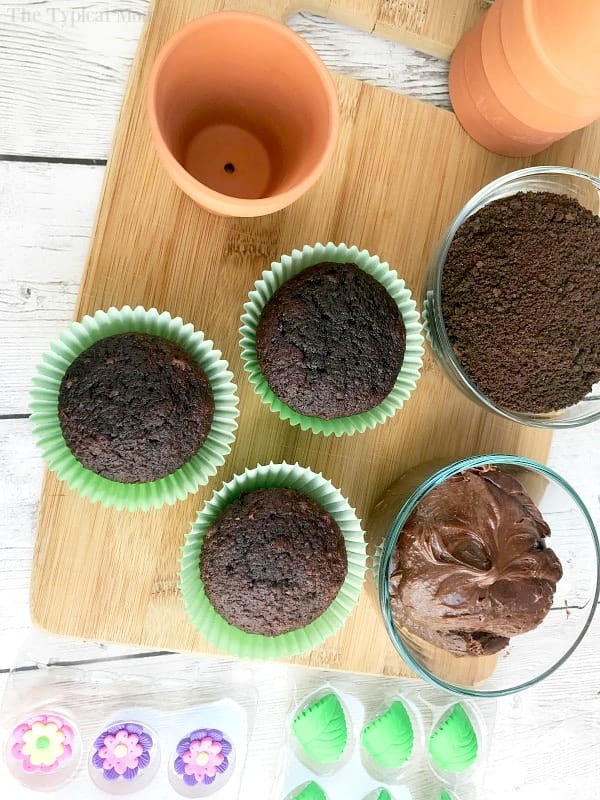 I'll share where you can find all the ingredients online so you don't even have to leave the house! That is my kinda' shopping. 😉
Make it like an assembly line if you are making a whole bunch. Or if you're having a flower birthday party make it a dessert station!
Set all the things out each guest will need and they can make their own to eat or take home to enjoy.
Flower pot cupcakes
Cupcake liners in bright colors
Edible flower decorations
Leaf decorations – edible
Boxed cake mix – devils food cake works great
Chocolate frosting
Oreo cookies – crush them yourself
You can bake these in the oven to get it started. Make all 24 out of the box or make a small batch of cupcakes using our air fryer cupcakes instructions instead.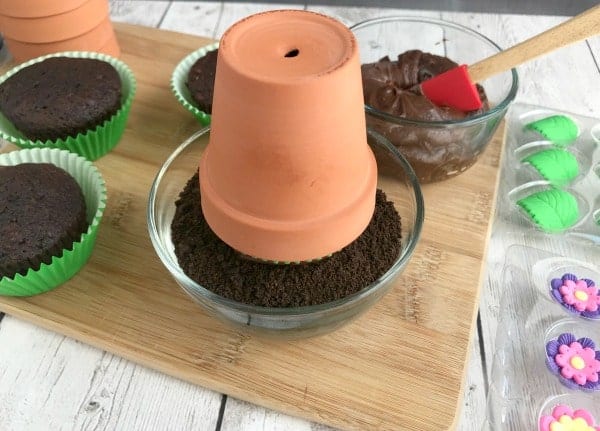 Directions
Follow directions on your cake mix to make cupcakes as directed

Allow them to cool completely

Scrape the filling from the oreos and put cookies into a food processor until smooth (or put into ziploc and smash them)
Gently press each cupcake into a small flower pot
Frost each cupcake with chocolate frosting
Put smashed oreos in a small bowl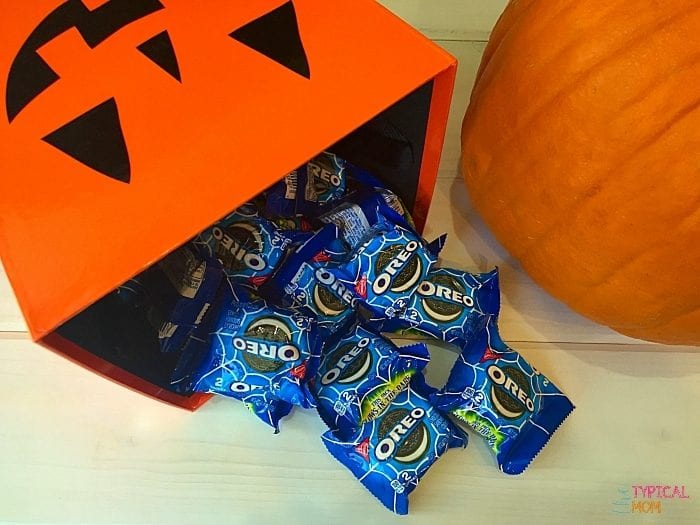 Turn the flower pot upside down and gently press the frosting side of the cupcake into the oreos to create the "dirt" part
Put a small dot of frosting on the back of 1 candy flower and put on top of the cupcake
Press a candy leaf or two next to the flower
Repeat for all flower pot cupcakes
Can decorate the outside of the pots for added cuteness, or add names and set out as place cards on a table
For another fun summer cupcake try our cupcakes in a jar, and campfire cupcakes.