See my Epic Rollertainment post here to see all that they have to offer in this most excellent roller skating rink in the Inland Empire & be sure to follow Temecula Qponer on Facebook for their latest deals as well as lots of other local deals for the Temecula Murrieta area every day!
Epic Rollertainment schedule varies from day to day, here is a link to their every day Epic Rollertainment Schedule. They offer specials such as times for 10 & under (typically from 10-12) that is just $6 instead of $8.25 and if you use your Smart card you get $2 off admission.
I will post all the Epic Rollertainment coupons here as I come across them!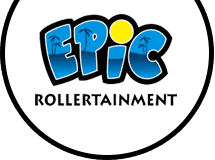 Here is the Spring Break Schedule for Epic Rollertainment – don't forget to sign up for the kids free skate program here too.
If you'd like to receive more great local deals & ideas such as this one Please follow Temecula Qponer on Facebook & Subscribe to my Newsletter, thank you for supporting Temecula Qponer.