Zoomars Petting Zoo in San Juan Capistrano is a great petting zoo where children can ride horses, pan for gold, play and have a picnic.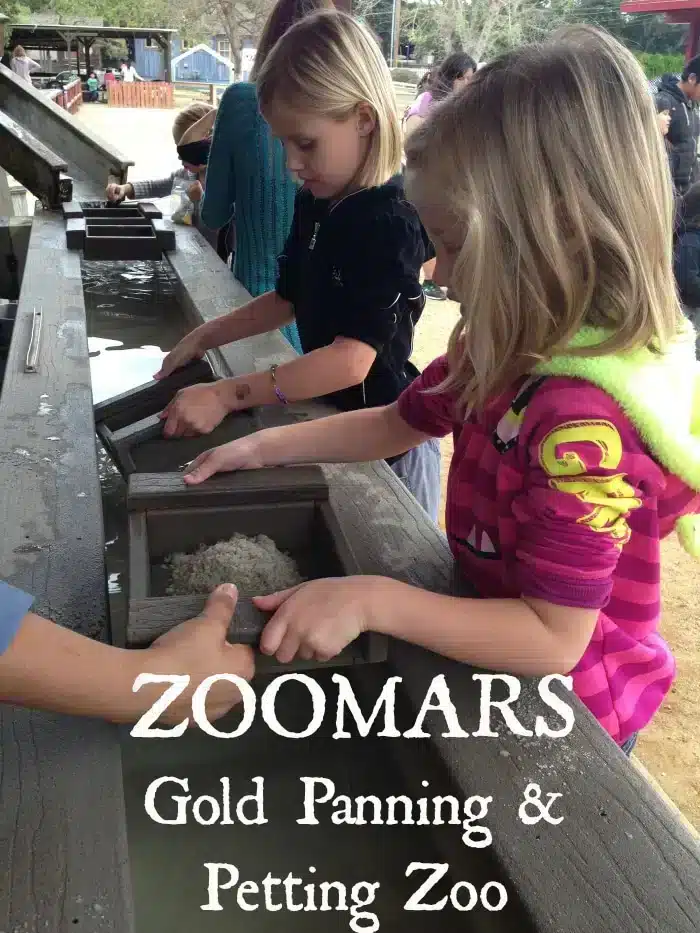 Zoomars Petting Zoo in San Juan Capistrano is so much fun for little ones! We've been to there several times, and went again this week to experience some other things. They added gold panning, pony rides, and we always feed the animals! Special thanks goes out to Zoomars for sponsoring this visit.
Orange County Petting Zoo
There are tons of fun things to do in Southern California for kids. Whether you are visiting this area or live here but looking for something new to do with your Preschooler or on the weekend, this is it.
You can see my little ones up above "panning for gold and jewels"! They got several tries to see if they discovered anything in the sand. It slowly washed away while jewels, shark teeth, arrowhead and gold appeared in their pans!!
Not only did they get to discover them, but they got to take them home with them too. Two handfuls of goodies for the win!!
Zoomars petting zoo
After they got some goodies they got a basket full of veggies to feed to the pen full of friendly guinea pigs! Next they rode on a horse around their facility being guided by their trainers. Then a train ride was had.
Before we left, Mom got to sit and relax while they played on a play structure. There were plenty of picnic benches where families were enjoying their lunch and open areas where kids can explore.
Zoomars Orange County
Everyone can enjoy the unique animals they have there on the Zoomars petting zoo premises.
It was a great afternoon for us and conveniently located just off the Ortega Highway for us who live in the Inland Empire.
I would recommend this petting zoo because it offers more than just animals to feed and touch. It's a unique outdoor animal experience with multiple activities for little hands.