Free US states worksheets and coloring pages are here. From Arizona to California and Texas coloring pages, all 50 states are included here.
The fifty states of the United States of America are a lot like fifty different people. They all have their own unique quirks and characteristics that make them special. And, just like people, it can be helpful to get to know them a little better. That's where US States worksheets come in handy.
United States coloring pages
These free coloring pages provide a wealth of information about each state, from their capital cities and nicknames to their favorite foods and landmarks.
They're perfect for classrooms or simply for anyone who wants to learn a little bit more about our great country and its many wonderful states. So grab a pencil and get started filling out your very own US States worksheet today!
Since you're here I know you are looking for all the free printables for kids you can find. I add more each week so make sure you bookmark the blue link above and check back often.
First you should subscribe to our free newsletter to get more via. email too. Feel free to print one or as many as you like for rainy day activities that boys and girls will all enjoy! Here are our favorite items to use on coloring pages, word searches and color by number printables;
Learn the 50 States
Most people can probably name a few of the states in the United States, but how many can name them all? Learning each state map and 50 state capitals can seem like daunting tasks, but it doesn't have to be boring. There are all sorts of creative ways to memorize the states, from mnemonic devices to songs and games.
Once you've learned these important Social Studies facts, you'll be able to impress your friends and family with your knowledge. So what are you waiting for? Start learning the states today with these free printables here!
Since there are so many you can integrate them into your homeschool plan or if you're a teacher, your curriculum. Choose one in particular or if you want everyone to have them all you can staple together to make an entire coloring book for each child.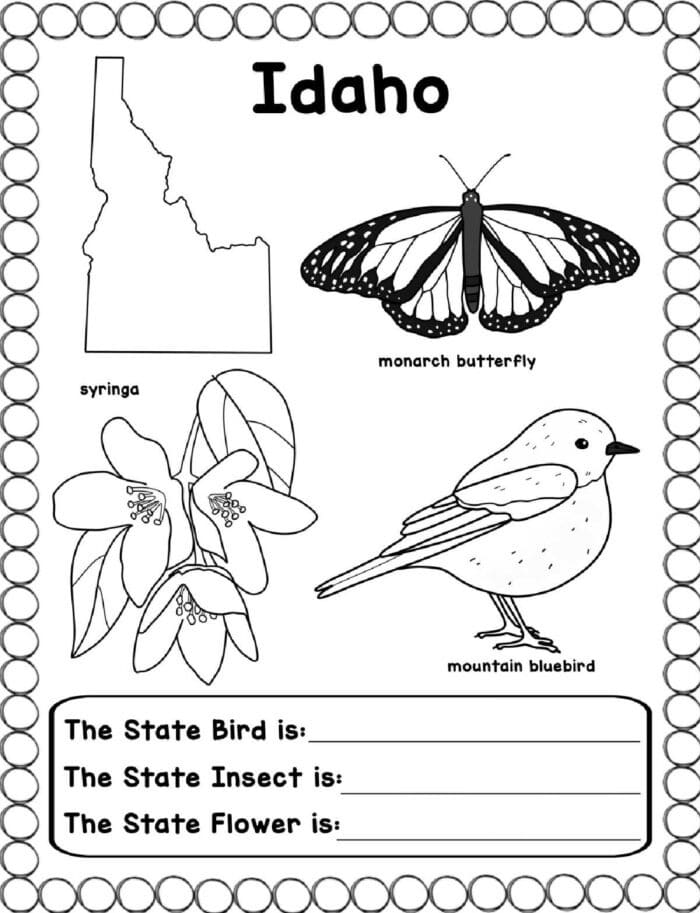 US States Coloring Pages
To help young children learn about the different states, you can occasionally find a page of info. for each state but I thought a book of all US states coloring pages would be helpful. These coloring pages typically feature key landmarks or symbols from each state, making them a fun and informative way to learn about US geography.
Best of all, they're usually free to download and print, so parents and teachers can easily find them online. So whether you're looking for a map of the United States to color or a state-specific coloring page, there are plenty of options available. Happy coloring!
Idaho Coloring Page
Even the most challenging images can be transformed into beautiful works of art. The same is true of California, the Golden State. With its intricate borders and wide variety of terrain, coloring California can be quite a challenge.
With a little effort, even the youngest artist can color and learn at the same time. So grab your pencils and crayons and get ready to give California (and other individual states) some color!
Time needed: 5 minutes
United States Workbook
Print

You can print as many 50 states worksheets coloring pages

that you want. Choose the whole book with all 50 states or you can decide to just use one at a time, we explain how to print out one particular one above.
Color

Use crayons or colored pencils ideally to design the pages because markers can bleed on to the back.
Coloring Pages Texas
Each printable worksheet will feature things like the state flag, flower, bird, shape of each of 50 US state on the page and state symbols. On the back you can send them home to complete another activity for older kids. Have them research and write the state abbreviation on the back, and maybe an important fact someone may not know.
California Coloring Page
There is a lot to learn about each state of course but the main ideas are featured. You can do so much with each of these depending on the age of your kids. When I was Teaching second grade I would add other assignments to my printables if I found it necessary for time or I wanted another grade in the grade book. Some things I would add might be;
Write a story featuring the state bird on the back of this page.
On the back tell me if you have visited the state featured, what was your favorite part, and/or why you would like to visit there.
We might do something fun like learning how to fold a paper airplane with this sheet of paper after we were done. Have a contest to see who could fly theirs further.
Want to see a few of my favorite things that I am totally obsessed with?? Take a peek and see how many you might already have…twinsies!
Looking for more easy family recipes and tips? LIKE The Typical Mom Facebook page?
Then sign up for my free newsletter, and follow me on Pinterest! 😉
***** If you LOVED this recipe give it 5 Stars below and let everyone know what you thought about it. 😉