Pechanga Resort and Casino located in Temecula California has a lot to offer! Complete with golfing, restaurants, spa and casino it's a great place to stay.
It took us two long months but we finally had the opportunity to celebrate our anniversary at Pechanga Resort and Casino this year! We live just 5 minutes away but had never stayed the weekend there and we were always curious as to what it would be like….we were VERY pleasantly surprised. Let us show you why. 😉 Special thanks goes out to Pechanga for sponsoring our stay so we could share our pictures and experiences with you. (originally published 10/17)
Pechanga Resort and Casino Review
One of my favorite spots outside this resort and casino is this bridge that goes between a fabulous restaurant and their golf course.
There is a lot to do at Pechanga, located in Temecula, CA., Literally so many things, that we never left the entire weekend.
From fabulous restaurants, to entertainment, gaming, Bingo, spa services and more we definitely could've stayed longer. 😉
Here are 10 reasons to visit Pechanga Resort and Casino
Fabulous hotel rooms – super spacious and the bed was SO comfy! Complete with shower, desk, sitting area, and closet to hang our clothes…even an ironing board to use when we went out for a nice dinner.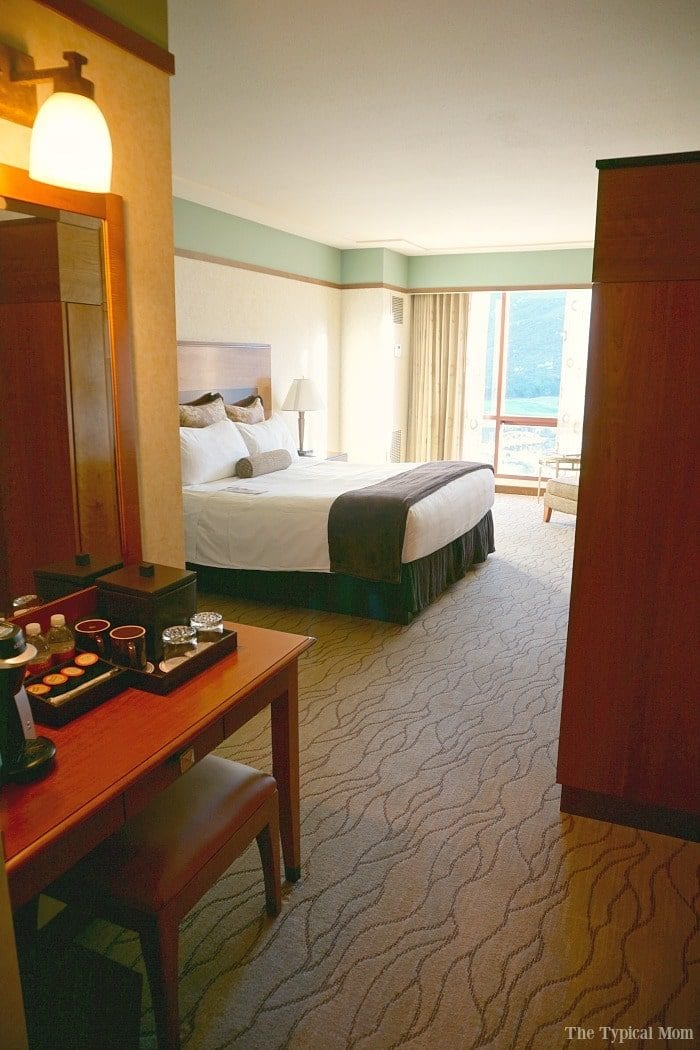 Entertainment – Pechanga has a comedy club with regular acts as well as a theater that has BIG names.
Pechanga Resort and Casino Comedy Show
Restaurants – I could write an entire post on the food we had there….it was SO fabulous. There is NO way to capture a magnificent picture of food in my opinion.

Nor can you smell or taste just how good it really is but I took a few just to give you a peek inside. These are the restaurants we visited while we were there.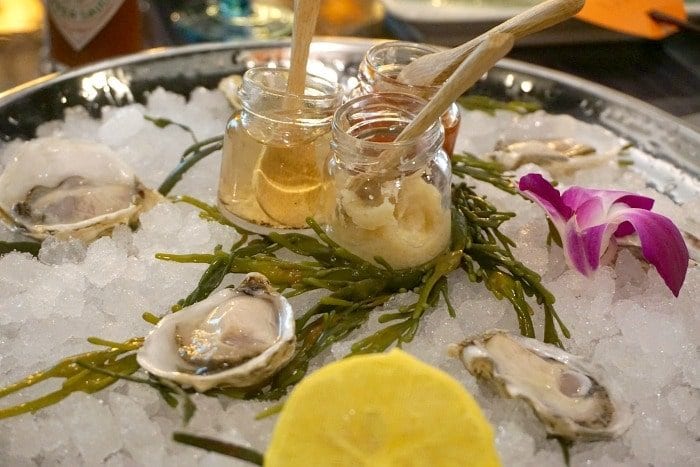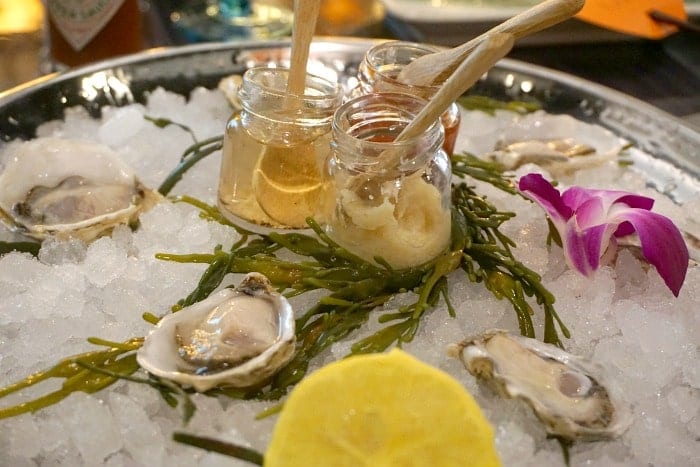 Pechanga Resort and Casino Restaurants
Umi Sushi & Oyster Bar – if you love sushi and/or Asian fusion this place was amazing. Instead of ordering a few meals we had Chef Ikeda (great guy) make us several bites of things he loved on the menu including;

poki tacos
Hamachi Crudo
oysters
pork belly sliders (personal favorite)
Chilean sea bass
salmon
dessert was something I had to show you (real gold on top)!
Journey's End – this is open for breakfast, brunch, lunch, and happy hour just on the other side of the gorgeous wood bridge you see up above.

It has a great view of the golf course and mountains and the food was really good as we started our day. I had corned beef hash which I hadn't had in years and had this view as we ate out on the patio area.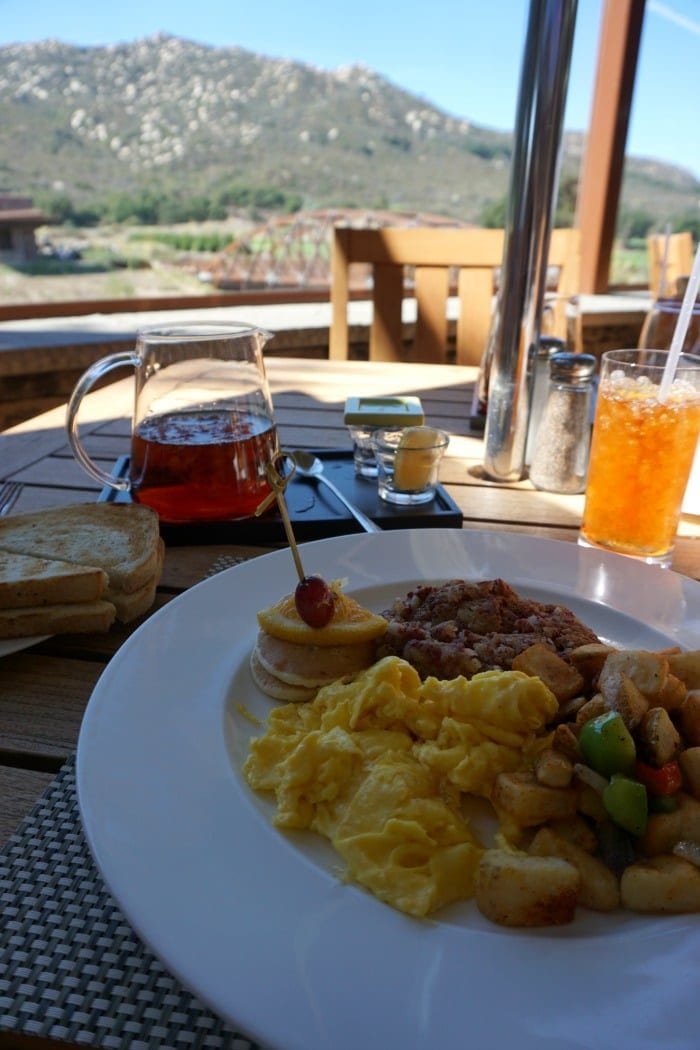 Pechanga Steakhouse
The Great Oak Steakhouse – great dim ambiance and the food was fabulous. I don't eat steak very often, I'm always open to try new things though. I will say it was the best filet I had probably ever eaten! The most flavorful piece of meat and my favorite side too, risotto.

Chef Vinegas brought us small portions of some of their most popular items.
They were all great, but I will say the lobster bisque and crab cakes were incredible. The creme brûlée topped off the meal too!
Casino – needless to say there are TONS of games to choose from. Whether you like Poker, slot machines, or something in between Pechanga has you covered!
Bingo – seriously, if you haven't played Pechanga bingo as an adult (with great monetary prizes) you must!

I have been during the week for their morning session where you can play for as little as $10. It includes free donuts, coffee, and drinks too.
During the weekend they offer different things including a black light session and a costume contest during Halloween time.
Spa – we had a couples massage at Pechanga Resort and Casino and the first thing I noticed was their robes!! Ok so I notice the small things sometimes but seriously these were the softest most plush robes I've ever worn. It just got better from there.
We both went into a room and got a 50 min. massage. Then afterward was a bottle of my favorite Almond champagne from Wilson Creek Winery!
A large jetted tub with a huge walk in shower were there to freshen up before heading to the casino.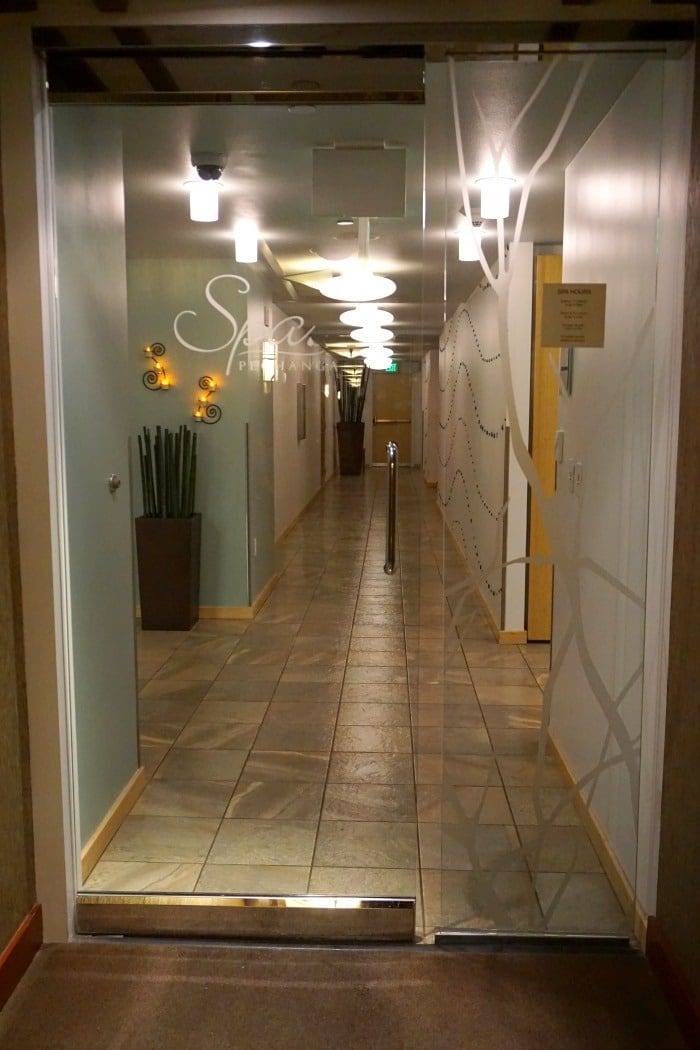 Pool – We went down to the pool after our massages. Under a cabana we enjoyed the evening with sparkling cider and grapes there.

A television and super comfy couch were available. We would've been perfect to spend the day under had we not been so busy elsewhere that day. 😉
Golf – we aren't golfers ourselves but it's a beautiful course that we saw as we walked across "my favorite bridge".
Ok so that was 11 reasons to visit Pechanga Resort and Casino! It was a great weekend away and a great destination right in the middle of San Diego and LA really.
They are expanding too! Pretty soon they will have another BIG spa, lots more rooms, and more fun! Here is a video tour of the completed Pechanga expansion below!!