Here's an easy maple glazed salmon recipe for you. In just 5 minutes you can have a nutritious meal packed with protein with a hint of sweetness.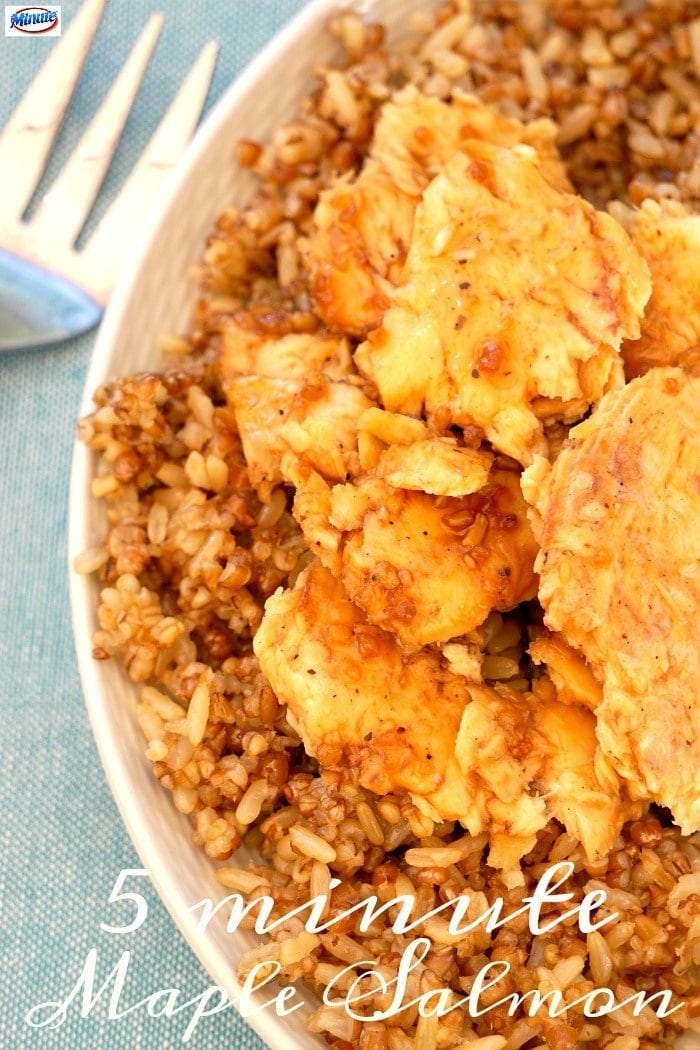 If busy doesn't begin to describe your life, I'm right there with you! With three kids, both of us working full time, and all of the after school activities we have a tough schedule. With all that said I aim to eat nutritious meals. That's where this 5 minute maple glazed salmon recipe comes in handy! Special thanks goes out to Minute Rice for sponsoring this post. 😉
Doesn't this salmon recipe look incredible??!!
Yes you can make the best baked salmon in the oven for your family but if you just want something quick this is it. Literally, it takes just FIVE minutes to make. Let me show you how!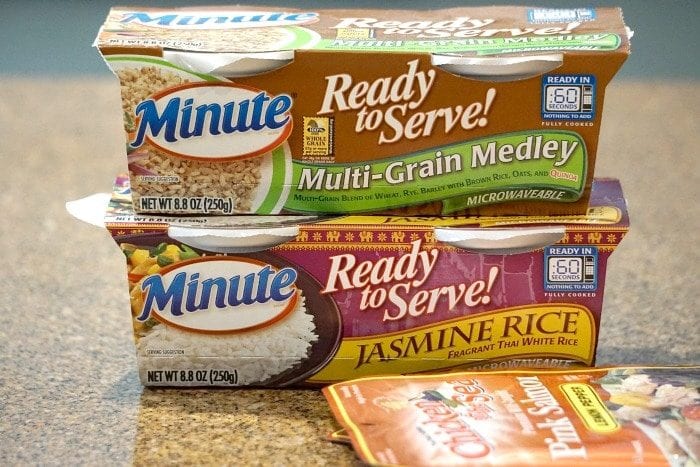 Here's what you need:
1 single serving bowl of Minute® Ready to Serve Rice (we used Multi-Grain Medley but there are several varieties)
One pouch of Chicken of the Sea Pink Salmon (we used lemon pepper but there are other flavors)
Soy sauce
Maple syrup
Not only is this an easy dinner idea if you're in a rush, but a perfect lunch to bring to work too. Everything is portable and portioned out for one serving already!
It's kinda' like both Minute® Ready to Serve Rice and Chicken of the Sea Salmon are built-in portion control for us. This gets a "thanks" from this mom on the run. 😉 Here's what you do.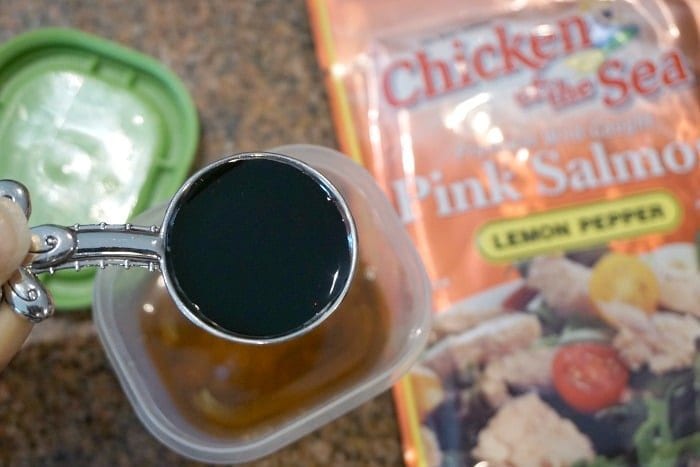 If you're taking this to work all you have to do is take 1 bowl of rice, they come in a two pack. Bring 1 pouch of salmon, and then mix together your salmon glaze beforehand. If you want to eat more fish you'll want a variety. Try our bacon wrapped salmon recipe next.
Take it with you in a small plastic container. Here's the entire recipe.
Maple glazed salmon recipe
Maple glazed salmon recipe
Instructions
Cook rice according to directions. Empty salmon pouch on top of cooked rice. In a small bowl mix last 3 ingredients together and microwave for 30 seconds. Pour on top of salmon and rice. Serve!!
I work from home so I do have the ability to actually cook at lunch time. I usually don't though so this easy fish recipe with maple glazed salmon.
In less than 5 minutes I can have a nutritious meal that's packed with protein so it will carry me thru 'til dinner time.
Give it a try and let me know what you think of our recipe!
This is a sponsored post written by me on behalf of Minute® Ready to Serve Rice.