How to make chores fun for kids is possible with our chore dice game that you can print out for free right here! Here are some chores for kids can do to help you.
Yes chores are a part of life, and no they aren't particularly fun to do….for anyone. Getting kids to begin to help around the house can be difficult (especially in the beginning), that's why making chores fun for kids becomes important. No it won't be as fun as having a friend over, or going to an amusement park, but using our chore dice can make it more like a game instead of a responsibility. Special thanks goes out to Kimberly-Clark and The Motherhood for sponsoring this post so we could share our chore game with you. (originally published 2/16)
How to Make Chores Fun
There are a few easy things you can do to make chores a bit more fun, one of them is to have your children (if they are close in age like 2 of mine are) do them together! It's always more fun to have company when you're trying to get something done.
Not only does it foster the idea of working together to complete a task, but it also gets done a bit faster which is always a plus!
Before beginning their chores we roll the "chore dice" to see what they will be doing that day, you can print your chore cube here!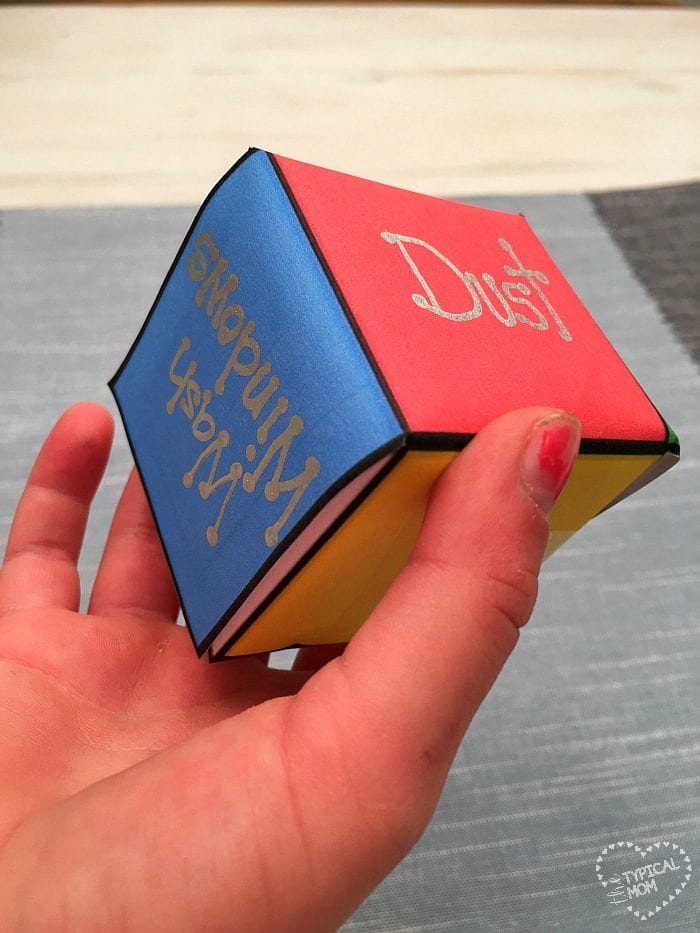 Just print out your own cube, add your own chores to the sides of your chore dice, tape the end so it stays together, and whatever task it lands on is the chore they will do that day.
You can print out one per child if they are very different ages and want to put chores appropriate to their age on theirs, or if they are similar ages they can share one. Either way it is a great start in making chores fun for kids! You can use use our free chore charts here to keep track.
Make Household Chores Fun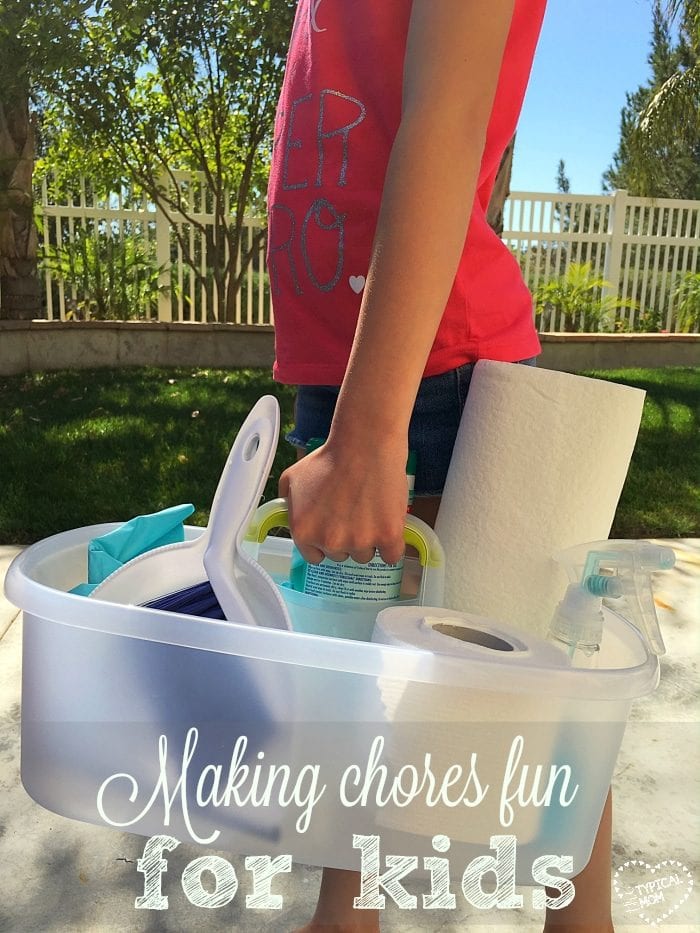 Chore Dice Printable
Another way to help with chores for kids is to make a fun basket full of all the things they will need to complete any task on the chore dice. One of these totes is only a few dollars and not only will it save your sanity when you are trying to find what they need, but it will also be "fun" to carry around. 😉
Just add your window cleaner, rubber gloves (kids LOVE these, just let them use them whenever…even if they don't need to), Viva® paper towels, Scott® 1000 bathroom tissue, and anything else they will need.
You can find the tote and everything you will need to start this fun idea at Walmart….one stop shopping is the only way to go.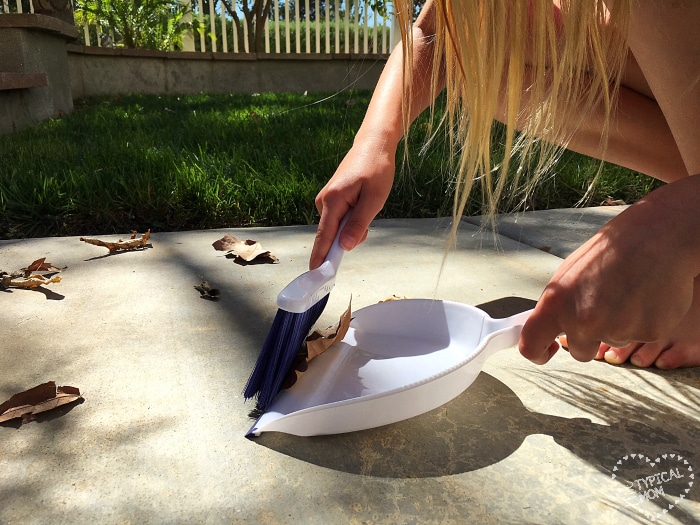 Chores for 10 Year Olds
When you are thinking of different chores for kids don't discount small tasks, they will still save you time. One easy one but will still save you from doing it on a regular basis is checking all the bathrooms and making sure there is a roll of toilet paper ON the roll.
Restocking extra rolls of Scott® 1000 bathroom tissue too. Cleaning the windows is another one kids actually like doing.
Having a nice cloth like paper towel like Viva® will help so it will hold up to their tight grip and swiping, and although they leave some streaks and miss a few spots they will learn in time to do a better job as time goes along.
You can find all you need at Walmart to fill your chore basket and get going on your quest to make chores fun for kids too!