Easy recipe for a Greek yogurt fruit salad is here. Also I will show you an easy way to cut and dice a whole fresh pineapple quickly.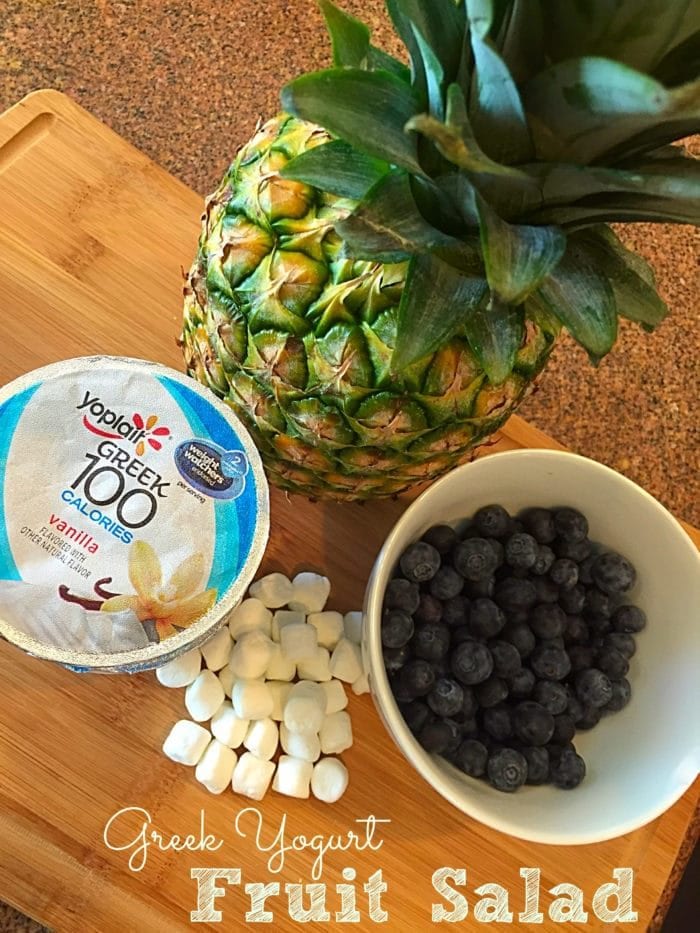 We love yogurt….and this greek yogurt fruit salad is the bomb! From snack time, to lunch time, to when we are on the go we love yogurt no matter what time of day it is. When fresh fruits are in season we get even more creative with our yogurt desserts. This is one of our favorite creations. (originally published 6/15)
Fruit Salad with Yogurt
This recipe is very versatile depending on the fruits you like, but the same concept applies. We use vanilla 100 greek yogurt for this fruit salad snack or side dish (everyone raves about it). It tastes great and only has about 150 calories total!
Depending on how much you're making, one container is the perfect size for a small side dish for two. Eat it alone for breakfast, or a side dish at dinner, or lunch time.
Just double the recipe if you're bringing it to a get together! 😉
It's an easy version of our creamy fruit salad that you could make with fresh or canned fruit.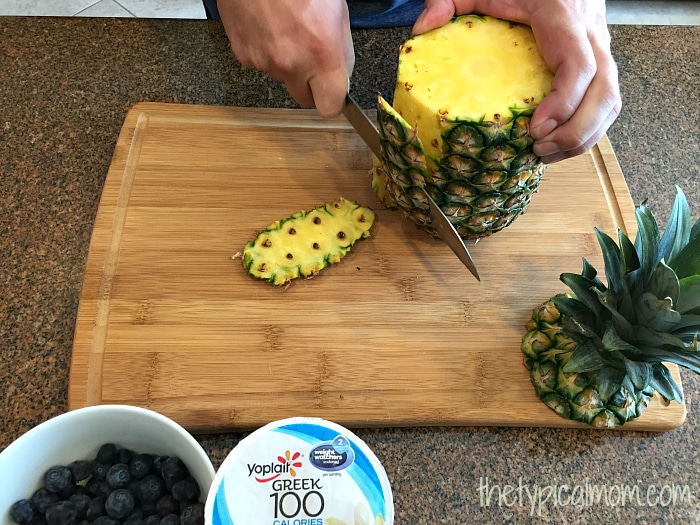 Best Yogurt for Fruit Salad
If you've never bought a fresh pineapple, don't be scared of them. They do look a bit intimidating. Last Summer was the first time I bought one.
My husband sliced it up lickety split and it tasted amazing….much better than canned and just about the same price when they're in season. Of course you want to start by cutting the top off the pineapple. Here is an easy way to dice a fresh pineapple.
As for the "dressing" you want something thick. Greek yogurt vs. traditional will give it the creaminess you would expect. Another option is sour cream. I know, sounds weird but that is what we do to make the best ambrosia recipe.
Pineapple Fruit Salad
Cut the outside of the pineapple (the spiky parts) off once you've removed the top. Then cut about half way down the pineapple in a criss cross pattern like you see here.
Don't cut all the way down, just stop at the middle, make cuts that are about 1′ apart one way, then turn the pineapple and cut the opposite way like you see here.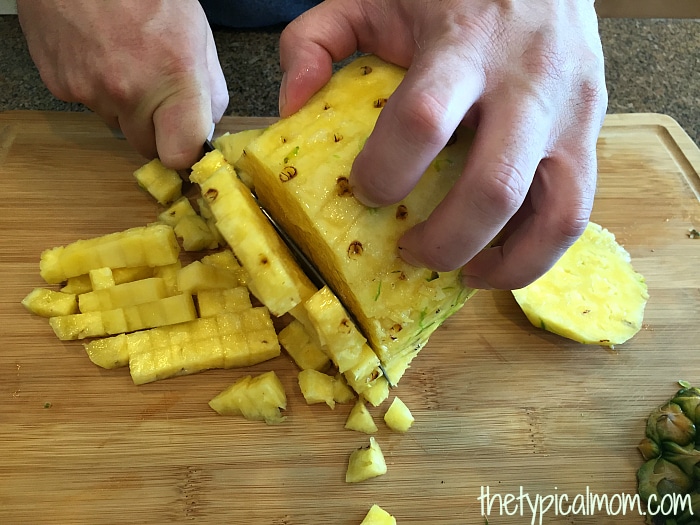 Then lay the pineapple down and cut down…..perfect diced pieces! You can do this again once you hit the middle where there are no criss cross cuts left. Repeat so you have diced the entire pineapple.
That's an easy way to do it. It creates uniform sized pieces too. We want our side dishes to look pretty right??!!
Add your diced pineapple to your bowl of blueberries, or other fruit, and then a handful of small marshmallows.
If you are are going for super healthy you can leave the marshmallows out. 1/2 cup really creates a great taste though. 😉 This is the best way to cut a watermelon if you want to add chunks of that inside as well.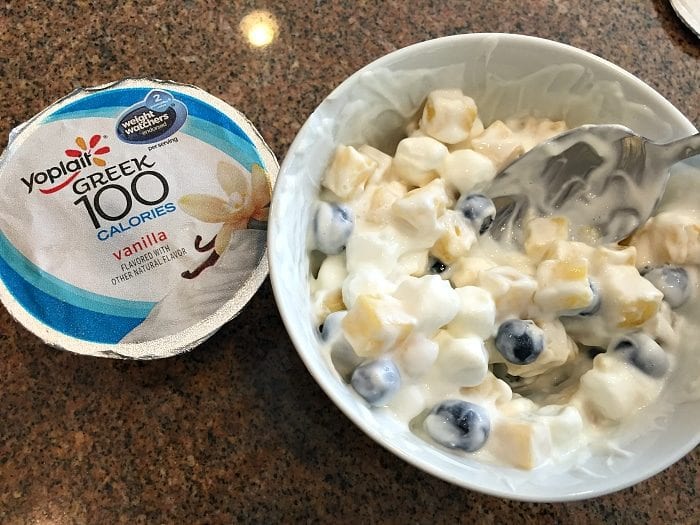 Add your cup of vanilla yogurt and you are done!
Try our homemade fruit snacks and pressure cooker yogurt next!
Super easy Greek yogurt fruit salad recipe that tastes amazing. People will be surprised just how simple it was to make, and is a great snack or lunch. Add a bit of granola to it for lunch, that is fabulous too.
Greek Yogurt Fruit Salad
Easy recipe for a Greek yogurt fruit salad is here. Also I will show you an easy way to cut and dice a whole fresh pineapple quickly.
Instructions
Dice fresh pineapple and add to a bowl, add blueberries and gently fold in your vanilla greek yogurt.

Add 1/2 c mini marshmallows for added goodness.
Nutrition Facts
Greek Yogurt Fruit Salad
Amount Per Serving (3 oz)
Calories 75
Calories from Fat 9
% Daily Value*
Fat 1g2%
Cholesterol 3mg1%
Sodium 21mg1%
Potassium 153mg4%
Carbohydrates 13g4%
Protein 6g12%
Vitamin A 45IU1%
Vitamin C 23.3mg28%
Calcium 68mg7%
Iron 0.2mg1%
* Percent Daily Values are based on a 2000 calorie diet.