I have a schedule of when the Easter bunny at Promenade Temecula mall arrives and when you can take pictures with him. Free Easter activities too.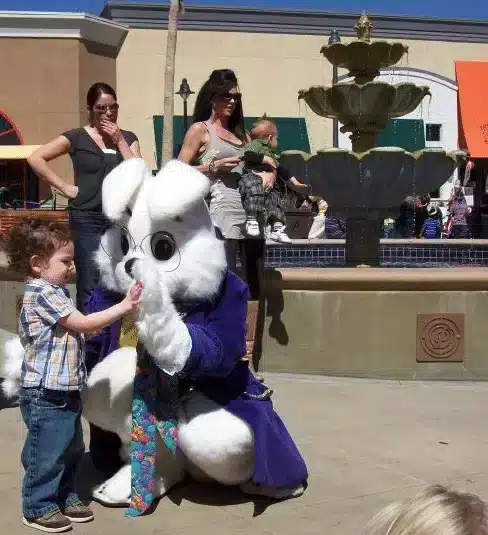 Yes, it's about that time of year again when the Easter bunny at the Promenade Temecula Mall comes! He will hop his way into our lives to deliver goodies and cheer to little ones everywhere. Arriving at the Mall in Temecula this year on March 20th and will available for photos from 11am-7pm daily until Easter Sunday. Before then though there are many free activities scheduled to bring you into the Easter spirit too!
One event that is sure to fill up quickly is the Mad Hatter Tea Party!
Have you been to this yet? It is one of the "secret" Temecula events that takes place that not a lot of people know of. It is up to you how in depth you participate in. With it's name you could go all out and dress appropriately!
Want to just go with your kids to have some fun, then just show up. You will need to make reservations first though. I think they need to be prepared if a lot of people come. I would recommend it for sure!
Held on March 28th from 11-1 and free for children ages 3-10 yrs. you will need to register your child for the free Promenade Kids Club first.
Then pick up tickets to this event at Promenade Temecula's Guest Services desk. Tickets will go fast so grab some for your kids to participate in this event as soon as possible!
The following events are taking place in and around the mall in Temecula in March. Take a look and mark your calendars! You can visit Promenade Temecula's website for more information here.
Then at Christmas time go and see Santa Claus there.
Easter bunny at the Promenade Temecula Mall is nearing and it's a holiday activity in Temecula you'll always remember. There are also Temecula Easter Egg hunts. I have the schedule and locations to these right here!