Know what's great about Chuck E Cheese's Birthday party packages for moms? Everything is included (including clean up) and there's no work on your part to throw a great party!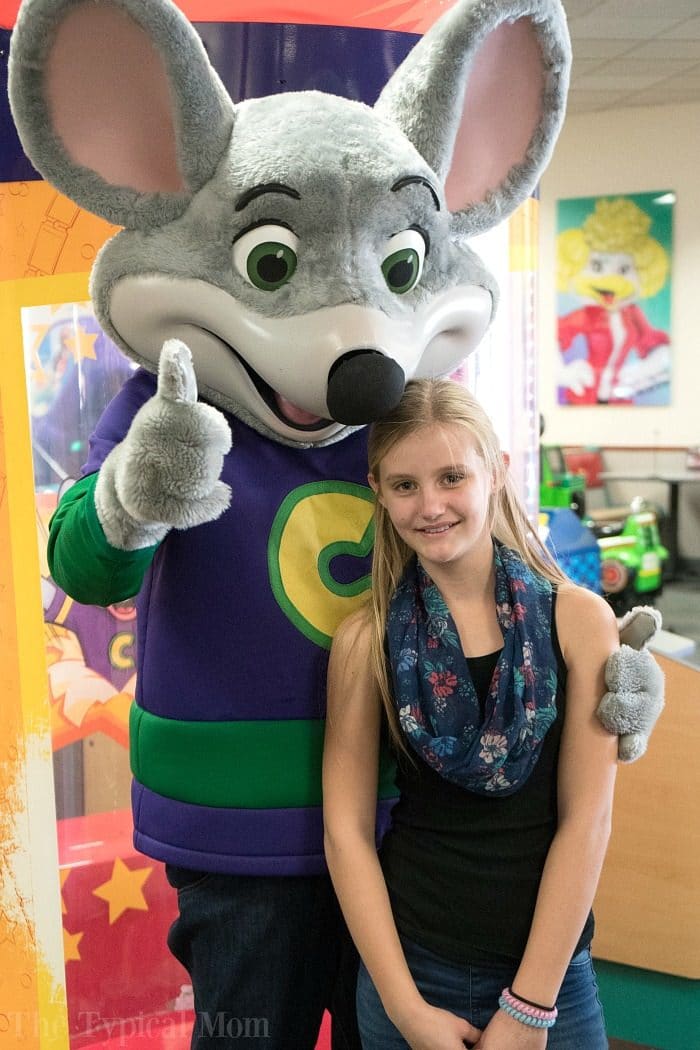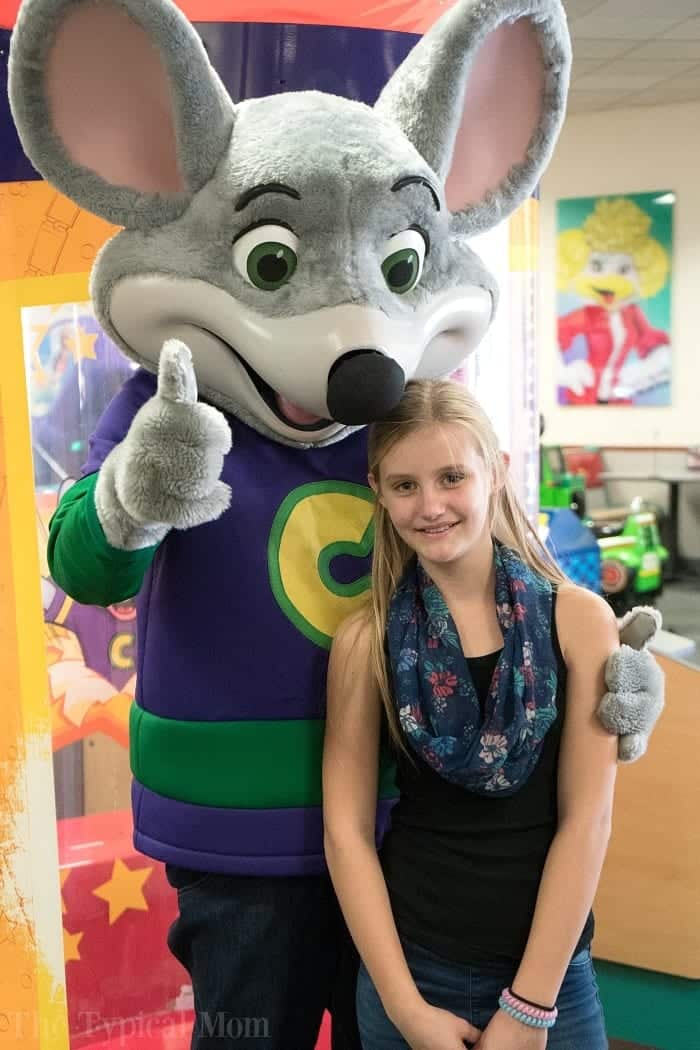 I have three daughters, which means three birthday parties each year! My oldest is almost seventeen so needless to say I have thrown a lot of parties for them. At this stage I look for something they will love & is easy for me to put together. Chuck E Cheese's birthday party packages are great for this! Special thanks goes out to Chuck E Cheese's for sponsoring her party so we would share our experiences with you. (originally published 12/17)
Chuck E Cheese Birthday Party
I am sure you're familiar with this popular mouse and his friends right?? Well I will say that I too had many birthday parties when I was a kid there. I remember them well!
The games, the music, the pizza, and lots of friends always made for a perfect party. Your favorite band is still there as you probably remember. Most times the tables surrounding the stage are packed with parties of all ages.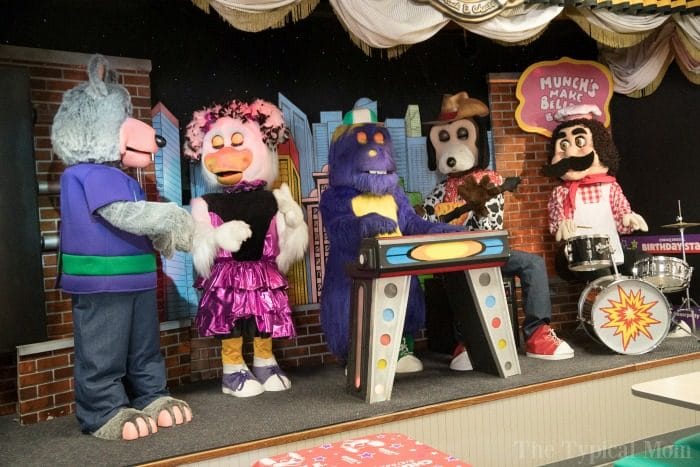 This Chuck E Cheese's birthday party was for my middle daughter who was turning 11 this year. I scheduled everything online for her special day including the Chuck E Cheese's birthday party package I wanted. You can customize it completely.
We chose the Mega Birthday Package. That way everyone could play an unlimited amount of games for two straight hours while we were there! I hadn't heard of this option before and thought that would be a huge hit….and it was.
Here are the 3 Chuck E Cheese's birthday party packages I had to choose from. I included what each one offers, and where to book this birthday party for kids this year:
Chuck E Cheese Party Prices
Star

30 tokens per child
Ticket Blaster experience (see this below)
2 slices of pizza per child + refillable drinks
Choose a Birthday theme
Star recognition in the show

Superstar

45 tokens per child
Ticket Blaster
1,000 tickets for Birthday Star
2 slices of pizza per child + plastic refillable cup for the lifetime of that cup!

Mega Superstar

All you can play Play Pass card for each child
Ticket Blaster
1,000 tickets for Birthday Star
2 slices of pizza per child + plastic refillable cup for the lifetime of the cup!

VIP Birthday Party

Reserve a VIP Party on Saturday or Sunday and get the whole party area to yourself for longer. Get an extra hour before the restaurant opens too!
Like I said, I chose the Mega Superstar package. I thought the highlight would be that they could play to their heart's content during the entire party. You can book all kids birthday parties here.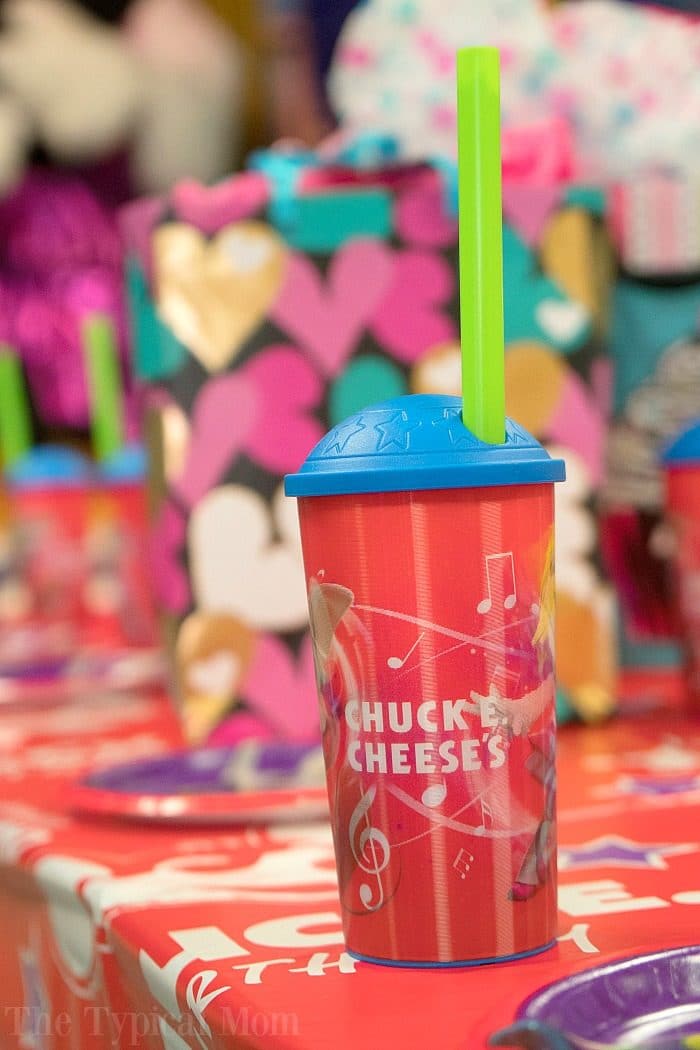 Birthday Parties Chuck E Cheese
The plastic refillable cups you can see here which will come in great throughout the year. Many times during school breaks we come here just for fun.
The Play Pass card was handy. With just a swipe on any game it turned it on and allowed them to play. When they found a game they loved they could just keep swiping and play over and over again.
This also gave them the opportunity to earn A LOT of tickets to redeem after the birthday party was over. Each was able to receive some fun toys in exchange!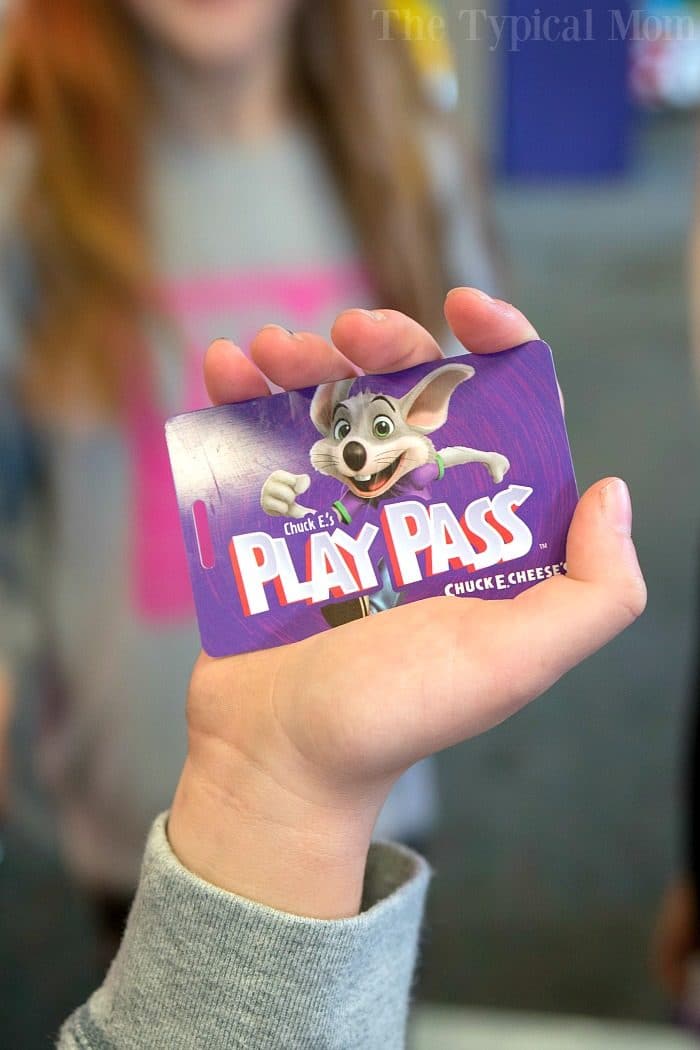 Chuck E Cheese Birthday Parties
The added perk was my youngest daughter was able to invite a friend and have a blast too.
Now she says she wants to have her birthday party with unlimited play time at Chuck E Cheese's too! Even though my younger girls are eleven and nine they still had a really great time.
It's not just for really little kids. 😉 Even my husband grabbed one of the Play Passes and got in on the fun for about an hour..it was cute.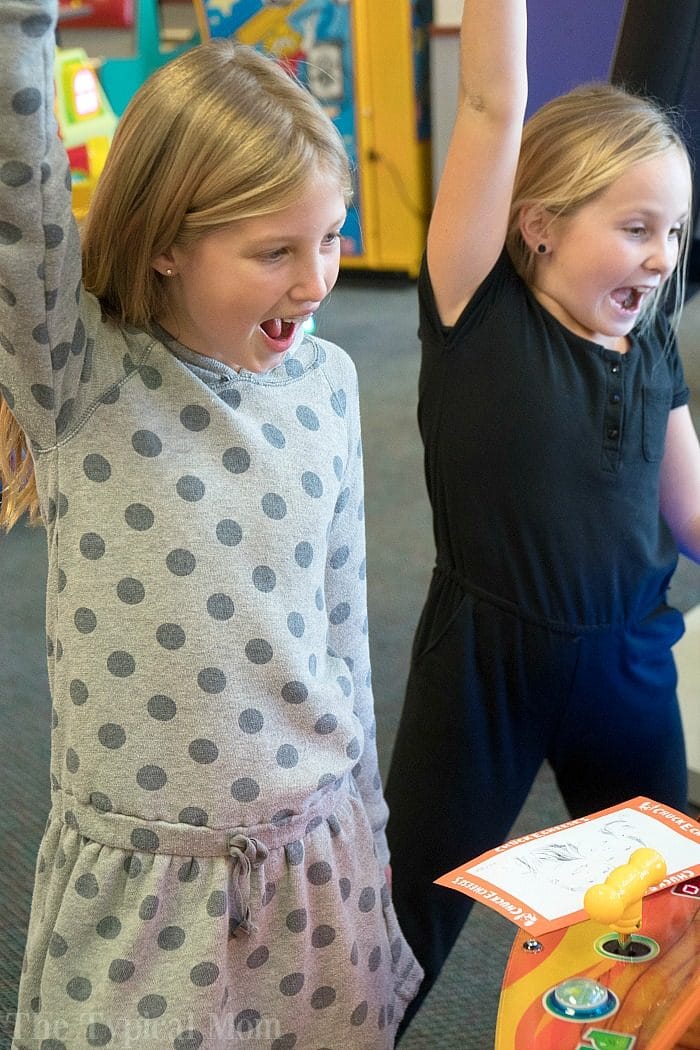 And for the highlight of the party, the Ticket Blaster!! After everyone had a few slices of pizza, ice cream and cake, it was time for the birthday girl to grab tickets!
They put a 500 Magic Ticket in there too which she grabbed as you can see here. As well as many others. She had one minute to grab as many as she could and she got quite a few. It is really special since they are the only ones allowed to do it. The envy of the whole party because of it. 😉
Seriously. I'm a busy mom who works full time. I still wants my children to have a great party these Chuck E Cheese birthday party packages are a lifesaver! They even gave me the option to print out invitations which I did. She filled out to hand out to her friends.
Skip the party store, the bakery, and choose have a birthday party for kids here! There's NO cleanup on your part. You have a dedicated party host who takes care of everything…my kinda' planning if you ask me.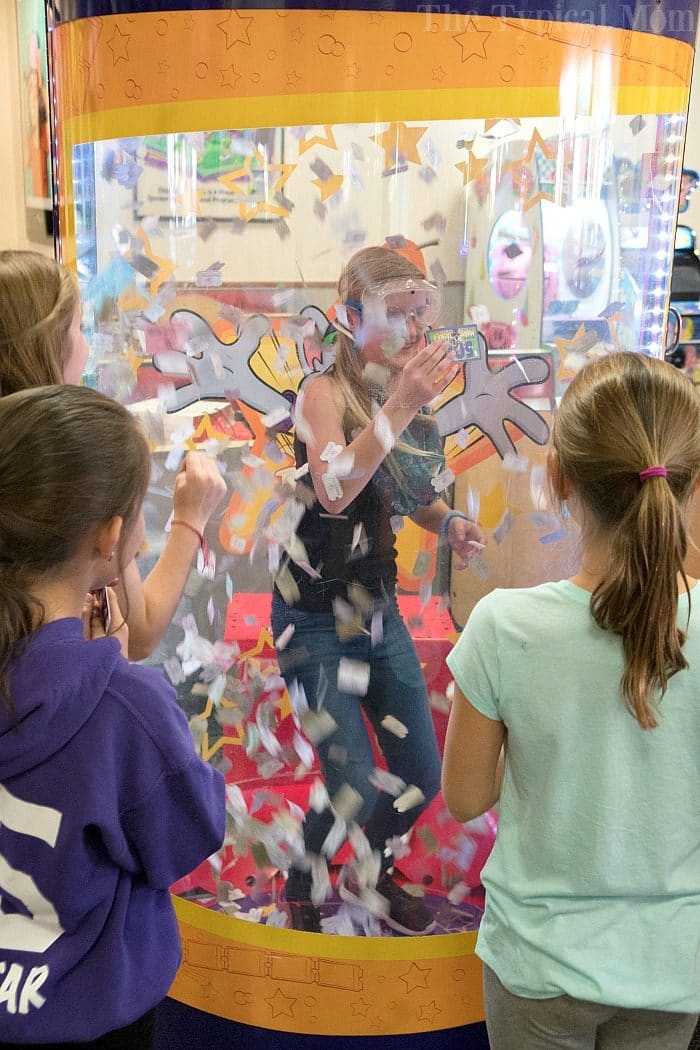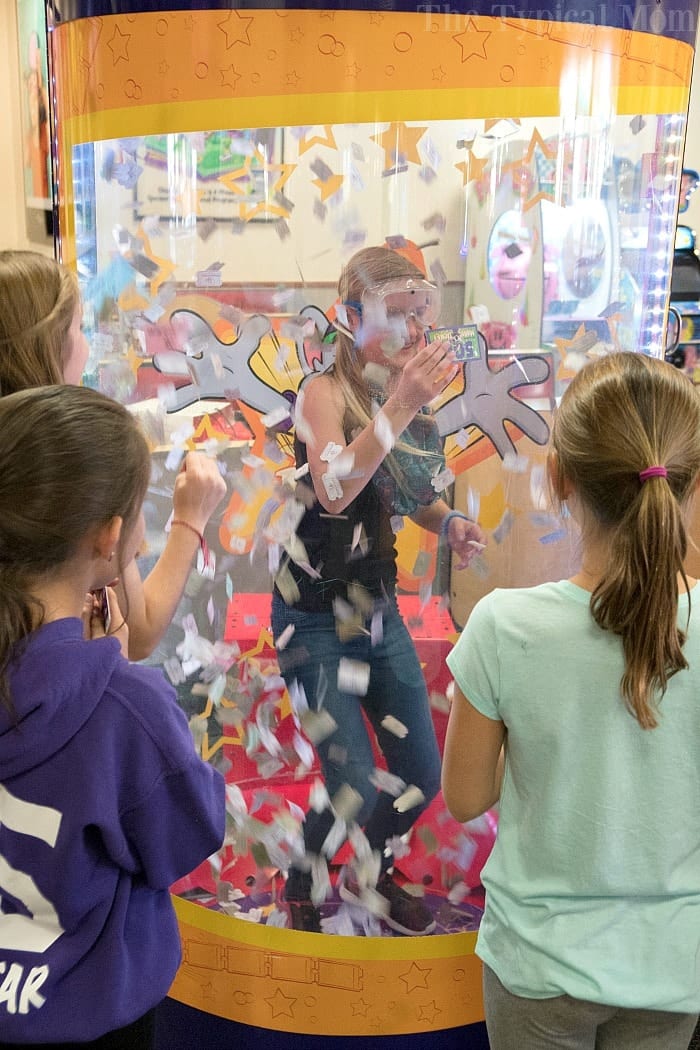 This is a sponsored conversation written by me on behalf of Chuck E. Cheese's. The opinions and text are all mine.