Review of the new Chrysler Pacifica 2017 from a Mom of 3. Plenty of room, drives great, has automatic features, AND a built in vacuum people!
Ok so I love the little things that make my life SO much easier! This week we went to our local dealership to find out why everyone is saying the new Chrysler Pacifica 2017 is perfect for families….and now, I couldn't agree more. 😉 This blog post was sponsored by FCA US, LLC but the opinions are completely my own based on my experience.
So Daddy didn't get to join us because he was uber busy. Moms tend to make this kinda' decision anyway so let's go with that. 😉
With all the toting around kids from this school to band practice, swim, and several road trips each year we NEED a big enough car for 5 people. Let me show you what I mean.
Chrysler Pacifica 2017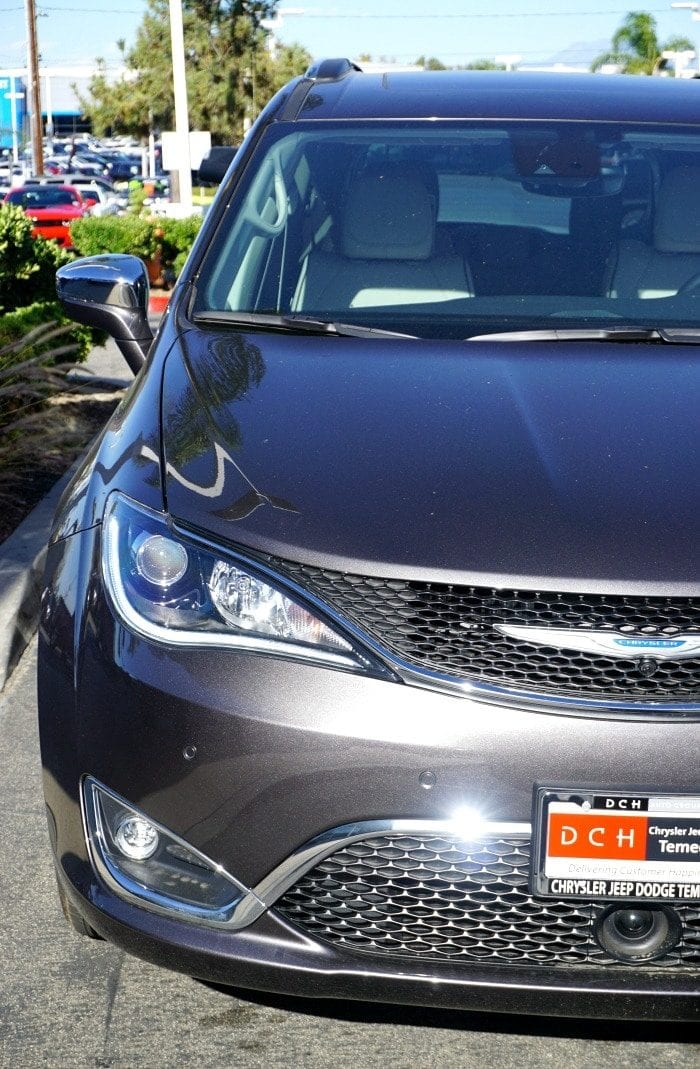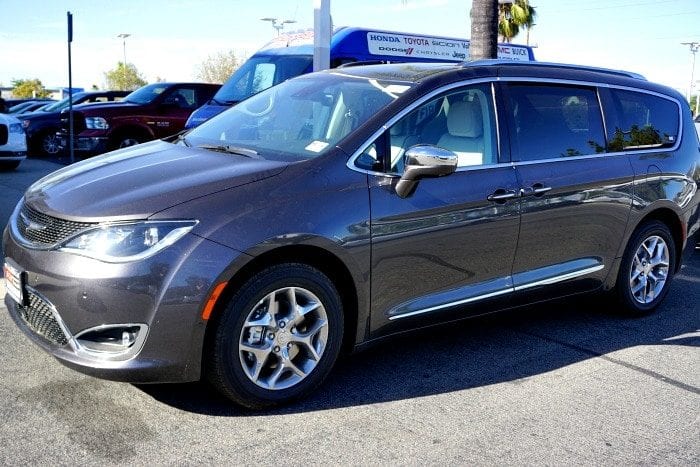 Besides being a really nice looking car on the outside, this new Chrysler Pacifica 2017 is loaded with things families need.
I must say….they must've taken a survey from moms everywhere asking them what they wanted because it's all there + they're giving 3 lucky famililies a chance to win a field trip experience of your dreams AND the All-New Chrysler Pacifica!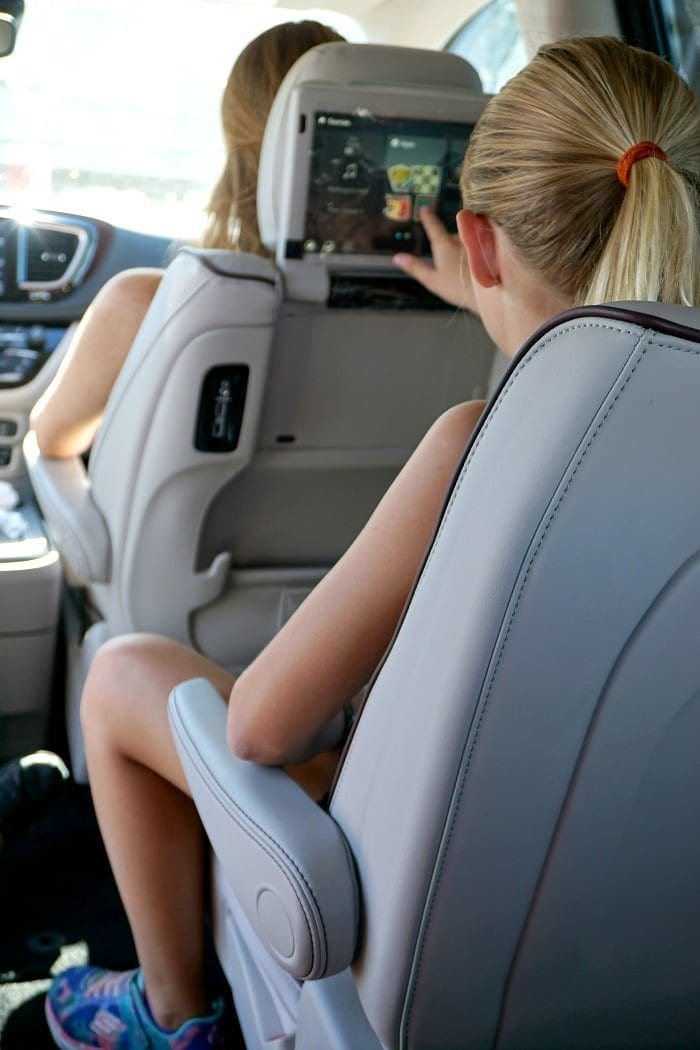 Can I tell you the two features (amongst many) that I was thrilled about…the huge screens in the back, and the vacuum inside the car!!
I know, seriously, that second one is just Genius I tell you. So the screens not only play movies, allow each one to play a different movie (perfect for multiple children who just can't decide which 1 to watch), and have games they can play.
The best part is a built in trip tracker called "Are We There Yet". Listen to this! So, picture this. You're on a road trip, your child asks "how much longer?" Instead of tearing your hair out because you know they will ask about 135 more times they can push a button. It will tell them how much longer until you reach your destination. Geeeeeenius again!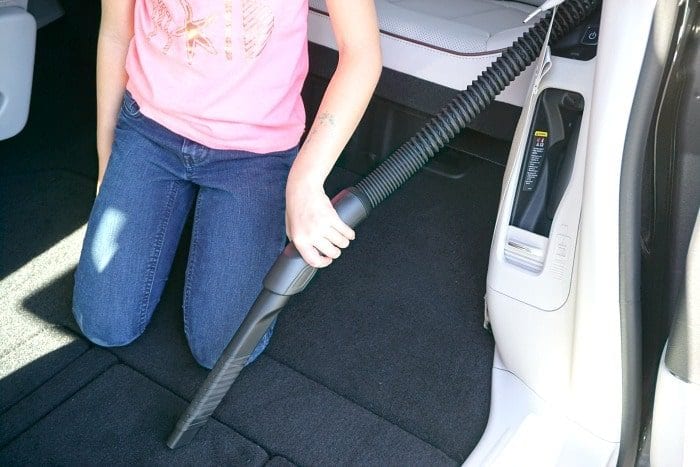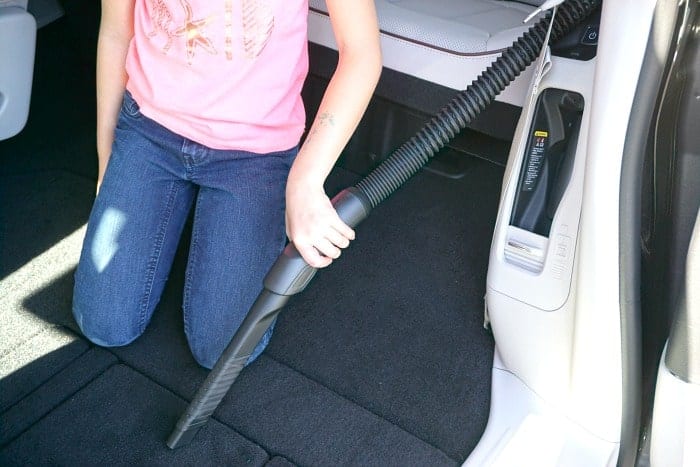 Are you ready for this….here's the built in vacuum! Ok so maybe when you hit 40 and have 3 kids who constantly fill your car with crumbs this kinda' thing makes you smile a bit more than when you're 20 but seriously so smart.
It retracts into this hole and with the push of a button turns on and has a variety of attachments. The hose is so long it can reach all the way to the floor of the front seats and to the back of the Chrysler Pacifica too.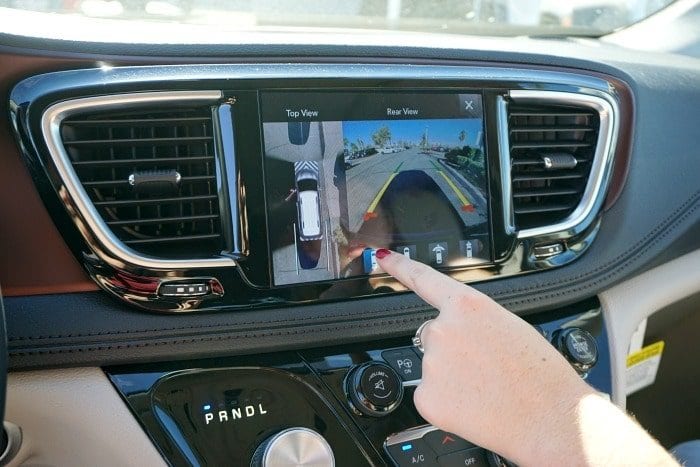 The huge screen in the front is multi functional with a backup camera (hello…I need that), parallel – perpendicular & rear park assist with visibility on the screen, the ability to see what the 2nd row is doing on their screens, and much more.
When driving I find a big screen like this is super helpful especially when I'm backing out of a super tight spot, and who doesn't need help with parallel parking (I can't be the only one here).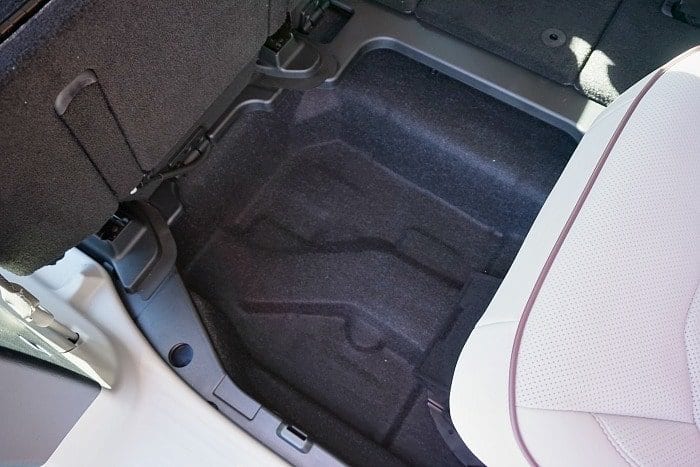 Now let me show you why Stow n' Go seating rocks! So you can have the two seats in the 2nd row up and store lots of stuff in the area below.
Or if you have something large you want to transport, or just want the 3rd row to have ample leg room you can fold the seat down. So helpful when we are going on trips.
Chrysler Pacifica Review
Quietest vehicle in it's class
Stow n' Go seating (with an assist feature)
Lift Gate
uConnect Theater System (with trip tracker, wireless streaming, HDMI< Bluetooth, USB, kids games, & Blu-Ray
8 passenger seating
Hybrid & MPG efficiency (first and only hybrid minivan with 80 mpg)
Stow n' Vac (seriously, I can't say enough about how smart this is)
Tri-Pane panoramic sunroof
Hands Free sliding doors (one on each side of the van)
Handsfree lift gate (push button on handle or swipe your foot under lift gate to open)
Easy tilt seats for 3rd row (they recline!)
Cruise control with stop
360 surround view camera
Parallel, perpendicular & rear park assist
Blind spot warning with rear cross path detection
Forward collision warning with brake assist
Lane departure warning
20″ wheels
Rotary Style E-Shift
Stow assist
Let us show you ourselves what we mean when we say this car rocks!
Seriously, you won't be disappointed. If you're looking for a great family car that is perfect for field trips, long road trips, and every day trips to school and the grocery store…the Chrysler Pacifica is a great choice.
Like I said, they now have a fantastic opportunity to WIN a field trip experience! Starting October 10th – 26th you can visit the PacificKids.com site and apply to win a field trip WITH the Pacifica!
Then, you can win a 2017 Chrysler Pacifica from November 12th-18th by voting for your favorite Pacifikids field trip…it's that easy to enter that one!
What's your favorite feature, and where would you go in this new Pacifica??