Can you believe it is almost Christmas time??!! Well we are all about baking and crafting around this time of year and these chocolate snowflake stirrers are a little of both, and yummy too!
Whether you are making these for Christmas time or you are throwing a Frozen party, they are perfect for either one! You only need 3 things to make these, just how easy is that??!! The kiddos can help which makes it more fun, and they look fancy even though you will see that they are easy peasy to make. Here's how you make these Frozen inspired Christmas chocolate snowflake stirrers…that's a mouthful! (affiliate links present to help you find items)
Chocolate snowflake stirrers
Here's what you will need:
White chocolate melts (1 bag)
Snowflake cake pop sticks (16 or so)
Sugar (1 cup)
Parchment paper
Pint sized ziploc freezer bag (sandwich bag is fine but these are sturdier and won't rip)
Frozen Birthday Party
This is how you're going to make these. Not hard but take it slow and don't rush for best results.
Put parchment paper down on a cookie sheet or cutting block
Melt chocolate in microwave in 30 sec. increments stirring in between until smooth
Add to baggie, snip the corner just a little
Squeeze very slowly on to parchment paper an X and then another line thru that so there are 3 lines creating the snowflake, then add small lines to the ends so they look like above.
Sprinkle lightly with sugar over the top while still wet
Let dry at least 5 minutes
Squeeze a small dot of warm chocolate on to straw/cake pop stick and stick the hardened chocolate snowflake on so it sticks.
Let dry another 5 minutes or so and enjoy your chocolate snowflake stirrers!
Snowflake Stirrer Straws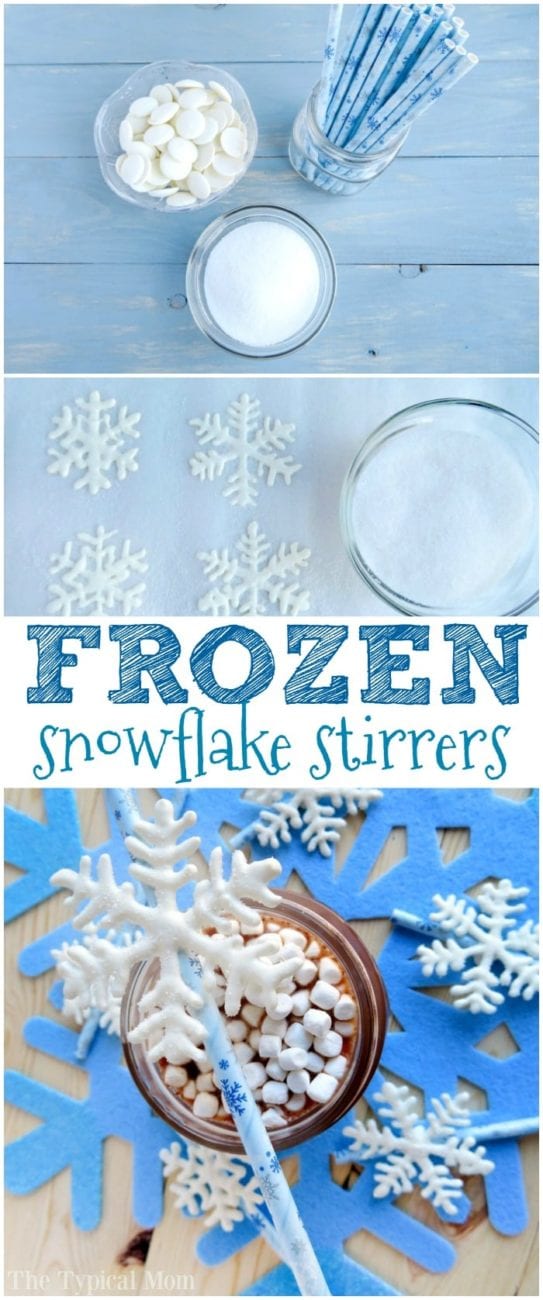 For more easy recipes, tips and crafts please LIKE The Typical Mom on Facebook and follow me on Pinterest! You can also sign up for my free weekly newsletter which is packed with goodies I know you'll love. 😉