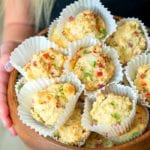 Print Recipe
Savory Breakfast Muffins
These easy savory breakfast muffins are fabulous when you're on the go! Packed with ham and cheese they have an amazing flavor and the perfect finger food in the morning. They're so simple to make that my kids have thrown them together too. A great brunch biscuit when you're having people over or for a busy day.

Preheat oven to 350 degrees. In a bowl combine your self rising flour, eggs, melted butter, milk, and garlic salt. Mix well, it will be lumpy.

Fold in all diced vegetables and ham into your dough slowly so they don't break apart a lot but so that they are integrated and all flour is mixed in.

Line muffin pan with muffin papers (or you can use non stick spray and not use liners). Fill each cup 3/4-full. (they won't rise a lot to you can fill quite a bit)

Put in oven for about 23 minutes or until tops are lightly golden brown.

Breakfast biscuits / muffins are best when served immediately. Store leftovers in air tight container or storage bag for best results. Can freeze as well in air tight freezer bags.