This Halloween Tic Tac Toe yarn pumpkin craft and game is so much fun for kids and easy to make too. Here are instructions and the 3 things you will need.
If you're looking for Halloween party games this one is so much fun and inexpensive to make! Both boys and girls will love this yarn pumpkin craft that doubles as a game too! Using just three items they can create their own pumpkins that will be used to play tic tac toe over and over again with an edible set up!  Special thanks goes out to Red Vines and Red Heart yarn for sponsoring this post so we could share one of our favorite Halloween party games with all of you. 😉 (originally published 9/17)
Not only is it one of the easy Halloween games to play at a party or on the weekend, but it is a great activity for the classroom as well.
This is what you'll need to make our Halloween tic tac toe yarn pumpkin craft and game:
Red Heart Orange and Purple Yarn
Black Red Vines Licorice
Green and White Pipe Cleaners
Ok…..let's get started!
We used purple Red Heart yarn for our second color markers, but really you could choose any other color just so you can differentiate between the two players. If you're having a kids Halloween party this is a great craft to do at one station, and have them play each other at the next station.
Almost any age can create these yarn pumpkins, you just may need to help them tie a knot in it, other than that they will be able to do it.
Here are the steps to make this yarn pumpkin craft:
Cut a long piece of yarn, about 3 feet or so (having it a little too long is better than too short)
Cut another piece of the same color yarn that is about 4″ long
Cut the color pipe cleaner you want to use, about 2″ long

Put two fingers out like you see here
Hold the end of your hard with your thumb
Start wrapping your fingers (somewhat tight) diagonally one way, then the other
Wrap around your fingers a total of 25 times total
Hold the other end of your yarn with your thumb again
Cut the excess off
Use the 4″ piece of yarn and push one end through your knuckles and the other end between the tips of your fingers
Lay your piece of pipe cleaner across the top of your fingers
Tie your piece of yarn in a knot on top of your piece of pipe cleaner, right in the middle of it
Twist your pipe cleaner and fold in half so it looks like the stem of a pumpkin
Make yarn pumpkins in two different colors for two players
Use 4 pieces of black Red Vines licorice for your tic tac toe board
Play!!
Watch this video tutorial to get a clear view of how I made this easy yarn pumpkin craft: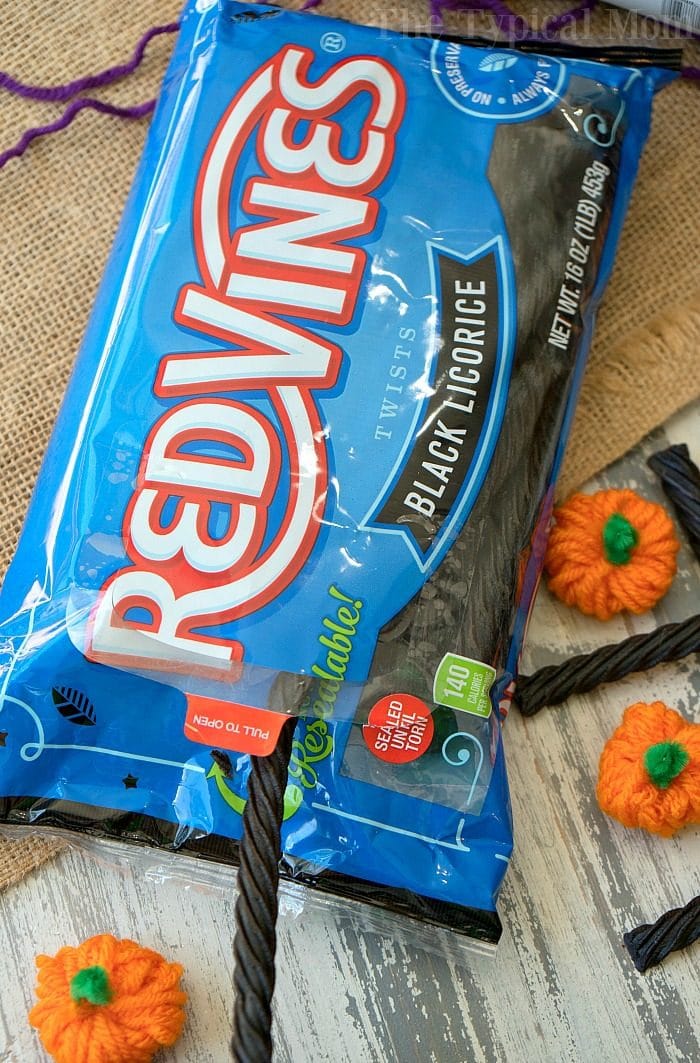 You can either use the jumbo or regular sized Red Vines, we used black because it is a good Halloween color…but red would work as well. 😉 It's a fun way to make a tic tac toe board because it's edible when you're done playing too!
We used Red Heart yarn because it is super soft and easy to work with, plus the colors are really vibrant and fun! Of course you could do brown pumpkins instead of purple or whatever color you choose, they have plenty to choose from.
When your Halloween party games are done they are free to take home their little creations as a party gift too….that's always a plus. Let us know what you think of our easy and fun Halloween tic tac toe yarn pumpkin craft!
What fun and edible games have you played during the fall??
Have some Halloween fun this season with a little yarn and licorice! Both of these brands have earned the Women's Choice Award as highly recommended brands by women.  Red Heart Yarn is America's Most Recommended Yarn and Red Vines is highly recommended by 9 out of 10 customers…so you're set!!
Let us know how you used this Halloween party idea at your next get together!
For more easy recipes, tips and free printables please LIKE The Typical Mom on Facebook and follow me on Pinterest! You can also sign up for my free weekly newsletter which is packed with goodies I know you'll love. 😉
Visit The Typical Mom's profile on Pinterest.