Have you ever quenched your thirst with flavored, fizzy, sparkling water before??!! I got into it a while ago when I was looking for a refreshing calorie free drink I could take with me to the beach, and keep with me to hydrate while running errands around town. I came up with a "hack" to add a twist to the already great tastes too, by adding some Summer fruits to the mix, let me show you how easy it is!
To start with, Vintage has several flavors you can choose from including the lime you see here, cucumber melon, lemon, original, grapefruit, and coconut as well. I've done this particular recipe with lime as well as coconut but it's quite versatile so you can choose whichever flavor jumps out at you!
You can find most Vintage sparkling water flavors locally at K Mart (you can find other retailer locations here as well)and they also have a digital coupon which took $1 off which meant I got 12 cans for just $2.49….pretty awesome. It's a really simple beverage which we love since we are always trying to steer clear from artificial colors and flavors, and literally is just carbonated water and natural flavors! Since it's Summertime I went to the grocery store and find a nice ripe pineapple to pair with my lime sparkling water drink and went home to create a tasty drink free from artificial colors, flavors, and the only sugars would be what naturally would be in the fresh pineapple.
You can also buy canned pineapple for this recipe and dice into small pieces, but since they were so fresh and in season at this time I decided to dice up a fresh pineapple. You will need ice trays for this, which we already had, and once the pineapple is diced into small pieces you begin to fill the tray about 1/2 full of fruit.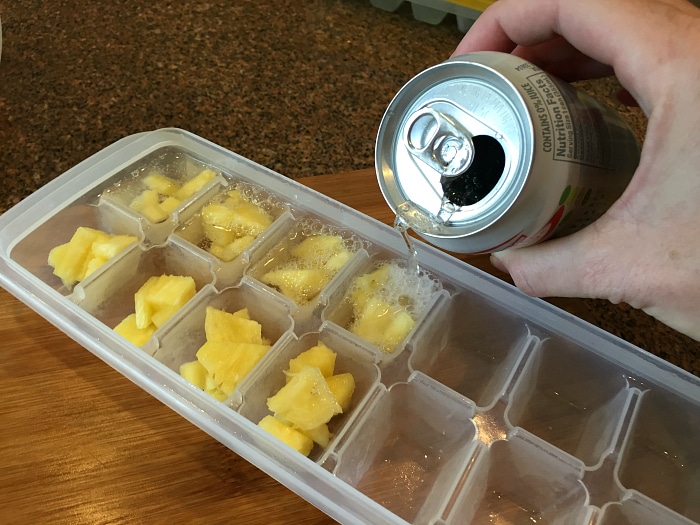 Fill the rest of the ice cube tray up with your flavored Vintage sparkling water, and put them in the freezer to harden. You can see just how bubbly this drink is which lends itself to a very refreshing feeling both using it in the ice cubes and drinking it alone.
Combine your fruit filled ice cubes with your Vintage flavored water and you are off!! I don't always have time to do this, and many times it is just a "grab it and go" kind of day, but straight out of the can it really is a great treat sitting poolside because of the sparkling bubbles and different flavors you can find….really mixes it up. Because it is calorie free and free from unnatural additives as well you can sip all day long and feel guilt free. 😉 Off to another tough day in paradise my friends!
For other yummy Vintage sparkling water recipes, visit their website, and to stay connected with Vintage and hear about their newest flavors and recipes you can sign up for their email club here as well.
I was selected for this opportunity as a member of Clever Girls and the content and opinions expressed here are all my own.